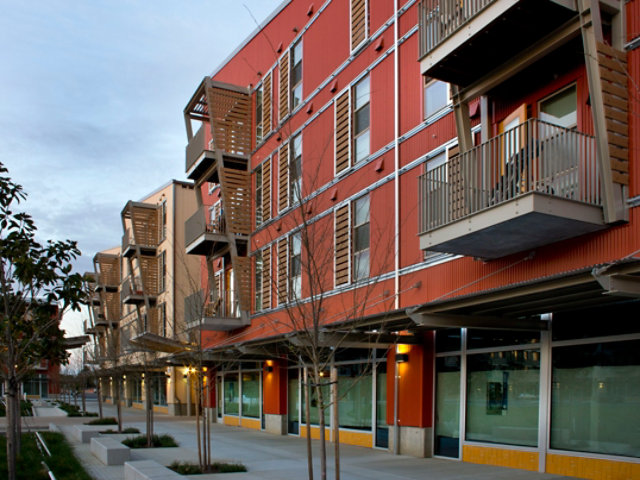 UC Davis West Village
A Custom Portfolio of Colors Created by Sherwin-Williams Gives UC Davis West Village an Eye-Catching Design
In 2013, the University of California Davis completed its West Village expansion project, which was a strategic response to the unanticipated and substantive growth in the number of students, faculty and staff on campus. The West Village complex provides several choices for those who want to live and work close to campus.
In fact, the West Village is just a sustainable heartbeat away from the main campus and its activities. Its master plan is based on three core principles: housing affordability, environmental responsiveness and quality of place. The 225-acre mixed-use development is the largest Net-Zero Energy Community in the United States.
Expansive yet friendly, the West Village complex comprises four main primary developments: The Ramble apartment complex, the Viridian apartment homes and retail space, The Center — a recreational facility, and West Village Square. Collectively, they provide 662 apartments and 343 single-family homes for some 3,000 students and 500 members of the University faculty and staff. Parks and open space, greenbelts, bikeways, and habitat and drainage ponds, among other features, further enhance this mixed-use development.
Skip carousel content
Project Images
UC Davis West Village
Check out these great project photos.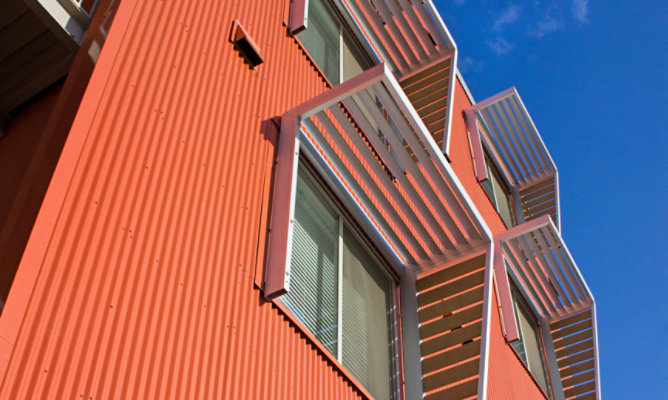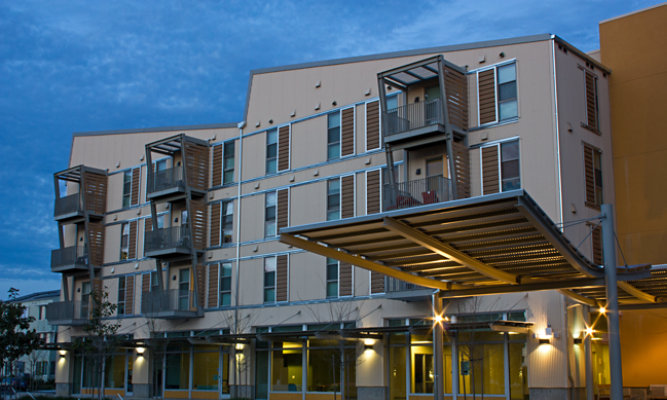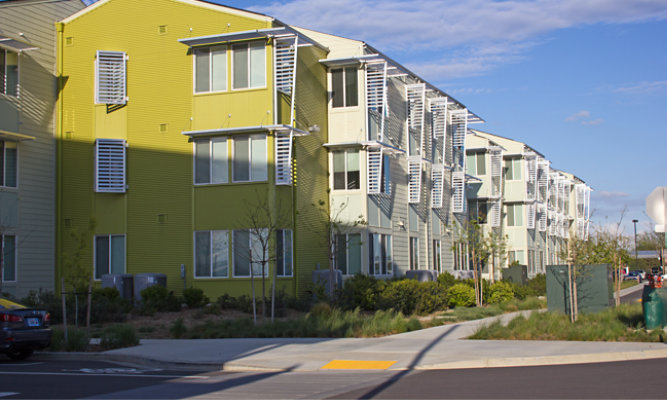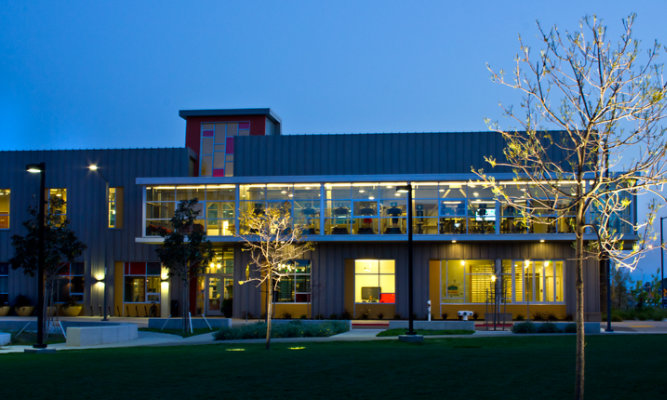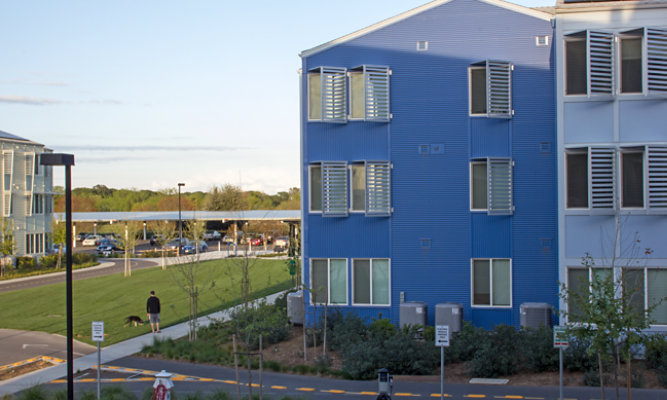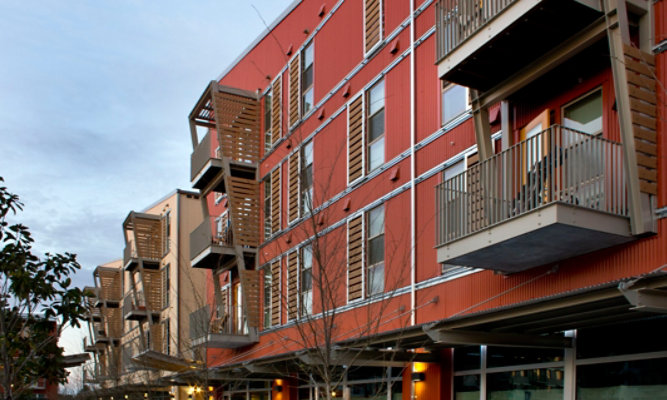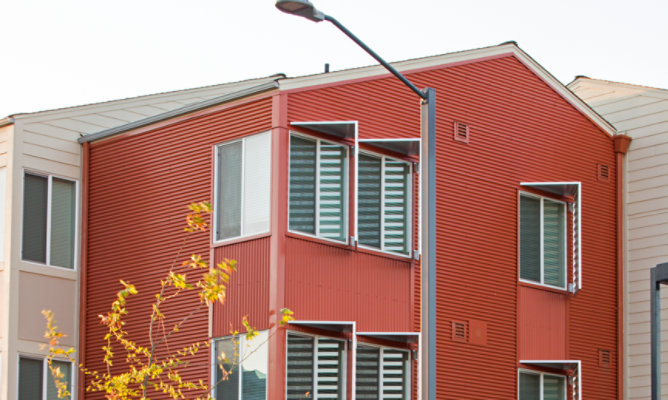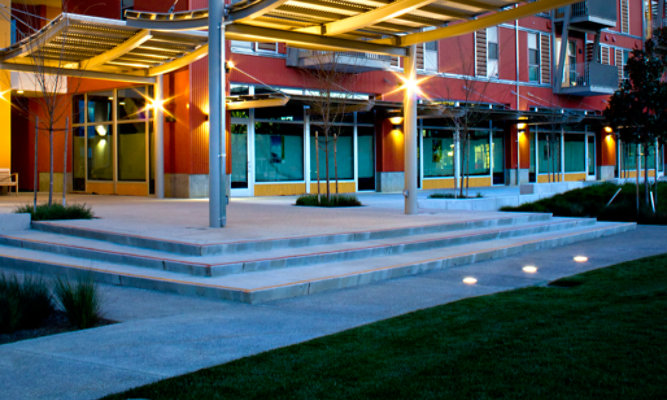 Based on its thoughtful design, The Ramble apartments and West Village Square were awarded LEED Platinum and Gold certifications, respectively. More laudatory is that the West Village met 87% of its net-zero goals in its first year of operation. The development also boasts a ULI Global Award for Excellence.

Equally impressive is that West Village did not sacrifice aesthetics or quality of materials for sustainability. Metal Sales provided more than 40,000 linear feet of paneling and metal components found on the exterior, roof and canopies of the buildings within the complex. The Ramble apartment complex utilizes Metal Sales' Corrugated wall panels that were coated in a custom combination of Sherwin-Williams Fluropon in Green Drop, Glowing Firelight, Swedish Blue and Mustard Yellow. The University presented a very specific set of colors that it hoped to use across the complex and Sherwin-Williams was able to work with its laboratory to color match the exact appearance designers were looking to achieve.
Additionally, the Viridian complex features Metal Sales Corrugated panels in Sherwin-Williams Fluropon coating in custom colors Gypsum and Zentury Brown. To complement the metal panels and the addition of stucco on the exterior, canopies were clad in Sherwin-Williams Fluropon coating in Champagne Metallic. Various other campus facilities including offices, a fitness center, study and meeting rooms, pools and recreational facilities don Metal Sales Magna-Loc 180 pencil rib roof panels coated in Sherwin-Williams Champagne Metallic.

In addition to its aesthetic appeal, Sherwin-Williams' Fluropon is a durable, high performance coating that can be applied to numerous substrates. Recognized for its outstanding color retention properties, Fluropon withstands with grace even the most severe weather conditions, including sunny California's unrelenting ultra-violet rays. When applied to the Metal Sales roof system, Sherwin-Williams coatings reflect a significant amount of solar heat, improving a building's efficiency by reducing the amount of energy needed for cooling.

Fluropon is offered in over 20,000 colors including subtle earth tones, clear pastels, vibrant hues and special effect pearlescent coatings but also are available in custom shades for one-of-a-kind projects like UC Davis West Village. With innovation a priority, new colors and special effects, like color shifting coatings and rich colors with silver or gold sparkles, allow designers to source their perfect color. Without a doubt, Sherwin-Williams coatings will help to keep the West Village looking first-class for decades to come.
Editor's Note: This article was originally published on March 20, 2015. Valspar was acquired by The Sherwin-Williams Company on June 1, 2017.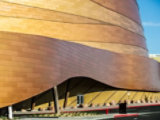 Fluropon is Sherwin-Williams flagship 70% PVDF coating system for architectural metal building products. Its superior durability and color retention keeps your building facade looking new for decades to come. Available in over 50,000 colors, Fluropon meets the industry's most rigorous standards including AAMA 2605.