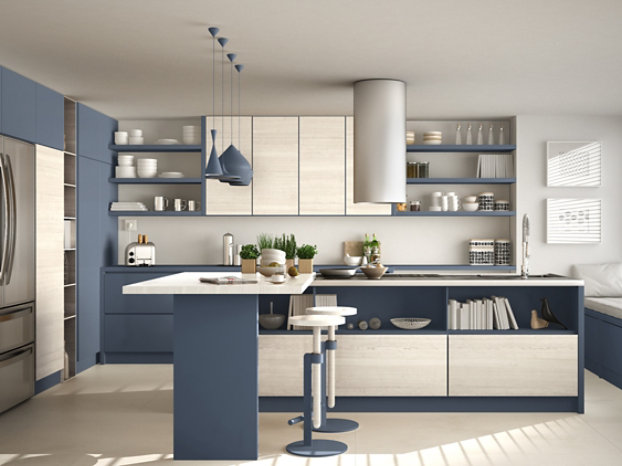 Kitchen Cabinetry Trends
The experts at our Global Color & Design Center have identified the top 16 stains and top 60 paint colors for 2020 and beyond.
No longer seen as just a functional space, the kitchen has undergone a transformation and has become a true cornerstone for the home's design. Millennial homebuyers value self-expression, customization and maximizing the appeal of the rooms they spend the most time in—open formats, painted cabinets, mixed materials like metal, glass and concrete, and smooth, matte finishes are gaining prevalence. The ornate carvings, corbels and thick moldings of yesterday are giving way to the rise of the clean, European-inspired look.
From Boomer to Millennial, traditional to modern, the color palettes in our kitchen cabinet color forecasts were hand-selected by the Sherwin-Williams Color & Design experts at our Global Color & Design Center in Greensboro, NC.
Experts at the GCDC are immersed in the product development process, which includes identifying emerging color and style trends in the kitchen cabinet industry to help you ensure your palette is comprehensive, making it easy to go to market with the right finishes.
Paint Trends

Here are the top 60 paint trends the colour and design experts at our GCDC are forecasting for 2020 and beyond. Download the colour card to see the complete palettes for each style. 
MODERN
The modern palette exemplifies the "New Neutral" — a swing from the ever-popular cool gray to the trending warmer "greige," with hints of taupe. These grays blend well with their surroundings, and, when used on frameless cabinets with simple hardware, complement the industrial details of a modern space and create a sophisticated, streamlined look.
TIMELESS
Tried and true, shades of white and soft gray remain as popular as ever for cabinets and bring a sense of balance and simplicity to the kitchen. Cabinets in these classic hues are versatile — they can be the focal point of the room or the perfect blank slate, allowing other elements in the room, like the walls, countertops and islands to take center stage.
BLUES/GREENS
Saturated, soft blues and greens are proof that the kitchen can inspire mindfulness just as much as any other room in the home. When used with an aged, patina finish in a low or matte sheen, complemented by a calming neutral wall color, this cabinet palette is the perfect way to create a sense of serenity in this common gathering space.
TRANSITIONAL
This color palette strikes the perfect balance between the warm classics of traditional and the crisp hues of contemporary. Transitional kitchens break the defined style mold. Cool muted neutrals offer a pop of bold color that, when paired with unexpected countertop and backsplash materials, create a uniquely cohesive look.
CONTEMPORARY
This fresh look is loved by Millennials and design-forward homeowners, alike. Rooted in clean lines and geometric patterns, the contemporary style is brought to life with this cool, crisp color palette that—when used on full overlay cabinets—creates a look that is not only sleek and stylish, but functional and livable too.
TRADITIONAL
Warm meets timeless in this color palette that invokes feelings of simple elegance steeped in tradition. This particular palette is most popular with the Baby Boomer generation resonates with homeowners with classic design taste. When it comes to the traditional style, the beauty is in the ornate architectural details.
Stain Trends

Here are the stain trends the colour and design experts at our GCDC are forecasting for 2020 and beyond. Download the colour card to see the 16 most popular SHER-WOOD SB Stains.
Browns
Nostalgic browns continue to grow in popularity, skewing away from the yellow, orange, and red undertones of yesterday and toward more modern rich ebony and dark chocolate hues. These grounding finishes add a touch of understated luxury to the home.

Organic
As consumers become exhausted with technology, they seek to create a calming refuge in their home. Because of this, we've seen a shift to a simpler, more organic home design that contributes to a sense of serenity, with "barely there" finishes and authentic wood that magnifies nature's imperfections coming to the forefront.
Texture
Texture is more popular than ever, with distressed rustic finishes, cerused materials, and geometric patterns leading the way. Charred finishes are also prevalent, and the industry is experiencing a shift from cooler to warmer tones. As personalization becomes more important, these one-of-a-kind finishes allow consumers to add a unique sense of flair to their space.
Bleached
Minimalistic and streamlined. Scandinavian-inspired finishes serve as a great backdrop for airy whites and neutrals or pops of color. While grays are still very prevalent, warmer blonde finishes are gaining in popularity, as well, consumers look to bring a sense of subtle lightness and calmness into the home.
Let's Connect
Global Color & Design Center
At our Global Color & Design Center, we study trends and provide color forecasts specific to your industry to ensure you have all the color and finish offerings your customers demand. Interested in learning more?

Contact Us