New Innovative Crosslinker
For improved alcohol and hand cream resistance
Sherwin-Williams is launching a new innovative crosslinker called Lacroma Hardener EV1000 available for use in all types of 1-component waterborne products.
Even though this product is mainly being used for topcoats it also works well for
1-component waterborne primers.
The unique features of this crosslinker is that it improves alcohol and hand cream
resistance for these types of products.
It also leaves you with a better adhesion to the substrate.
We have tested EV1000 in different products like EM1152, EM1157, EG1351, EG1353 etc
and we can see that an addition of 5 w% EV1000 to these products improves resistance
substantially.
Depending on the 1-component waterborne product you are using you can reach the
performance on the same level as a 2-component solvent borne acid catalyzed (SB AC)
or even a 2-component solvent borne polyurethane (SB PU) system.
The best product solution is EM1152 together with EV1000. This combination will give
you the same performance as a 2-component solvent borne product system.
Actually, all other 1-component waterborne products become much better by adding
EV1000.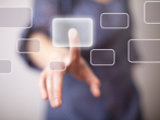 Don't hesitate to contact us if you want to know more
about our new innovative Crosslinker.