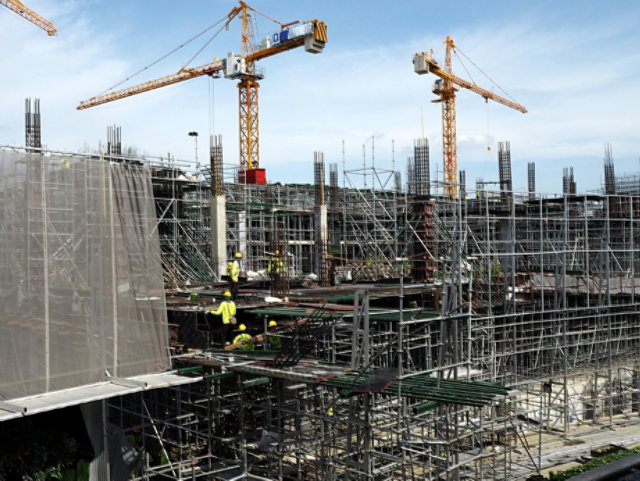 Early engagement with the UK Building Safety Act
The terms under the new UK Building Safety Act 2022 start to become enforceable from October 1st, 2023. Here, Bob Glendenning, Fire Design Engineering Manager of Sherwin-Williams Protective & Marine Coatings, looks at how early engagement can help engineers and those in the supply chain negotiate their way through the challenges it presents. 
The new UK Building Safety Act 2022 (BSA) has been developed as a new framework for the design, construction and occupation of 'higher risk' buildings. These buildings are defined as being a minimum of 18 metres or seven storeys in height and comprise of at least two domestic premises.
These new regulations require that all existing occupied high-risk buildings should be registered with the new Building Safety Regulator (BSR) from April 6, 2023 and no later than October 1, 2023. The BSR is an independent body which forms part of the Health and Safety Executive, which aims to raise building safety standards and the performance of buildings whilst also monitoring the competence of regulators and industry professionals.
The reality of this new legislation is that under the terms of the Act, a Principal Accountable Person who fails to register an occupied higher-risk building 'without a reasonable excuse' will be liable to either a fine or imprisonment for a term not exceeding two years.
The Principal Accountable Person is described as the organisation or person who owns, or has responsibility for, the building. It may also be an organisation or person who is responsible for maintaining the common parts of a building, for example corridors or lobbies.
Engaging multiple stakeholders is key
At Sherwin-Williams, our policy of early engagement and collaboration between all parties aims to clarify any points up front before they become a problem with the subsequent knock-on effect on time and cost.
It is proven that engaging multiple stakeholders - including designers, fabricators and applicators - early and consistently throughout the process is key to delivering a successful, safe and cost-efficient solution. Working together, we share knowledge and help our clients to reach their goals, after all we are all now part of this renewed responsibility. 
We want to help our customers to capture relevant data on the use of our intumescent coatings so that they can provide information digitally on safety and quality to their own customers. This information also provides a sound basis for future decision making.
The Golden Thread will be a digital record of all aspects of the fire protection installed, including application records, theoretical product thickness, data sheets and anything relevant relating to the steel's fire protection provision.
By following the requirements as set out in the Golden Thread, those involved can be assured that they are creating a safe, efficient building.
Under the terms of the act, the term competence is a core requirement.  As part of this part of the act, the BSR has introduced an Industry Competency Committee whose role will be to monitor and improve industry competence. This will be done by regularly publishing guidance and advice available to the industry.
Three gateways: understanding the Golden Thread process
The Golden Thread runs through what is known as three gateways of the process. All of the three gateways are important from the outset to completion and occupation so that end users can be assured of compliance, quality and safety and have confidence in the products used to provide fire and life safety – in particular 'safety critical' components.
For the protection of structural steel with intumescent coatings, the different parts of the engineering community and the supply chain will need to understand more detail of certain gateways than others. For example, structural engineers, designers and specifiers will be more concerned with the requirements under gateways one and parts of two. Applicators will need to understand parts of gateway two and gateway three, while fabricators will need to understand the wider picture across all three gateways.
Gateway 1 – covering the planning stage. This has been in force since August 1, 2021 and sets out the framework for the second and third stages. Applicants need to demonstrate that fire safety matters have been incorporated into the planning stage for all buildings. 
If a fire statement is required to be submitted with a planning application it will be an issue for consideration for the Local Planning Authority (LPA) when reaching its decision on the application. Contractors should take note that if the LPA considers the statement inadequate it can refuse the application.
Gateway 2 – submitting building control approval to the Regulator to enable construction to start. This should include written declarations covering the competency of the main contractor, designer, a description of works and plans and a planning statement from Gateway 1. 
Importantly, there should be information about how evidence is being captured to maintain the Golden Thread. The Regulator has a 12-week period to approve or reject these Building Control applications or to approve subject to fulfilment of certain requirements.
Gateway 3 – providing information to ensure the building is safe for occupation. There is a requirement to submit a completion certificate application and provide updated plans.
These plans should reflect the scale of the higher-risk building, key building information, a list of mandatory incident reporting and signed declarations from the main contractor and principal designer that the works and building comply with Building Regulations. Finally, confirmation that the all-important information for the Golden Thread has been handed over to the accountable person should also be declared. 
We all have a responsibility for building safety
Remember – responsibility lies with us all. Nobody in the supply chain can absolve themselves.
The Accountable Person must have assessed all building safety risks and taken all reasonable steps to control them, give the safety case report to the Regulator on request and apply for a building assessment certificate. Remember, the information required for the Golden Thread needs to be accurate, easily understandable, up-to-date, readily accessible and in a digital format.
We should emphasise that it is the responsibility of each Principal Accountable Person to provide the right information to the supply chain - including those bidding the intumescent fire protection package - who in turn are then responsible for all information being passed onto us being accurate if we at Sherwin-Williams are to provide guidance.
Also, bear in mind that this commitment to best practice and gathering of evidence of compliance is not just for the short term but for the lifetime of a building and will be highly valuable should anything happen during its occupation. Think of it as future-proofing life safety.
Find more guidance on the UK Government website. 
We're here to ensure your entire project is running smoothly and efficiently.
LEARN MORE
Find out more about our innovative coatings for a variety of industries.
FIND A PRODUCT