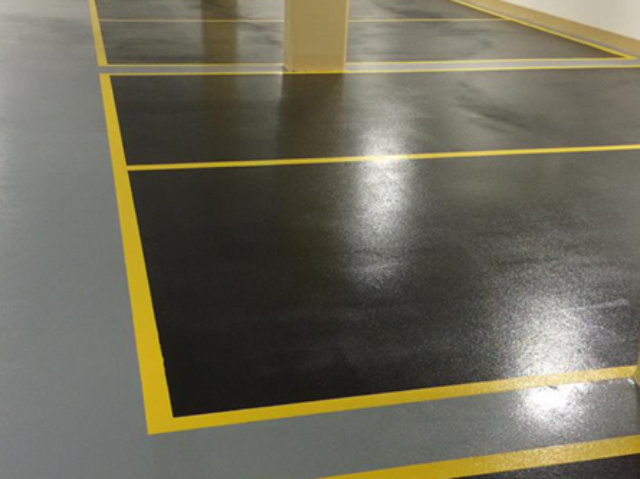 Enhance Safety with Resin Flooring Demarcation
As a leading manufacturer of resin line marking and demarcation coating and screed systems, Sherwin-Williams offers flooring options ranging from fast-curing functional line markings focused on safety.
As industrial and commercial facility owners constantly strive to maintain stringent safety standards, it's essential for flooring systems to deliver durable long-term performance. Safety standards and regulations constantly change, and the recent impact of COVID-19 has pushed factories and industrial properties to embrace increased segregation of areas for health and safety. For instance, steps and ramps are now required to be identified with colour coding so that changes in a level are as clearly visible as possible. Besides general health and safety considerations, this helps partially sighted people to use or work in a building.
In addition to meeting safety needs, elevated aesthetics achieved through bright demarcation with different colours and markings also contributes to maximizing efficiency and segregating areas for pedestrians or for certain processes.
However, traditional single-pack line marking coatings have not proven as strong or to have as good adhesion needed to stick when applied to unprepared surfaces such as concrete. These types of coatings have been prone to impact damage and abrasion causing delamination, breakdown and failure. Issues such as these may occur even after a few hours after installation, and floor coating projects can look worse than they did prior to refurbishment work. Even when epoxy coatings with superior adhesion and strength are used, failure issues can occur if adequate preparation isn't done on a surface or the installation isn't completed correctly. As a result, the coatings certainly won't provide the enhanced safety performance they were intended to deliver.
Focus on Safety
As a leading manufacturer of resin line marking and demarcation coating and screed systems, Sherwin-Williams offers flooring options ranging from fast-curing functional line markings focused on safety, performance and longevity criteria to multi-coloured, decorative finishes designed to define walkways or designated areas from other working areas in factories and industrial facilities.
Sherwin-Williams Elladur™ is a user-friendly, ultra-fast cure solvent-free resin floor system developed by our specialist team of chemists who have harnessed the latest benefits of polyaspartic technology. The advantages with this chemistry include a cure schedule of just a few hours and a bright, UV-stable hard finish. This is important as line marking is most commonly installed in yellow, white and red. The colours should not fade and dull down over time, thereby making it's core purpose – identifying floor areas and routes – considerably less effective. Elladur systems are visually attractive yet extremely tough, scratch resistant, and have an extremely low volatile organic compound (VOC) content – all relevant factors for product standards such as LEED (Leadership in Energy and Environmental Design). This makes the product suitable for a wide range of industrial sectors from food and pharmaceutical to custodial to retail, manufacturing and more.
Innovative Products
The innovative Elladur design is like no other resin product on the market. It allows a multi-coat decorative finish to be installed in just one day, reducing installation times from days to just hours, with each coat curing in around two hours. Using Elladur as part of your refurbishment or upgrade project means a quick turnaround and minimal disruption to operations. The coating is composed of resins that can be applied as supplied with good workability, even at low temperatures, without the need for thinning to extend the pot-life or improve flowability of the product. This means the low-odour and solvent-free nature of the polyaspartic technology remains intact during application. This quick cure solution provides the answer for various busy operations, or in areas such as chillers and freezers where curing schedules are critical and prolonged installation time can have a big impact on a process or the mobilization of operatives working in an area.
A lot of line marking and demarcation is still done using Resuflor LM, Sherwin-Williams' traditional high-build epoxy coating formulated to provide a thick coating that doesn't run or creep when applied as a straight line to masked areas using tape. This is important for installers who apply the product by a roller to lines and areas marked with tape which is then removed after an hour or so to expose sharp straight lines. Ordinary coatings run and do not retain this straight line. Often on projects with large areas to cover, installers need to operate quickly to install hundreds of linear metres of lines at a time. The Resuflor LM product cures overnight with reasonable ambient temperature and is frequently used in conjunction with Resuflor HB, our high-build floor coating applied over full floor areas as an economic, hard-wearing coating.
Ease of Application
Sherwin-Williams screed systems, which are typically installed from 6mm to 9mm in thickness, can be applied in contrasting colours which butt up to each other and maintain a seamless hygienic finish – an essential performance feature in sectors such as food and beverage and the pharmaceutical industries. Using contrasting colours in adjacent zones is not only done for full-floor areas, but can be used to create walkways or varied demarcation patterns such as zebra crossings or a walking man logo set within the floor. The advantage of this practice is that the colour is solid throughout the floor system and there is no top coat or interface which could be worn down to expose a different colour or shade under a top coat. Sherwin-Williams products such as FasTop® TG69 polyurethane screed are frequently used in this way and are expected to provide reliable performance exceeding 10 years in busy industrial environments. This provides significant long-term benefits to factory owners who only have one opportunity to complete a floor project and want to keep any disruption to production to a minimum.
In high-visibility public areas such as building atriums, decorative resin flooring systems can enhance a clean, contemporary visual impact. Terrazzo screed systems available from Sherwin-Williams use coloured stone within a resin matrix which is ground and polished to expose the stone and create a very hard, highly decorative finish. Bespoke designs are possible with this system to incorporate various designs or company logos. This type of floor has been widely used in city libraries and hospital atriums where long-term seamless finishes and public traffic zone demarcation are required.
Recommended preparation for all the systems detailed above would typically involve floor grinders, vacuum shot blasting, vacuum diamond grinding and even scabbling which uses flails to create quite a rough surface texture. With all these methods, the principle is to achieve a sound clean surface free of any contamination that could compromise good bond. When creating a prepared surface like this, it is possible to achieve superb adhesion with Sherwin-Williams resin floor options that are extremely resilient to surface damage and abrasion.
Find out more about our innovative coatings for a variety of industries.
FIND A SYSTEM