Bright Seamless Flooring Solution For Famous Holiday Camp Kitchens
Butlins is one of the UK's largest leisure companies operating in the UK. A specification was required for a floor finish to go in their kitchen and front of house serving area. Butlin's looked to use FasTop TG69 as they wanted to find an alternative to traditional systems that were performing against the day to day usage of the kitchen and serving areas.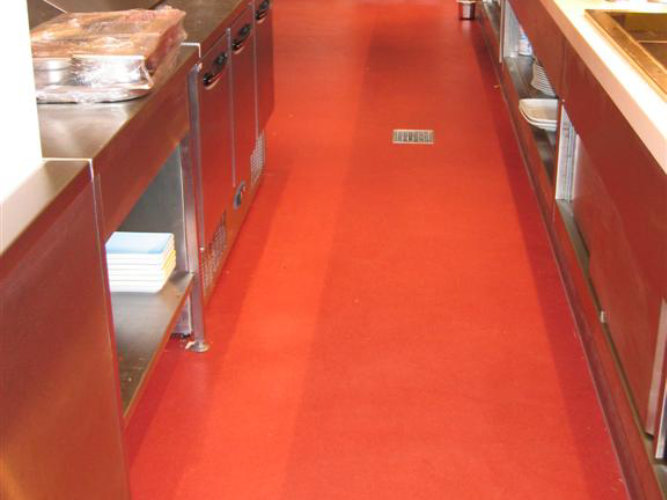 For the Kitchen areas FasTop TG69 was specified in a bespoke bright Red. FasTop was chosen for its long life expectancy and its anti slip properties.  Other features that prove important are its thermal shock properties which are able to cope with the day to day running of high temperature ovens and cookers along with the hot liquids that could be potentially spilt on to the floor surface,
The serving areas got a product that was a little different.  Resuflor Q Screed in a bespoke Carmine colour ( bright red ) to match their red coat corporate colour.  As this area was on display to the public, it required a product that had more decorative features, without compromising on its anti slip properties.  This made Resuflor Q Screed an ideal choice as  it is a very hard wearing system that has excellent slip resistance.
Resuflor Q Screed also has an attractive aesthetic look, making the environment truly unique. The result was two floor areas that will stand the test of time and fit the client brief perfectly.  
Skip carousel content
Discover More
Industry Expertise and Innovation
See how we help customers find customised solutions for their project and application challenges.
Find out more about our innovative coatings for a variety of industries.
FIND A SYSTEM