Custom Color Matching
Sherwin-Williams Aerospace offers custom color matching to handle complicated color schemes and extensive deliveries.
From vibrant, bright opaque colors to exotic pearls, metallics and neutral interior cabin options, Sherwin-Williams knows how to deliver custom color solutions.
Color Technicians
Experienced color technicians at Sherwin-Williams Global Color Laboratory and Sherwin-Williams Aerospace distributors are available to meet your color challenge. A fee may apply for custom formula creation and additional time is required for the service.
Custom Color Request
To request a custom color, please contact your Aerospace distributor or Sherwin-Williams Aerospace Color Laboratory: (888) 888-5593 aerospace.customerservice@sherwin.com.
Download Customer Color Request (CCR) Form
Video
May 5, 2020
Designer Color Selection and Services
Aircraft designers discuss their experiences with Sherwin-Williams color selection and services for aviation.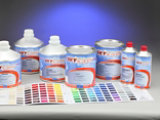 Product Lookup
Explore our product solutions for a variety of applications and aircraft types.
Ask Sherwin-Williams
Ask how Sherwin-Williams can bring the right products and expertise for your aircraft.