Great Scheme Believers
Scheme Designers is a company that creates customized color and design schemes for airplanes of VIP clients. Most of the time, designers on the team utilize Sherwin-Williams coatings to create a customer's desired vision for their aircraft. Julie Voisin, Sherwin-Williams Global Marketing Manager, describes how they can custom-match colors, and have color tools and cards to help focus color options for clients. Find out why Sherwin-Williams is a brand that Scheme Designers continues to rely on.
Article Summary of "Great Scheme Believers" appearing in EVA International Magazine, Autumn 2018, p. 24-28. Retrieved from www.evaint.com.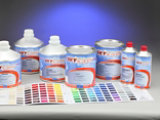 Product Lookup
Explore our product solutions for a variety of applications and aircraft types.
Ask Sherwin-Williams
Ask how Sherwin-Williams can bring the right products and expertise for your aircraft.