2022 Calendar Contest
Your chance to be one of the amazing aircraft selected by Sherwin-Williams for their 2022 Aerospace Coatings calendar.
Looking for interesting aircraft paint jobs completed in Sherwin-Williams Aerospace finishes.  
Calling for the finest aircraft paint schemes and exterior finishes in the sky, Sherwin-Williams is accepting  submissions for its annual calendar to showcase the 12 best-finished aircraft of the year.   Submissions can be provided between now and Friday, September 3, 2021.  
Whether it's a business jet, regional jet, commercial airliner or cargo aircraft – single/twin engine, kit plane, sport plane, helicopter – classic, custom or military, we are looking to feature the finest looking aircraft in our 2022 Aerospace Coatings Calendar. The calendar recognizes the outstanding work of designers, MROs and aircraft painters across the country that rely on Sherwin-Williams branded products in their repaint and OEM facilities.
Calendar Application
All of the details of the 2022 Sherwin-Williams Aerospace Coatings Calendar Contest are included on the attached application.
Please submit your applications, photos and any questions to Julie Voisin, Global Marketing Manager, at julie.voisin@sherwin.com.
Download Calendar Application Here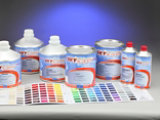 Product Lookup
Explore our product solutions for a variety of applications and aircraft types.
Ask Sherwin-Williams
Ask how Sherwin-Williams can bring the right products and expertise for your aircraft.