JetPen™ Touch-Up Solution
Touch-up your aircraft with JetPen, a 2K fully reactive paint pen that delivers the same exceptional strength and cross-linked durability found in aircraft paint facilities, but with the application ease of using a pen. This new touch-up pen from Sherwin-Williams Aerospace Coatings is ideal for use on aircraft exteriors and interior cabins at any point during the application or maintenance process.
---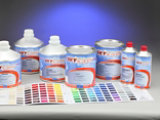 Product Lookup
Explore our product solutions for a variety of applications and aircraft types.
Ask Sherwin-Williams
Ask how Sherwin-Williams can bring the right products and expertise for your aircraft.