Sherwin-Williams Aerospace Coatings Introduces New Aircraft Color Visualizer Tool
The fully interactive web-based tool allows users to see wide-ranging colors on virtual aircrafts to assist in the color selection process.
ANDOVER, Kan. - Dec. 8, 2021 – Sherwin-Williams Aerospace Coatings has introduced the Aircraft Color Visualizer, a web-based tool that enables plane owners, paint shops, aircraft designers, OEMs and aviation enthusiasts to digitally experience color combinations on a variety of aircraft types.
The interactive desktop site allows users to choose from six aircraft models – ranging from a kit aircraft to a heavy jet – to customize with any color in the Sherwin-Williams aircraft color library and instantly view on screen. The pre-designed schemes can integrate one base color and up to three accents, in both solids and metallics.
The new visualizer was not created to replace professional aircraft scheme designers; on the contrary, it was created to enhance the color selection experience for designers and plane owners. Rather than selecting colors individually with a fandeck or painted panels, customers can digitally view Sherwin-Williams colors and incorporate them into actual aircraft schemes immediately.
Offering our customers this highly specialized online tool reflects our commitment to innovation beyond paint and coatings. The Aircraft Color Visualizer tool will not only serve as inspiration for customers and designers, but it will also ease the color selection process for them. We're excited to see how customers will utilize the full breadth of our color palette in their unique creations.
The tool features two unique designs for each aircraft, allowing the user to switch between them and even spin the aircraft to see the colors from a variety of angles. The Aircraft Color Visualizer allows users to print, save and share their finished designs. Users can also be referred to a professional aircraft designer to fulfill their vision on their specific aircraft.
Beyond the color exploration capabilities of the tool, Sherwin-Williams Aerospace Coatings assists users in bringing their visions to life by providing recommendations to professional aircraft designers as well as customer support. Information about finding a scheme designer, reputable aircraft paint shops, project costs, turnaround times, pretreatment steps and more can be found in the FAQs document here.
Start visualizing today at www.acv.sherwin.com. 
About the Automotive Finishes Division of Sherwin-Williams
Sherwin-Williams manufactures and distributes a complete line of advanced technology paint and coating systems for automotive, aerospace and fleet refinishing industries through its Automotive Finishes division, including a complete line of advanced technology paint and coating systems for a variety of commercial, general and military aircraft. Sherwin-Williams Automotive Finishes is a part of the Sherwin-Williams Performance Coatings Group, which supplies a broad range of highly engineered solutions in more than 120 countries around the world. Founded in 1866, The Sherwin-Williams Company is a global leader in the manufacture, development, distribution, and sale of paints, coatings, and related products to professional, industrial, commercial, and retail customers. For more information about The Sherwin-Williams Company, visit www.sherwin-williams.com.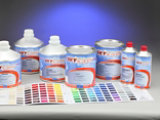 Product Lookup
Explore our product solutions for a variety of applications and aircraft types.
Ask Sherwin-Williams
Ask how Sherwin-Williams can bring the right products and expertise for your aircraft.