Customer Testimonial - Rose Aircraft Services
Keith Rose, President of Rose Aircraft Services, shares his experiences with the long term service and support his company receives from Sherwin-Williams. Rose Aircraft Services provides high quality exterior and interior aircraft refurbishment and maintenance in the General Aviation segment.
---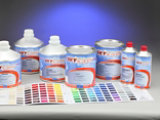 Product Lookup
Explore our product solutions for a variety of applications and aircraft types.
Ask Sherwin-Williams
Ask how Sherwin-Williams can bring the right products and expertise for your aircraft.