Customer Testimonial - West Star Aviation
Key leaders from West Star Aviation, Dave Krogman, George Euler and Veta Traxler, discuss their company's 20 year relationship with Sherwin-Williams from product, service and color capabilities. West Star Aviation specializes in airframe repair and maintenance, engine repair and maintenance, major modifications, avionics installation and repair, interior refurbishment, paint, parts, surplus avionics sales, window repair and accessory services.
---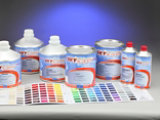 Product Lookup
Explore our product solutions for a variety of applications and aircraft types.
Ask Sherwin-Williams
Ask how Sherwin-Williams can bring the right products and expertise for your aircraft.