Scheme Designer's Testimonial
Craig Barnett, Owner and CEO of Scheme Designers, Inc., discusses the service and support his company receives from Sherwin-Williams Aerospace in their quest for product and color selection for their customer's aircraft. Scheme Designers works with customers throughout the globe on all types of aircraft to develop an amazing exterior paint scheme.
---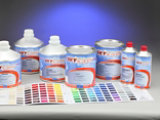 Product Lookup
Explore our product solutions for a variety of applications and aircraft types.
Ask Sherwin-Williams
Ask how Sherwin-Williams can bring the right products and expertise for your aircraft.