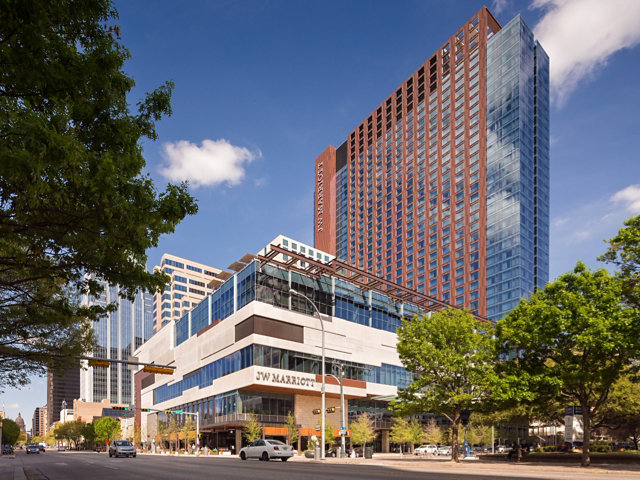 JW Marriott
Sherwin-Williams Delivers Custom Coating Solution for JW Marriott Austin
Weathered steel is a popular architectural material thanks to its rich, mottled appearance, but it comes at a high price. The architects at HKS Hospitality Group in Dallas, Texas, were reminded of this as they were in the process of designing the new JW Marriott Convention Center Hotel in Austin. The original concept for the building was to integrate natural materials that are found within the Texas landscape. For the façade of the 34-story primary tower, HKS │HG wanted a weathered metal appearance, but when the team saw the estimate to use weathered steel, they knew the price was too high — even for a luxury brand like JW Marriott.
Hunt Construction, the contractor on the project, reached out to ProCLAD Inc., the metal wall design company it had previously worked with on a JW Marriott in Indianapolis. Representatives from Hunt, ProCLAD and HKS consulted closely to determine if there was an alternative solution that could deliver the appearance of weathered steel at a lower price. The architects wanted dimensional panels with varied colors that would read well from far away, since the panels would be installed on the high-rise portion of the building. Craig Caudill, executive vice president for ProCLAD, suggested using formed Galvalume panels painted in dark, medium and light shades to mimic the appearance of rusted steel. Caudill knew that using a variety of colors of Sherwin-Williams Fluropon coatings could help create the dimensional variety the architects were looking for. Additionally, the coating would maintain its look for years to come, as Fluropon is known for its durability, exceptional color retention, and resistance to chalking and chemical degradation.
Skip carousel content
Project Image Gallery
JW Marriott
Check out these great project photos.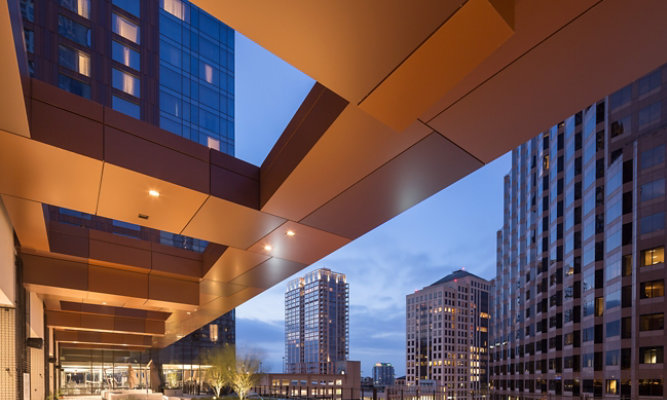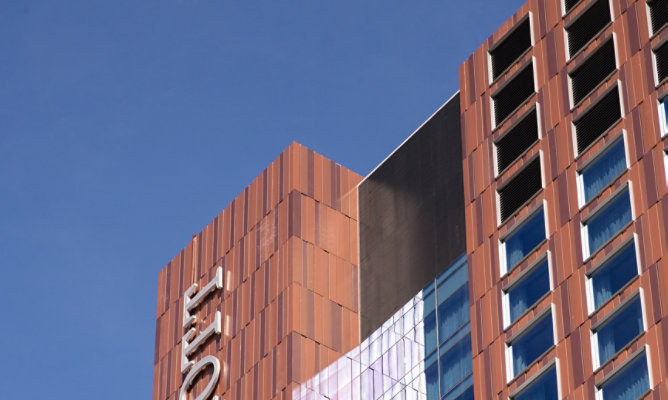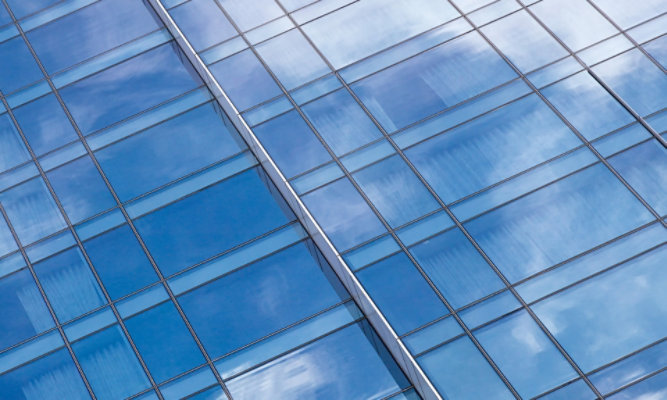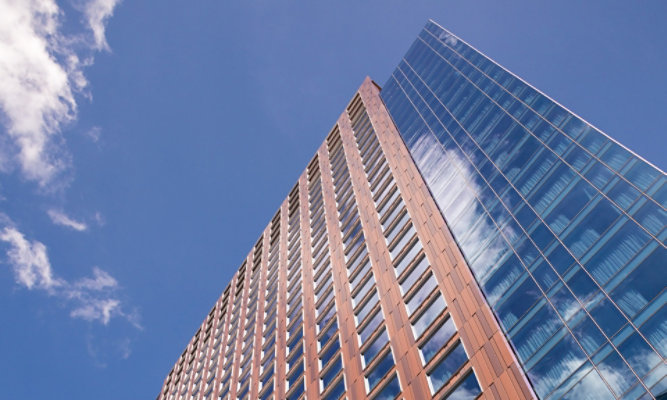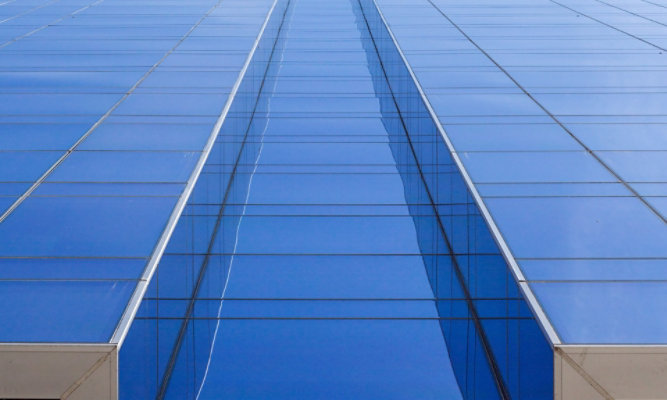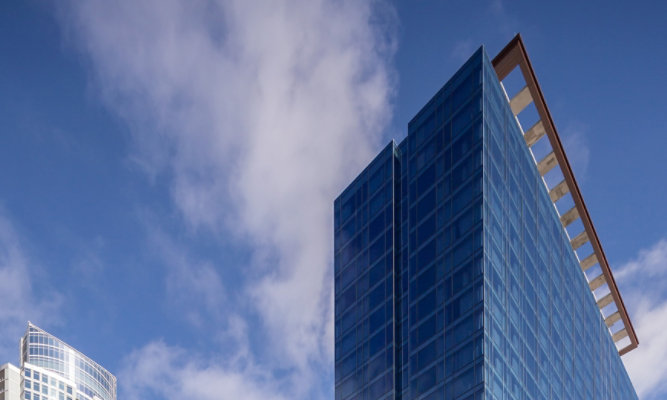 "The hard part started then," said Caudill. The team liked the idea, but wanted to see a sample before committing, and they needed it fast. ProCLAD contacted Sherwin-Williams, which was able to color match the three shades, work with Western Extrusion to coat them on steel flat stock, and ship them to ProCLAD in less than two weeks. ProCLAD then wheeled a wall mockup of the sample panels — approximately 6 feet tall and 4 feet wide — onto the HKS lot.
The architects liked the appearance of the panels as well as the lower cost of the solution, but still weren't ready to commit to the colors.
"HKS provided us with a few paint samples and requested to see five new sets of colors in varying shades of brown, along with a few metallic options," said John H. Kelly, metal buildings market manager for Sherwin-Williams. "Clients typically request one or two color variations, but in this instance, we needed to create nearly 20 color options to ensure the best possible result for the client."
Rising to the challenge, Sherwin-Williams lab team was able to complete the project between Christmas and New Year's Day, so ProCLAD was able to show HKS 15 new panel mockups shortly after the New Year. Once the color formulations were created, the lab worked cohesively with the Western Extrusion team to quickly spray the oversized panels and have them shipped to ProCLAD for assembly. With the wide variety to choose from, the architects were then able to confidently make their pick and select a color range that was consistent with the original concept.
Project Credits:
Architect: HKS, Inc., Dallas, TX
General contractor: DPR Construction, Austin, TX
Metal panel Manufacturer: McElroy Metals

Panels engineering, production, installation: ProCLAD Inc., Noblesville, IN
Curtain wall: Win-Con, Inc., New Braunfels, TX
Mock-up applicator: Western Extrusion, Carrollton, TX
Curtain wall applicator: Bonnell Aluminum, Newnan, GA
Coatings provider: Sherwin-Williams Coil Coatings

Photo credit: HKS, Inc. / Blake Marvin
"After comparing several options, we decided that a range of three colors with a slight variation would best represent a naturally weathered steel, but in an interpretive manner. We selected a range of warm brown tones that are found in weathering steel that has been exposed to the elements over time," said Eddie Abeyta, HKS principal and commercial design director.
McElroy Metal supplied 40,000 square feet of 18-gauge Galvalume steel coil coated with Sherwin-Williams Classic II Fluropon in a custom color combination of Barrel Brown, Fudge and Mustang.
"It's a testament to the relationships we have forged in the exterior cladding markets with key suppliers such as U.S. Steel and Sherwin-Williams as well as visionary exterior cladding contractors like ProClad Inc. The culmination of this project was simply a direct result of teamwork," said Mark Lawson, VP of sales at McElroy Metal. "Everyone had to be on the same page to achieve the structural and aesthetic goals of HKS, Sherwin-Williams, ProClad and McElroy Metal. I think this will serve as a signature project for everyone involved."
Additionally, Win-Con, Inc. supplied the curtain wall, carrying glass across the adjacent sides of the hotel. The Win-Con Unitized curtain wall system included 200,000 square feet of glass with interior mullions and exterior fins coated in Sherwin-Williams Classic II Fluropon in Bright Silver by Bonnell Aluminum.
"With the combination of design flexibility, attention to energy efficiency and superior detail to quality materials, Win-Con's Unitized curtain wall system complemented the one-of-a kind JW Marriot," said Charlie Ruyle, VP of Win-Con Enterprises, Inc. "The towering Unitized curtain wall achieved the aesthetic look desired by the design team and allowed for coating customization of the aluminum fins and mullions. Sherwin-Williams is one of our preferred manufacturers due to their range of capabilities so we were thrilled to work with their team to supply the coating for components of the curtain wall."
The 1.3-million-square-foot hotel was completed under budget in early 2015, and is now both the largest hotel in Austin and the largest JW Marriott in the United States. Its striking appearance is a perfect fit for Austin, with Abeyta noting that "the design merges the influences of the natural landscapes and local vernacular that define the Austin experience with modern form and materials of the urban context."
ProCLAD has already been contacted by another architect in Austin who is interested in the panels. "The varying depths, widths and colors just look like a million bucks," said Caudill.
In the end, ProCLAD's solution may have even outshone its inspiration. "When you're close to a piece of weathered steel you can see the color variation, but if you put it high up, it looks like it's all the same color of brown," explained Caudill. "These panels were the right solution to achieve the dimensionality. They're really something else."
JW Marriott Convention Center Hotel, 110 E 2nd St, Austin, TX 78701, http://www.marriott.com/hotels/travel/ausjw-jw-marriott-austin/
Editor's Note: This article was originally published on May 8, 2015. Valspar was acquired by The Sherwin-Williams Company on June 1, 2017.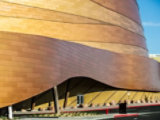 Fluropon is Sherwin-Williams flagship 70% PVDF coating system for architectural metal building products. Its superior durability and color retention keeps your building facade looking new for decades to come. Available in over 50,000 colors, Fluropon meets the industry's most rigorous standards including AAMA 2605.