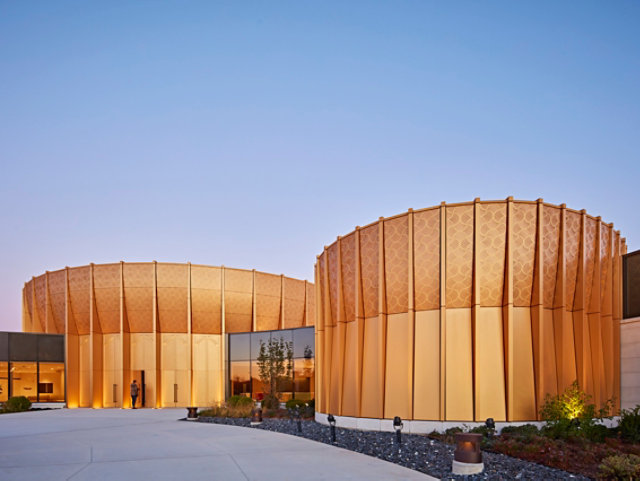 Science of Spirituality's International Meditation Center
Science of Spirituality's new International Meditation Center showcases an exterior of rich, golden metallic tones. Its façade's golden panels draw the eye upward, and resemble the similar shape of hands cupped in prayer and a blooming lotus flower's petals.
Science of Spirituality's new International Meditation Center showcases an exterior of rich, golden metallic tones. Illuminated at night, the Center presents an attractive, warm, welcoming space for visitors to its global headquarters. Designed by Gensler, the Center's elliptical form symbolizes the intersection of spiritual and earthly influences. Its façade's golden panels draw the eye upward, and resemble the similar shape of hands cupped in prayer and a blooming lotus flower's petals.
Throughout the Center, design elements reflect a journey toward peace in harmony with the community and the environment. A nonprofit organization with 2,800 centers worldwide, Science of Spirituality is dedicated to transforming lives through meditation. It presents spirituality as a science that can be practiced by people of all backgrounds and from all walks of life.
Open to the public, the International Meditation Center encompass 55,000 square feet of space on nine acres in Lisle, Illinois, a suburb in western Chicago. The main sanctuary offers flexible seating arrangements for up to 1,200 people. Other areas include a bookstore, reading room, café, dining hall, nursery, offices, meeting rooms, classrooms plus outdoor gardens and a reflecting pool.
The Center's unique façade includes Sherwin-Williams® Fluropon® Classic II in Light Gold and Dark Gold on Metal Design Systems, Inc. (MDSI) aluminum wall panel system.
"The golden color for the exterior metal panels was selected not only because of its beauty and aesthetics, but also because it is often associated with spirituality," explained a representative from Science of Spirituality. "Golden colors are considered optimistic and positive. At the highest level, a golden color is associated with higher ideals, wisdom, understanding and enlightenment. It inspires knowledge, spirituality and a deep understanding of ourselves and our souls."
"There were several rounds of color submittals with different gold colors," said Chad Showalter, MDSI's vice president of sales. "We knew the building was going to be illuminated from the ground at night, so the color, reflection and shadows were all very important to the final paint selection."
We wanted the finished material to have a reflectivity with a dynamic character that appeared to change throughout the day, accentuating the shadows and geometry of the building.
Skip carousel content
Project Image Gallery
Science of Spirituality's Images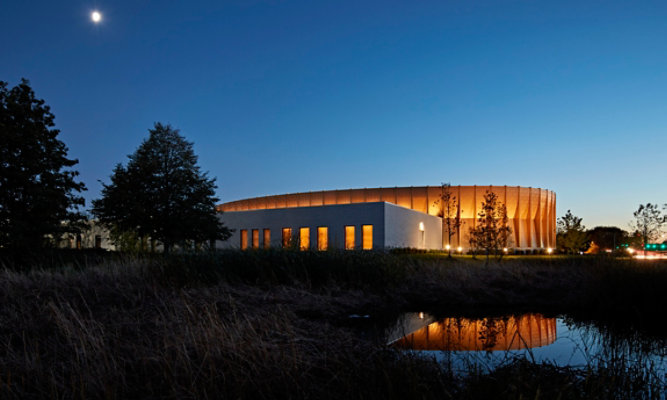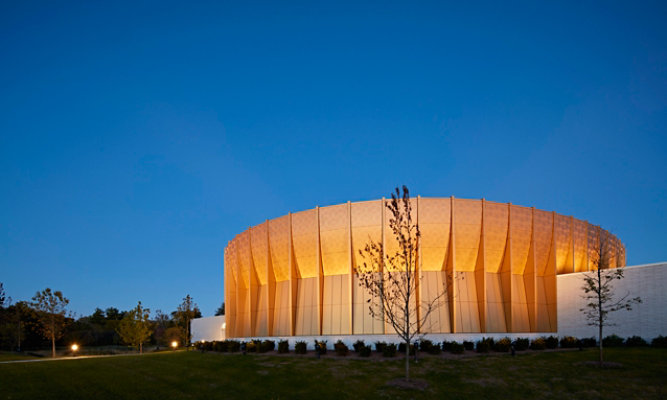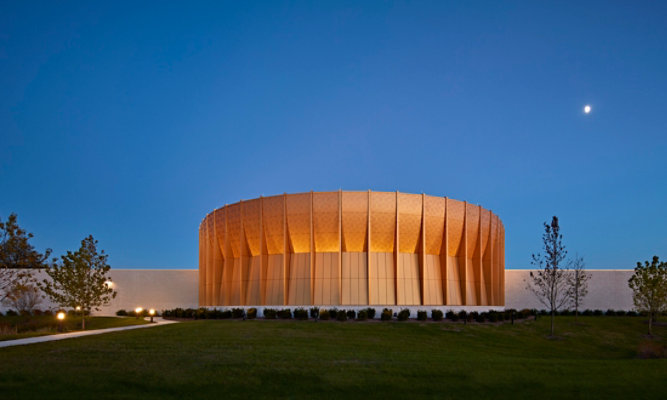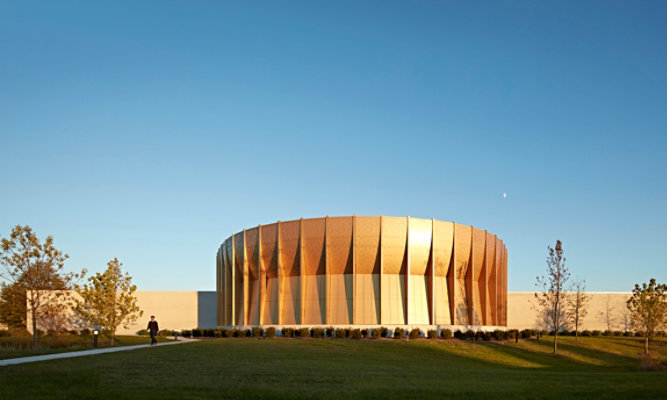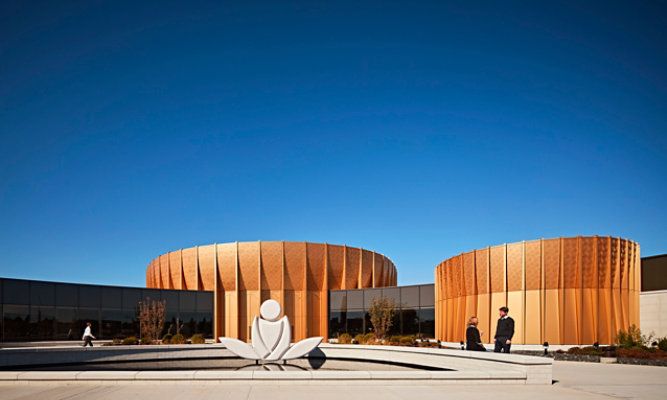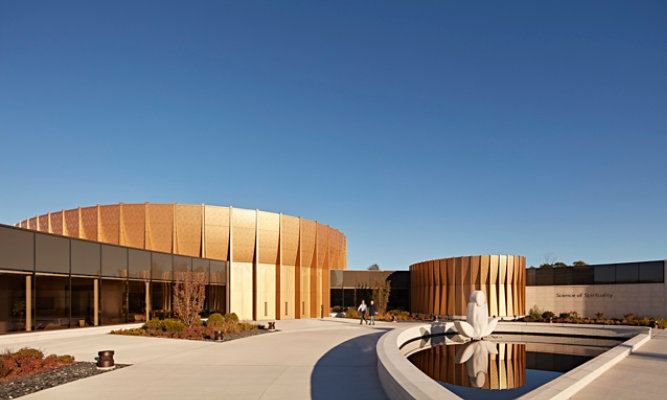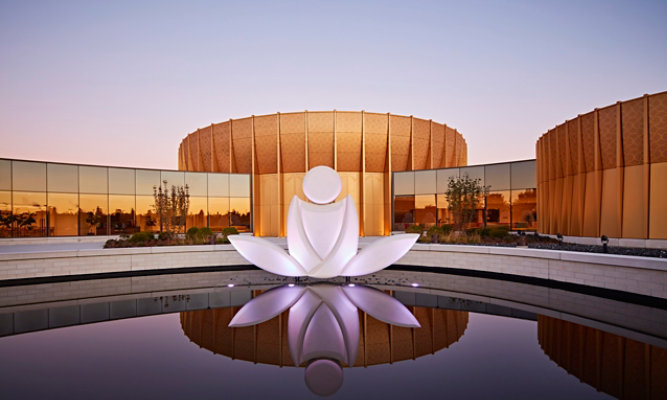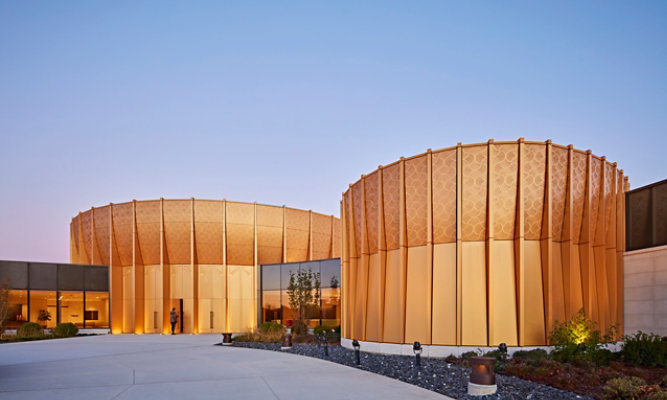 Sherwin-Williams' representatives provided samples and explained the coating's properties, attributes and longevity. The approved, Fluropon Classic II Light Gold and Dark Gold colors for Science of Spirituality's new Center were formulated using mica flake to enhance the vibrancy of the finished panel system. Communicating with intention, the 30-foot-tall, gold-colored panel wall assemblies appear solid, straight and sturdy at their base. The solid panels transition to a delicate jali-patterned, dual-color panels that cantilever and curve, opening heavenward.
"We reviewed several full-sized mock-ups during the design process to make sure that the pattern and finish on the panels was exactly what the client wanted," confirmed DePersia.
To better visualize the façade's geometry, Gensler generated a computerized model to help with panel depth, joining and patterning. Parametric components were set up and placed into a grid system based on four control points that conform to the elliptical geometry.
Gensler described the purity of the Center's elliptical form as "defined by two foci and a constantly changing radius. To simplify the building's geometry, the ellipse was subdivided into four symmetrical segments. This imperceivable deviation allowed the team to minimize the number of unique panels."
All of the Center's aluminum panels, vertical fins, coping and trim were engineered and fabricated by MDSI. The custom jali pattern was seamlessly mapped onto the complex building geometry's top panels. Moving from the digital to the physical, the pattern was laser-cut onto the aluminum panels. This decorative panel was paired with a solid one in back to form the upper assembly

After the panels were produced and perforated, Linetec post-painted all of MDSI's aluminum products using the selected Fluropon liquid architectural coatings to meet the high-performance specifications and precise aesthetic requirements. "MDSI and Linetec have had a long working relationship, and knew we wanted them as a partner for our finisher on this project," said Showalter.
"There are actually two gold colors being used; One for the outer perforated panel and one for the inner back pan," explained Showalter. "The intent was for the jali pattern to standout by using the two different gold colors."
"Linetec did a wonderful job working with us through several rounds of submittals and mock-ups. Because the panels were perforated, we needed to make certain that the panels – both on the face and the inside of the perforated jali pattern – had full coverage of paint."
"As a 70% PVDF architectural coating system, Fluropon Classic II offers reliable coverage and the highest level of performance, supported by a reputable brand," said Linetec's marketing manager, Tammy Schroeder, LEED® Green Associate.
For more than 55 years, Fluropon coating systems have been recognized by architects and architectural product manufacturers for their nearly limitless color choice, high performance, consistency and durability. Withstanding demanding climates, such as Chicago's harsh winters and hot summers, Fluropon Classic II coatings exceed the industry-leading standard AAMA 2605. Coatings manufactured and applied to this standard are proven to resist chalking, fading and ultraviolet rays, and to maintain their intended appearance for decades.
"Beyond Fluropon's reliable performance, the gold colors applied on MDSI's systems add a unique visual appeal to Science of Spirituality's International Meditation Center," observed Schroeder. "The lively appearance is caused by the way visible light reflects off the mica flakes within the coating system. The panels' golden painted surface will look like it glitters in the sun, giving the building the desired reflective property."
In addition to displaying the best qualities of Fluropon on International Meditation Center, Showalter noted, "The ultimate end-product was the result of effort from everyone involved in making key decisions as the project progressed through design, fabrication and installation."
The finished wall panel system was preassembled offsite for quick on-site installed by Architectural Panel Systems, Inc. General contractor Skender oversaw the Center's entire construction process starting in with site preparation in 2014 until the project was completed in 2018.
The inauguration of the new Science of Spirituality's International Meditation Center on July 28, 2018 was attended by local and state official and thousands of people from 30 different countries.
During a 2019 presentation at the meditation center, Dr. T. Colin Campbell, scientist and nutrition pioneer, was moved to say, "The mere sight of this place puts something in a person. I find this place to be a remarkable facility."
DePersia agreed and added, "The client is very, very happy with the look of the building and its performance to-date."
Honoring the design achievements of Science of Spirituality's International Meditation Center, Gensler was nominated for a "Divine Detail Award" as part of the American Institute of Architects (AIA) Chicago 2019 Design Excellence Awards.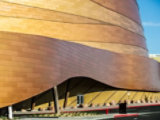 Fluropon is Sherwin-Williams flagship 70% PVDF coating system for architectural metal building products. Its superior durability and color retention keeps your building facade looking new for decades to come. Available in over 50,000 colors, Fluropon meets the industry's most rigorous standards including AAMA 2605.