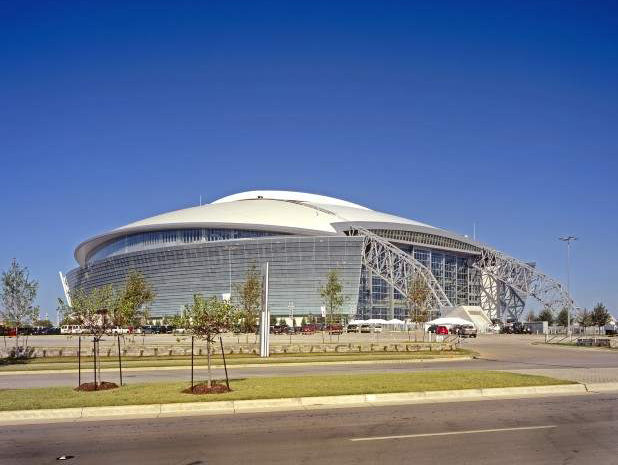 Cowboys Stadium
Everything about Texas Is "Big"…Including the Stadium
When fans arrived at the new Cowboys Stadium for the first football game of the 2009 season, they were greeted by a gleaming silver exterior made possible, in part, by Sherwin-Williams. Inside the stadium, the bright green field provided a brilliant contrast to that same "Cowboy Silver" used throughout the interior structure.
Sherwin-Williams supplied Cowboy Silver coatings to more than a dozen of its coil and extrusion customers that manufactured and fabricated structural components of the stadium. In total, Sherwin-Williams provided more than 3,000 gallons of coil and extrusion coatings used on nearly half a million square feet of surface. Those products included Fluropon Classic® II coil coatings and Fluropon Classic II and Acrodize® extrusion coatings. Most Sherwin-Williams customers on the project were U.S. based, although there was one European manufacturer involved. Customers included Alcoa Architectural Products; CENTRIA; The Metal Dek Group®, a unit of CSI®; Metlspan; Oldcastle Glass; Precoat Metals; Sapa Extrusions; Steelscape and Texas Finishing.
The Jones family, owners of the Dallas Cowboys, studied the finest stadiums, arenas, museums and buildings around the world for inspiration because they wanted the stadium to represent the best of the best. At 3 million square feet, the stadium was precedent-setting in architectural design and construction. It features 80,000 seats, the largest and longest retractable roof ever constructed, the largest operable glass door in the world and two 180-foot-long HD video screens.
Some Fun Facts about Cowboy Stadium:
It's the largest enclosed stadium in the National Football League.
1.4 million cubic yards of soil were moved to prepare the site.
The stadium bowl, which contains the football field and 80,000 seats, is 54 feet deep.
200,000 square feet of wall and 8,000 soil nails were used to engineer the earth retention system.
60-foot-deep piers support the massive stadium.
Nearly 2,700 pieces of precast concrete were used in construction.
The roof is 660,800 square feet and is held up by trusses built from 6,500 tons of high-strength Grade 65 steel.
Six crawler cranes were used to erect the trusses; they included two cranes from Link-Belt, a Sherwin-Williams customer.
The retractable roof panels are 256 feet wide by 410 feet long.
A one-of-a-kind, 600-ton video board is hung 110 feet above the field.
The 5,071 glass panels that make up the skin of the stadium weigh more than 1 million pounds in total.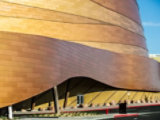 Fluropon is Sherwin-Williams flagship 70% PVDF coating system for architectural metal building products. Its superior durability and color retention keeps your building facade looking new for decades to come. Available in over 50,000 colors, Fluropon meets the industry's most rigorous standards including AAMA 2605.
Learn more about Fluropon
Skip carousel content
Architectural Projects
Get Inspired
Sherwin-Williams has collaborated with architects and building product manufacturers around the globe to help bring monumental architecture to life in vibrant color that withstands the test of time.
View all of our projects