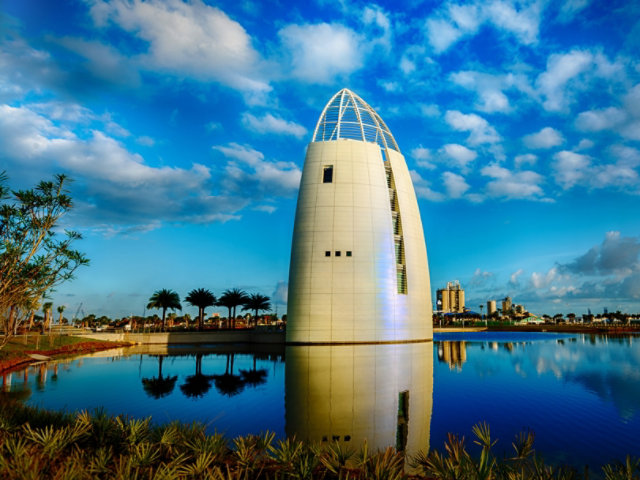 Exploration Tower at Port Canaveral
Kameleon Color paint creates color-changing, iridescent exterior
Linetec finishes Firestone's UNA-CLAD panels achieving a one-of-a-kind, dynamic appearance with the first use of Valspar's new Kameleon Color.
With its shimmering, iridescent exterior, Exploration Tower at Port Canaveral beckons visitors with its unique appearance as its color changes in different light and at different angle. Opened in November 2013, the Port's iconic welcome center showcases the first use of Valspar's new Kameleon™ Color mica coating as spray-applied to Firestone Metal Products' UNA-CLAD™ metal wall panels by Linetec, one the nation's largest finishers of architectural aluminum.
An integral part of Florida's Space Coast and Canaveral Cove's revitalization, Exploration Tower is owned by Canaveral Port Authority. Its opening coincided with the Port's 60th anniversary of its establishment and the 500th anniversary of Ponce de Leon's landing on Florida's east coast.
Skip carousel content
Project Image Gallery
Exploration Center
Check out these great project photos.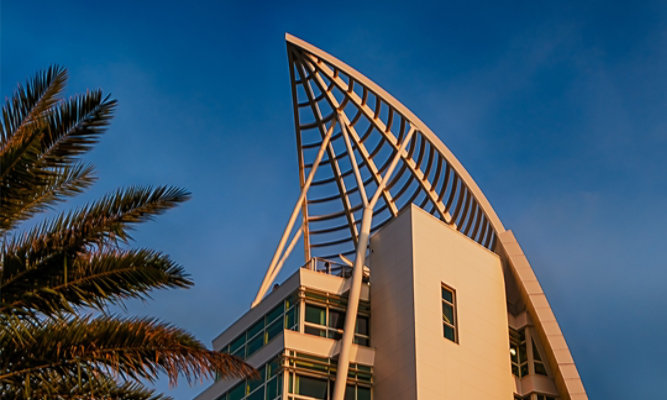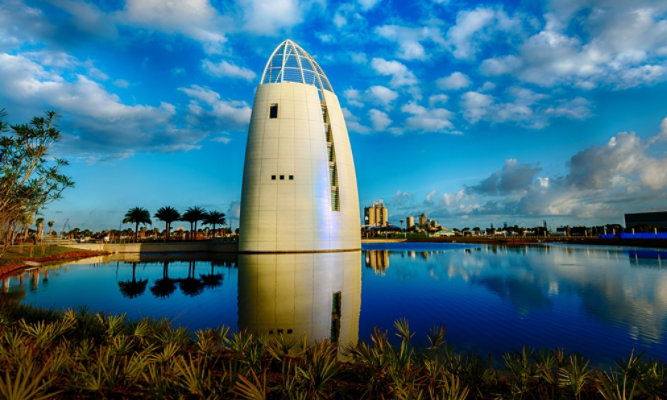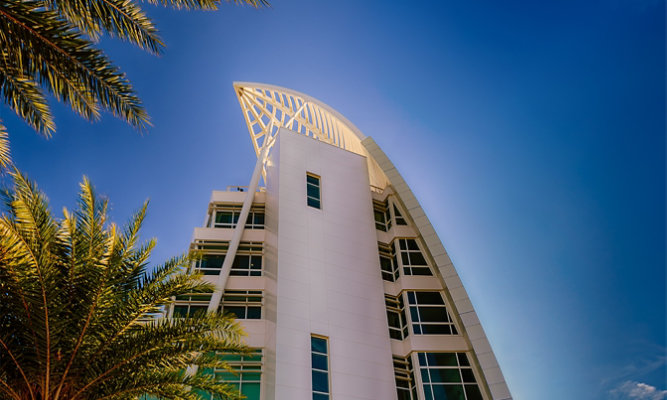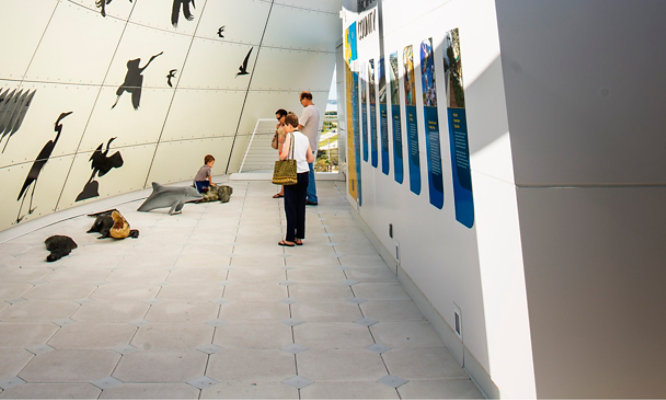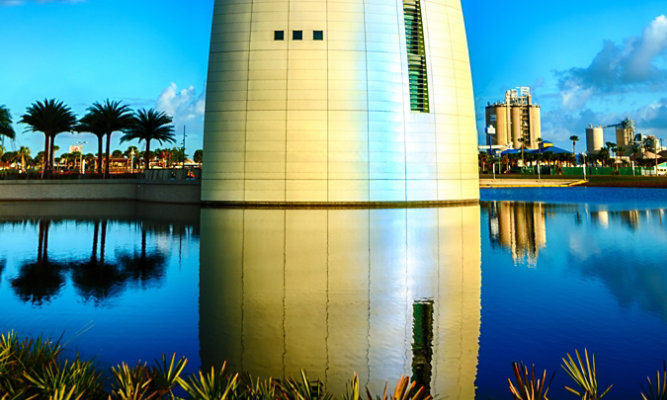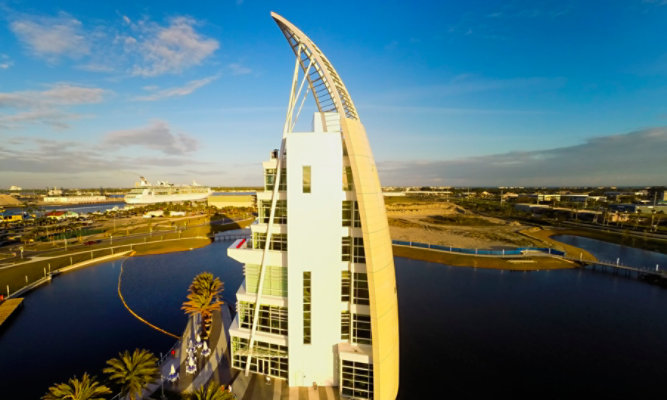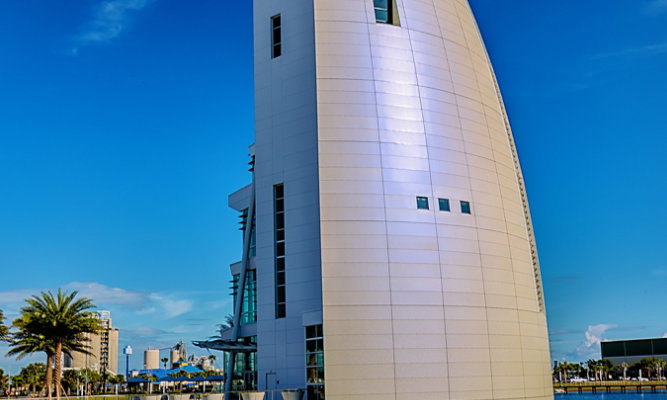 Taking its cues from the shapes and hues of the port, GWWO Inc./Architects designed the $23 million, seven-story, sail-shaped structure to express the common characteristics of "transience, function and imagery." The building's southern elevation soars from the water to the sky. It narrows in scale and reduces its exterior coverage until only the steel frame remains to outline the curvature and comes together at a peak 60-feet above the main roof level.
The architects elaborate, "The building's dynamic form and features — sun louvers, exposed structure and iridescent skin — contribute to a constant sense of movement as the sun plays across the structure, meet functional needs, and evoke imagery of the Port and [Brevard] County. A rocket ready to launch, a surfboard in the sand, a ship's hull, a rocket contrail; all can be seen in the structure's striking presence."
Skanska USA served as the general contractor of the 23,000-square-foot project. Kenpat USA was the subcontractor responsible for the exterior metal façades and wall system. Working closely with Kenpat, Firestone engineered and fabricated the façade's metal panel system. Radius Track Corporation fabricated the curved structural faming and provided the 3-D building information modeling (BIM) to coordinate the connection points for each panel in the building's parabolic curve. In total, Kenpat installed 42 pre-fabricated structural panelized units as sub-structure for the cladding, with the largest being 36 feet by 10 feet.
GWWO selected Valspar's Blue Pearl II color-changing paint to capture the themes of revitalization and change it sought to represent for the Port Canaveral area. Along with its unique appearance, the finish must withstand Florida's hurricane wind speeds, unrelenting sun and salt spray.
Kameleon Colors offer the same, advanced protection as Valspar's 70% PVDF Fluropon® product family in rich, pearlescent pigments that shift in color when viewed from different angles. Applied in a three-coat system, Kameleon colors consist of a primer, basecoat and color coat, and are available for both extrusion and coil products.
"When creating a unique design that requires a vibrant color scheme, Kameleon Color is an excellent choice. This innovative, multicolored system uses mica flakes to create a consistent, iridescent look," notes Tim Tritch, Valspar's director of sales. The coating utilizes a blend of ceramic and inorganic pigments create this rich look that is both brilliant and subtle."
"When creating a unique design that requires a vibrant color scheme, Kameleon Color is an excellent choice. This innovative, multicolored system uses mica flakes to create a consistent, iridescent look. The coating utilizes a blend of ceramic and inorganic pigments create this rich look that is both brilliant and subtle."
Linetec also applied a clear coat over the Blue Pearl II for enhanced durability. As with other 70% PVDF resin-based coatings, Kameleon Colors meet the most stringent, exterior, architectural specification, American Architectural Manufacturers Association's AAMA-2605. This specification requires paint coatings to meet rigorous testing performance standards, including more than 2,000 hours of cyclic corrosion per ASTM G85 annex 5, and heat- and humidity-resistance. Per AAMA-2605, the coating also must maintain its film integrity, color retention, chalk resistance, gloss retention, and erosion resistance properties for a minimum of 10 years on the South Florida testing site.
"If anyone can spray this and make it look good, it would be Linetec," said GWWO's senior associate, John Gregg, AIA, LEED AP, AVS, during a project planning meeting.
Accepting the praise with confidence, Linetec's paint plant manager Paul Bratz says, "No one has sprayed this before, but our knowledgeable staff was up to the challenge. There was some trial and error during the process. It was critical that each paint run maintained the same parameters. The spray conditions, paint prep and application consistency of the paint itself were all critical. The slightest change could alter the look of the paint."
To ensure consistency and minimize variation, Linetec modified its existing paint protocol process. Bratz explains, "The amount of paint needed for the entire project was determined and ordered as a single batch at the beginning of the project. Valspar prepared the special mica technology paint all at one time with excellent consistency, taking out the variable of multiple paint batches."
In addition to the Kameleon Colors' Blue Pearl II finish on southern seaside elevation, Linetec also applied Valspar's Fluropon White finish to the northern elevation's aluminum-framed curtainwall offering views of the bustling port. The entire project was painted in four phases, starting in March 2013 and ending in May.
Editor's Note: This article was originally published on October 13, 2014. Valspar was acquired by The Sherwin-Williams Company on June 1, 2017.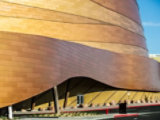 Fluropon is Sherwin-Williams flagship 70% PVDF coating system for architectural metal building products. Its superior durability and color retention keeps your building facade looking new for decades to come. Available in over 50,000 colors, Fluropon meets the industry's most rigorous standards including AAMA 2605.
Skip carousel content
Architectural Projects
Get Inspired
Sherwin-Williams has collaborated with architects and building product manufacturers around the globe to help bring monumental architecture to life in vibrant color that withstands the test of time.
View all of our projects