Freight Yard
Fluropon coatings help deliver the Freight Yard's shipping container-inspired design and weathered steel appearance
Located in the heart of the Railroad Square arts district, the Freight Yard draws inspiration from its former purpose and modern, industrial themes. This live-work-play development in urban Tallahassee is described as "an ecosystem for the creative class." The unique living environment, designed by Conn Architects, provides an oasis in the city where innovation, sustainability and luxury intersect.
Fluropon® 70% PVDF resin-based architectural coatings from Sherwin-Williams Coil Coatings help produce the weathered-steel design for the 8,800-square-foot, three-story building's exterior. The high-performance finish was applied by Precoat Metals to 5,100 square feet of metal to form Petersen's PAC-CLAD Precision Series steel Highline S-1 Wall Panels to resemble shipping containers.
Early in the project's development, real shipping containers were considered for its construction. Conn Architects worked with PAC-CLAD to finalize the design intention and industrial-chic aesthetic through more economical means and traditional construction methods.
"The renovation of used cargo containers can be quite expensive, contrary to popular belief," explained Michael Conn, president of Conn Architects. "The square foot costs came in too high to justify the rents, so the decision was made to use conventional wood-frame construction to simulate renovated container units. As it turned out, the overall aesthetic was achieved at a much lower cost."
Conn elaborated, "First and foremost, the two design cues were to mimic the container size and the unique metal envelope. Metal was always considered to be the cladding of choice. Few, if any other manufacturers offered the profile, color and texture of the Precision Series Highline panel. It had the perfect appearance of a contemporary metal to mimic the container material – but better."
Achieving the look of weather-aged metal, Precoat Metals employed a rotogravure printing process to coat the metal. The process involves multiple passes to generate the intended pattern and color effect. Fluropon coatings were used for all three passes: the dark brown basecoat, followed by the lighter brown ink pattern and topped with a protective clear coat. Once finished, the metal was fabricated into PAC-CLAD wall panels for the Freight Yard apartments' distinctive exteriors.
Skip carousel content
Project Image Gallery
Freight Yard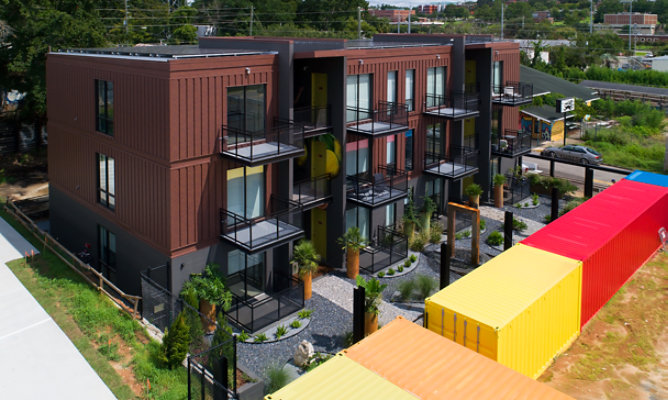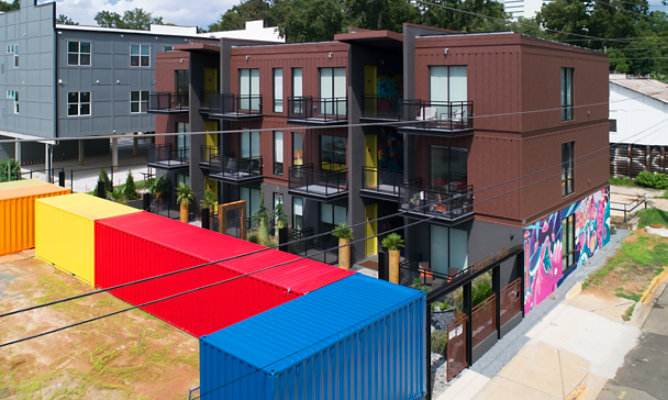 "Petersen's Weathered Steel and Weathered Copper finishes are ideal for applications in which a weathered metal appearance that does not change with time is desired," said Petersen's director of communications, Rob Heselbarth. "The aesthetic will look the same in year 30 as it does on the day the metal panels are installed."
Heselbarth continued, "The paint finish will not fade, chip or chalk, as stated in Petersen's 30-year finish warranty. In addition to an exterior appearance that will not change, the PAC-CLAD wall panel system provides strength and durability to endure strong winds, including those commonly experienced in Florida."
Supporting Petersen's durable performance and the Freight Yard's resiliency and longevity, Fluropon coatings provide exceptional resistance to color change, gloss loss, chemicals, UV, chalking, erosion, humidity and salt spray. Fluropon 70% PVDF resin-based architectural coatings by Sherwin-Williams Coil Coatings are formulated to meet or exceed the industry's most stringent performance specification, AAMA 2605. Tested under extreme conditions, the weather steeled finish on the Freight Yard's metal wall cladding will retain its appearance and high performance for many years to come.
Working with general contractor, CEDCO, Garrison Design Construction installed the finished metal panels on schedule to meet the Freight Yard's 2019 opening. This first phase in the property's development includes 32 apartments, a courtyard, five retail/restaurant modules, as well as ample space for pop-up stores. The larger, luxury apartments offer 800-square-foot floorplans.
In contrast to the site's original function as a freight yard for coal, the new Freight Yard incorporates several sustainable and locally sourced design strategies and material. Photovoltaic-panels power solar electricity, water heaters are high efficiency, community gardens showcase native plants and locally commissioned artwork, and cyclist- and pedestrian-friendly pathway connect to the larger community.
Biking or walking from the Freight Yard, residents are within minutes of Florida State University, Florida A&M University, Cascades Park, co-working space at Domi Station and surrounding All Saints District.
Future phases are anticipated to include net-zero energy, 130-square-foot micro apartments, and construction using actual, upcycled shipping containers and other environmentally responsible materials.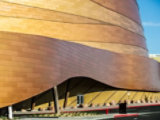 Fluropon is Sherwin-Williams flagship 70% PVDF coating system for architectural metal building products. Its superior durability and color retention keeps your building facade looking new for decades to come. Available in over 50,000 colors, Fluropon meets the industry's most rigorous standards including AAMA 2605.
Skip carousel content
Architectural Projects
Get Inspired
Sherwin-Williams has collaborated with architects and building product manufacturers around the globe to help bring monumental architecture to life in vibrant color that withstands the test of time.
View all of our projects