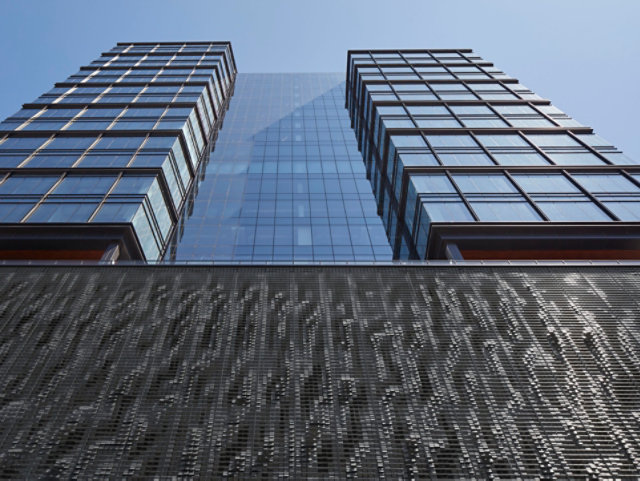 GR333N
Chicago's GR333N office building features wind-driven façade, relies on Fluropon finish for consistent appearance on multiple exterior products
The recently opened GR333N building at 333 North Green St. in Chicago features the largest wind-driven flapper wall system of its kind. The kinetic façade creatively covers the parking garage on the lower levels. Above it, a curtainwall offers daylight and views for the office and retail floors of this LEED Gold-certified, 19-story mixed-use building.
Balancing transparency and concealment, GR333N's design provides a contemporary interpretation of the Fulton Market's historic neighborhood. Gensler specified Fluropon® Classic II by Sherwin-Williams Coil Coatings in Graphite Gray to impart the look of industrial steel without the weight and maintenance.
The singular color and Fluropon finish unified the 775,000-square-foot building's distinctive exterior, presenting a consistent appearance involving multiple architectural aluminum product manufacturers and finishing applicators.
Industrial Heritage Inspires Modern Interpretation
"Early in the project's design, we determined that this would be a modern take on the former industrial warehouses in the West Loop – kind of a warehouse for people. The gray color on the curtainwall framing and mullions mimics that sense of steel I-beams," said Gensler's principal, Brett Taylor.
"Projects in these districts undergo rigorous design review to meet very strict guidelines," Taylor continued. "For above-ground parking garages there are rules regarding not seeing the cars from the building's exterior, shading the headlights and providing required ventilation inside the facility. We considered a variety of screening ideas and options before we arrived at the flapper wall. The design evolved as we worked with the building team, and reviewed it with the city and the developer."
The flapper wall itself also went through several iterations to perfect the color, size and shape. Taylor described the process: "We considered stainless steel or accent colors, integral and applied finishes. We looked at Fluropon samples in different levels of black and gray. We developed pretty complicated materials boards showing the finish colors against the glass and stone. We had a visual mock-up made to see how the finished mullions worked with the glass and how the finished, curved profile of the flapper panels would look. Ultimately, we arrived at the decision that we wanted the same gray finish for the whole building."
Taylor added, "In going with a consistent color through the whole project, it not only achieved the design goals really well, but also helps the property management in the long term because there's one, single color to touch-up if needed. We specified the highest performance finish and warranty available, so there should be little maintenance or repair needed for many years."
When architects pick out paint colors, we will typically ask Sherwin-Williams to match them. We submit the samples for approval and move forward. Sherwin-Williams always does an excellent job.
Skip carousel content
Project Image Gallery
GR333N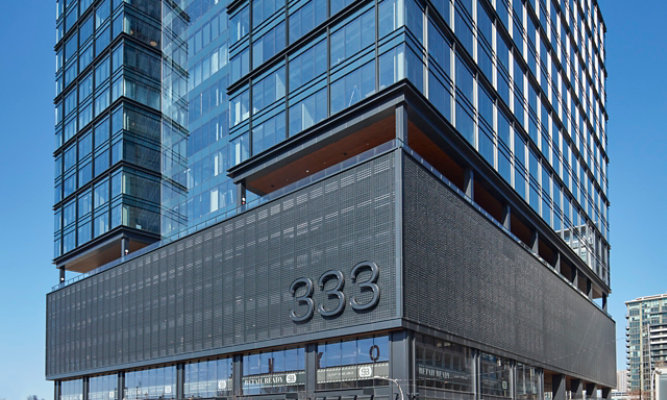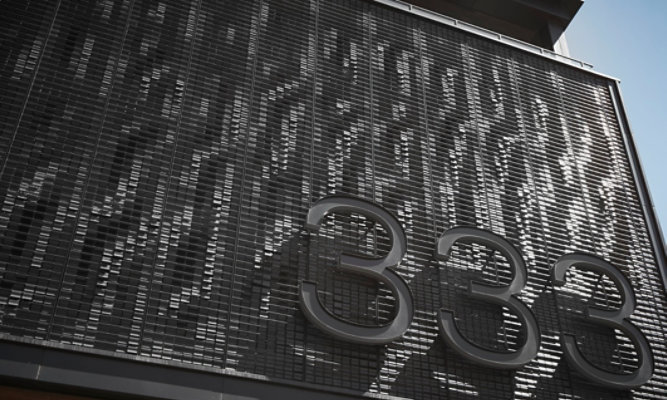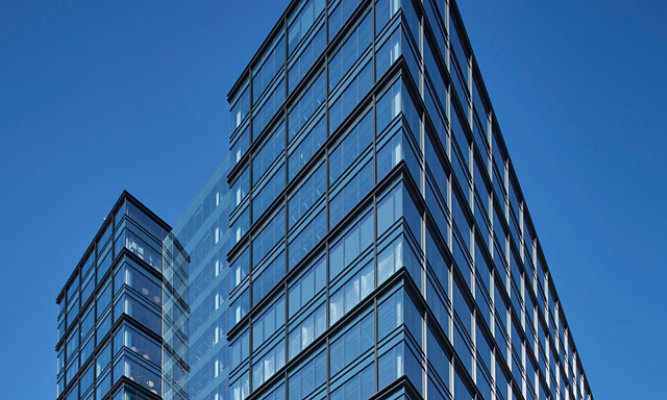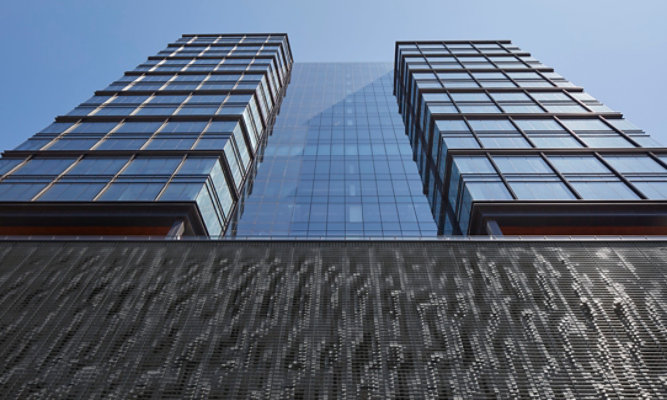 Signature System with Singular Finish
Following Gensler's specifications and overall design intention, specialty contractor Mid-States Glass and Metal installed and coordinated GR333N's numerous exterior components. Mark Labuz, senior project manager at Mid-States, remembers Gensler, Bruce Wall Systems and Sherwin-Williams collaborating to define the finish color for the curtainwall. Soon after, he said, the same Fluropon Graphite Gray color was specified for the flapper wall, as well as the aluminum wall panels, column covers and the sixth floor's metal soffit.
Bruce Wall Systems fabricated the majority of GR333N's exterior including its curtainwall and signature flapper wall system, working closely with Mid-States and Sherwin-Williams. The flapper wall acts as both an eye-catching, dynamic, art installation and a practical, functional screening device.
The flapper panels are S-shaped to maximize their responsiveness to the wind and their interplay of sun and shadow. The 34,000-square-foot aluminum-framed wall system used approximately 91,000 individual 6-by-6-1/4-inch aluminum flappers, all of which were extruded and finished by Bonnell in Fluropon Graphite Gray.
"We use Bonnell and Sherwin-Williams primarily. I can't remember the last time we used anyone else," said Lou Chini, vice president of engineering for Bruce Wall Systems. "When architects pick out paint colors, we will typically ask Sherwin-Williams to match them. We submit the samples for approval and move forward. Sherwin-Williams always does an excellent job."
Fluropon's nearly limitless color choice, high performance, consistency and durability has earned it the respect of architects, architectural product manufacturers and finishers for more than 55 years. Frequently specified for monumental building projects, Fluropon Classic II coatings exceed the industry-leading standard AAMA 2605. Coatings manufactured and applied to this standard are proven to resist chalking, fading and ultraviolet rays, and to maintain their intended appearance for decades.
Chini continued, "The architect wanted the flapper wall to match the rest of the paint on the tower's curtainwall framing. Usually, flapper wall systems are finished in a clear anodize to emphasize the wave effect as the light reflects off the panels as they move in the wind. We fan-tested two large mock-up units in house at our location in Tucker, Georgia. In Chicago, it's always windy, so the flappers always seem to be moving."
First Flapper Wall of Its Size

Bruce Wall engineered the flapper wall as a unitized system, simplifying installation for Mid-States. The flappers are suspended on stainless steel rods and fabricated in an extruded aluminum framing system. Chini explained, "It's the first large flapper wall project of this size [in Chicago]. We built the flapper wall system like a curtainwall. We assembled it here [in Georgia] in unitized sections and shipped it to Mid-States for installation."
He elaborated, "Because it was the first of its size, we sent a number of large units ahead. Mid-States installed these on the building so the architect and owner had several months to see them in action before the rest were in place. We received only positive feedback."
A total of 672 assembled flapper units cover all four sides of the parking garage. They span from beneath the second floor up to the curb on the sixth floor, which is the first occupied floor. There are 168 units per floor in typical widths of 4 feet 11 inches and in varying heights: The lowest level's units are 14 feet 4 inches tall. The next two levels' units are 9 feet 5-1/4 inches tall. The uppermost level's units are 7 feet 9-1/2 inches tall.
A 1-inch spacing joint separates each flapper vertically and horizontally to facilitate ventilation and daylight transmission. A galvanized wire mesh screen also was installed to deter people in the parking garage from touching the flappers.
Consistent Look, Coordinated with Six Manufacturers
In addition to the consistent Fluropon Graphite Gray finish, the exterior wall panels extend the visual connection between the flapper wall and the curtainwall. Manufactured by Quality Metalcrafts, LLC/Americlad, the wall panels surround the perimeter of the flapper wall and accentuate every other floor above it.
Linetec not only finished all of Metalcrafts' wall panels for GR333N, but also the column covers, metal soffit and complementary architectural aluminum products from at least five other manufacturers: Mull-It-Over, Solar Innovations, Combined Roofing, Pittco and Tee Jay Service. Ensuring color consistency and performance, Linetec finished all of the material under quality-controlled conditions in its Wisconsin-facility and then shipped it for installation by Mid-States.
The above-ground, four-level parking garage's flapper wall system was one of the final elements to be installed by Mid-States on the building, creating the building's most recognizable feature. "The successful completion of this project arose from impeccable communication and teamwork from all parties to achieve the design and construction of the now in place master piece," praised Labuz.
Creative, Collaborative Community
Gensler's Taylor added his complements saying, "It's cool to see the full effect as the wind moves the flappers. Everybody's super happy with the project. It's been very well received."
Bringing GR333N's forward-thinking design to reality, developer Sterling Bay, Gensler and Power Construction celebrated the project's groundbreaking in April 2018. Construction progressed as planned and was completed as scheduled in Dec. 2019. The first tenants moved into their new offices in early 2020 and among them was Sterling Bay itself.
"Our commitment to thinking creatively and working collaboratively, while constructing this project ensured the on-time delivery for our corporate tenants," said Andy Gloor, CEO of Sterling Bay. "Our world-class design and construction professionals worked together to keep the project on schedule, rain or shine. As a result, our team shares in …one of Chicago's most cutting-edge office developments."
Along with 35,000-square-feet of retailers and a skydeck overlooking the city, GR333N's robust amenity package includes a tenant lounge, bar and grab-and-go food service; gaming area, fitness center and programmed yoga room; conference facilities; shuttle service, secure bike room and 24-hour security.
Steps from some of the city's best restaurants and galleries, tenants enjoy a coveted location in the heart of one of Chicago's fastest growing neighborhoods.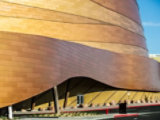 Fluropon is Sherwin-Williams flagship 70% PVDF coating system for architectural metal building products. Its superior durability and color retention keeps your building facade looking new for decades to come. Available in over 50,000 colors, Fluropon meets the industry's most rigorous standards including AAMA 2605.
Skip carousel content
Architectural Projects
Get Inspired
Sherwin-Williams has collaborated with architects and building product manufacturers around the globe to help bring monumental architecture to life in vibrant color that withstands the test of time.
View all of our projects