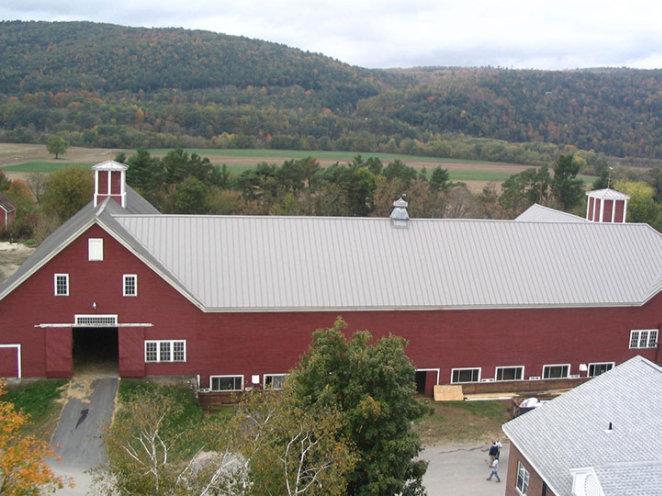 Grafton Dairy Barn
Rustic America Receives a Renovation with Sherwin-Williams Coated Roof on Grafton Dairy Barn
Occupying just as much of our pastime as baseball has, farming in America is rich in history, nostalgia and importance. In New Hampshire, one of the original American colonies and earliest 13 states, many of its oldest farmsteads and stretches of farmable land date back hundreds of years. One of these locations, Grafton Dairy Barn, is nearly 200 years old and recently underwent a massive renovation project in order to preserve and improve its aging structures.
Nestled in the rolling hills of North Haverhill, the Grafton farm is easily recognizable with its iconic red siding and classic barn architecture. Looking to modernize their facilities and replace the aging roof on the dairy barn, owners contacted the team at Eight Hundred Roof to oversee the renovations, including deck repairs, purlins replacement and the removal of asbestos shingles. In their place, Eight Hundred Roof worked with Sheffield Metals to supply and install 30,000 square-feet of 1-1/2-inch standing seam panels coated in Sherwin-Williams Fluropon® in Slate Grey, creating a visually dynamic and functionally improved roof. Fabricated on site, the Sheffield metal panels provide a durable new surface to the barn rooftop that will hold up to through fierce weather and harsh sunlight.
Coated in the Slate Grey color, the Grafton Dairy Barn roof shimmers across the rural landscape, pairing modernity and pastoral design into a single visual aesthetic. Sherwin-Williams Fluropon 70 percent PVDF architectural coating is renown for its high-performance qualities and durability, which include resistance to ultraviolet rays and superior dirt and stain resistance. Additionally, when Fluropon is used on roofing materials, the paint enhances the energy-efficiency of a building, helping to lower cooling costs and keeping the interior more comfortable for the animals and workers within.
Combined with Sheffield metal panels, Fluropon provides the structure with a roof that will weather the elements and preserve the barn for its next long stretch of use, all while maintaining that classic, unmistakable look.
Grafton Dairy Barn; North Haverhill, NH
Project Credits:
Metal panel manufacturer: Sheffield Metals; Sheffield Village, OH
Coating applicator: Precoat Metals; St. Louis, MO
Metal panel fabricator & installer: Eight Hundred Roof; North Berwick, ME
Metal panel distributor: Admiral Building Products; Lewiston, ME
Coatings provider: Sherwin-Williams Coil Coatings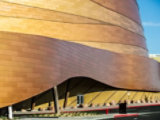 Fluropon is Sherwin-Williams flagship 70% PVDF coating system for architectural metal building products. Its superior durability and color retention keeps your building facade looking new for decades to come. Available in over 50,000 colors, Fluropon meets the industry's most rigorous standards including AAMA 2605.
Learn more about Fluropon
Skip carousel content
Architectural Projects
Get Inspired
Sherwin-Williams has collaborated with architects and building product manufacturers around the globe to help bring monumental architecture to life in vibrant color that withstands the test of time.
View all of our projects