A two-story addition and renovation that incorporated corrugated metal siding and a few pops of color completely transformed a 1950s home into a residence with undeniable curbside appeal. The owners of the home in Chevy Chase, Maryland worked with Balodemas Architects to update their house. The owner was looking for a silver-gray home, and as a result, the exterior metal wall panels from Metal Sales were finished with a clear Galvalume coating supplied by Sherwin-Williams Coil Coatings. To add further dimension to the structure, the architect suggested adding a few hints of color to the front door and trims around the house. The corrugated metal panels provide durability and a unique aesthetic to this one-of-a-kind home.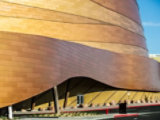 Fluropon is Sherwin-Williams flagship 70% PVDF coating system for architectural metal building products. Its superior durability and color retention keeps your building facade looking new for decades to come. Available in over 50,000 colors, Fluropon meets the industry's most rigorous standards including AAMA 2605.
Skip carousel content
Architectural Projects
Get Inspired
Sherwin-Williams has collaborated with architects and building product manufacturers around the globe to help bring monumental architecture to life in vibrant color that withstands the test of time.
View all of our projects