Pickens County YMCA
Architectural metal wall panels coated in Fluropon give Pickens County YMCA durable and aesthetically pleasing exterior.
In the U.S., there are approximately 2,700 YMCA locations that collectively serve millions of youths and adults each year with the mission to promote healthy living and social responsibility. Pickens County, located in South Carolina, recently added a third YMCA in the city of Powdersville, eliminating the commute for current residents who were members at the 60 and 20-year veteran locations in Easley and Pickens.
This project hasn't been a "new" proposal for some time, but instead has been discussed for decades among long-term community members. After undergoing discussions for nearly 20 years, with an additional two years of construction, the new YMCA finally opened in the summer of 2016 with approximately 300 families who joined early. The final cost of the 35,000 square-foot building totaled approximately $6.5 million.
Expected to achieve the highest membership tally of the three county facilities — once plans are finalized for an aquatic center — the new fitness center currently offers a full-size basketball court, aerobics area and wellness, community and multi-purpose rooms. It also houses a nursery and childcare room, a small kitchen, various offices, and a sauna in addition to men's and women's locker rooms, with separate facilities for adults and children. However, the new location goes beyond providing just a space for individuals to visit, as it also offers wellness classes and is poised to hold summer camps.
McMillan Pazdan Smith Architecture was hired to develop an innovative and cost-effective design to fit the location's current surroundings. The modern exterior that juxtaposes glass with metal panels was chosen to mirror the look of Grace Church, a building that neighbors the facility and shares the same parking lot. To achieve this aesthetic, McElroy Metal provided the exterior architectural metal wall panels that add texture, durability and sustainability to the YMCA facility. The metal panels, installed by Roebuck Building Company, were rotated and applied horizontally rather than vertically to create a fresh look and feel for the building. 5,400 square-feet of 24-gauge Mega-Rib panels featuring Sherwin-Williams Silver Metallic Fluropon® Classic II coating and 17,500 square feet of 24-gauge Multi-Cor 7/8-inch corrugated panels featuring Sherwin-Williams Ash Gray and Charcoal Fluropon coating were commissioned to adorn the majority of the exterior walls.
Fluropon is Sherwin-Williams flagship metal coating that has delivered proven performance for more than 50 years. Fluropon is a two-coat system, and the long-lasting and durable Ash Gray and Charcoal architectural metal coatings provide the facility with both durability and an aesthetically pleasing choice. As an added touch, Fluropon Classic II, part of the Fluropon family, was selected to provide a metallic finish that offers an extra sparkle effect due to its special formulation and metal flake technology. The Silver metallic coating delivers a complementing accent for the structure and adds the extra pop the new facility was hoping for.
With expectations of being the largest of the three locations, Powdersville YMCA has a goal to serve 1,500 families. The new facility will help strengthen and foster healthy lives within the community, while doing so in style thanks to the design additions of McElory Metals and Sherwin-Williams.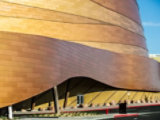 Fluropon is Sherwin-Williams flagship 70% PVDF coating system for architectural metal building products. Its superior durability and color retention keeps your building facade looking new for decades to come. Available in over 50,000 colors, Fluropon meets the industry's most rigorous standards including AAMA 2605.
Learn more about Fluropon
Skip carousel content
Architectural Projects
Get Inspired
Sherwin-Williams has collaborated with architects and building product manufacturers around the globe to help bring monumental architecture to life in vibrant color that withstands the test of time.
View all of our projects