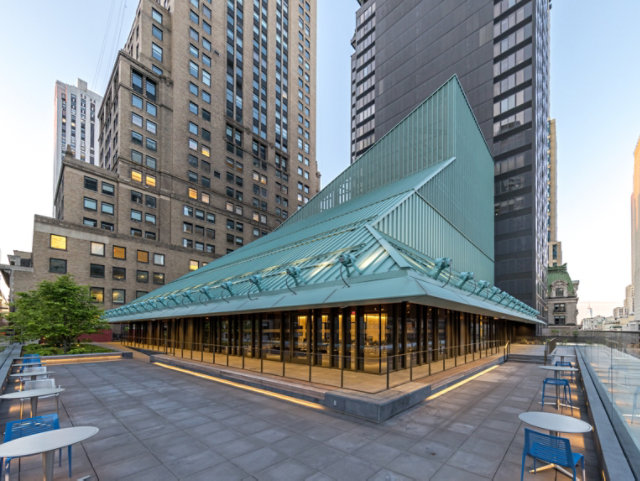 The Stavros Niarchos Foundation Library
New York City library's Patina Green color and "wizard hat" shape create new icon respecting historic design of former department store
The Stavros Niarchos Foundation Library in New York City transforms the skyline of Midtown Manhattan by vertically expanding an historic building and creatively updating a former department store. The award-winning project is pursuing LEED Silver certification and welcomes all to the only free, publicly accessible roof terrace in the area.
Mecanoo of the Netherlands and Beyer Blinder Belle of New York designed the repurposed 1914 property for The New York Public Library (NYPL). NYPL moved into the building in 1970 and modestly renovated the interior 1978. Minimal changes to the existing space were made in more than four decades.
Expanded upward from six to seven stories, the 180,000-square-foot modern library's immediately recognizable iconic form showcases a new, sculptural, geometrical, aluminum roof structure resembling the angular shape of a wizard's hat. Highlighting the magic and knowledge of libraries, this distinctive metal roof is finished with Fluropon® "Patina Green" by Sherwin-Williams Coil Coatings.
Skip carousel content
Project Image Gallery
The Stavros Niarchos Foundation Library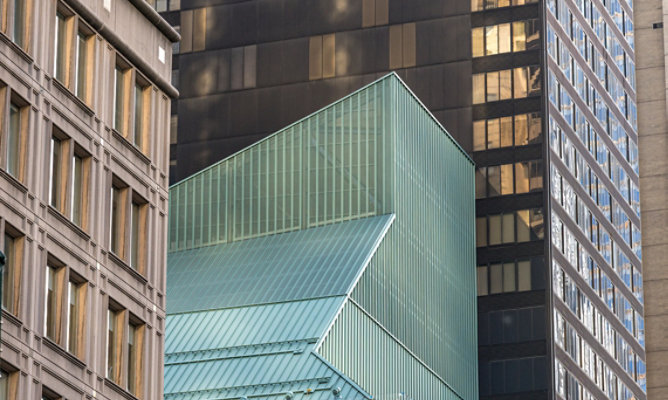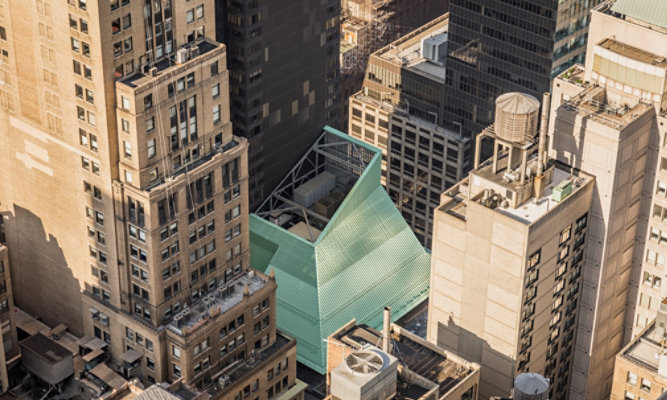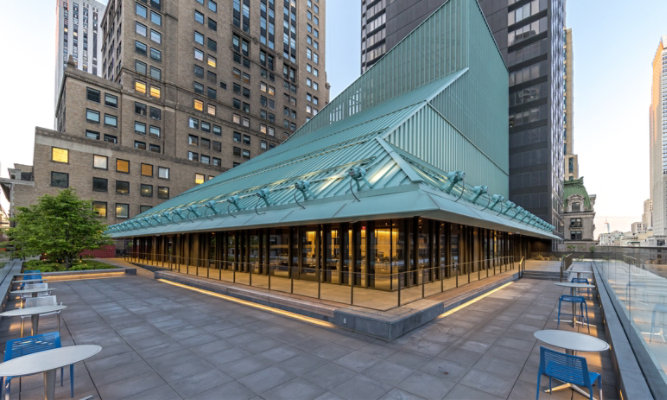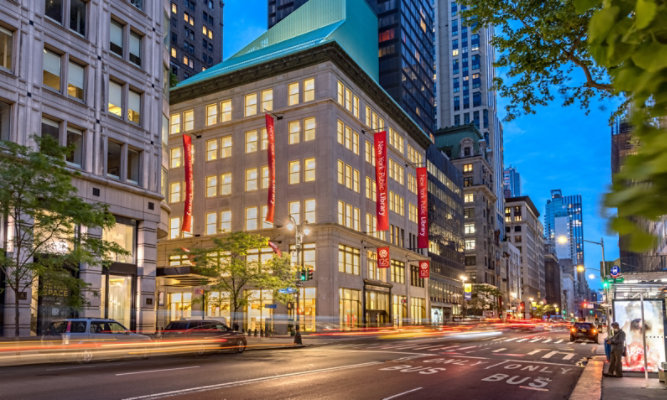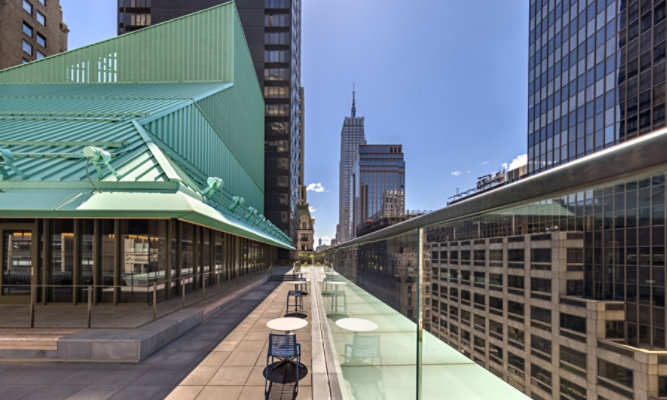 Bringing Wisdom, Drama and Magic
"The Stavros Niarchos Foundation Library is a powerhouse of wisdom, and its street presence brings drama and magic to Manhattan, visibly expressed with its Wizard Hat," described Francine Houben, creative director and founding partner of Mecanoo.
In a joint statement, Houben and Beyer Blinder Belle's managing partner Elizabeth Leber shared: "Libraries are and will always be repositories of knowledge; but that knowledge resides in its librarians as much as in its bookshelves. Working together with NYPL's talented staff, our firms strove to meet the library's needs with an inclusive program, humanistic planning and design, and iconic architecture."
Houben added, "Libraries are incredibly unique spaces, houses of knowledge and creation that must inspire, welcome and serve all. In this case, we were entrusted with a historic building in New York City, one that receives millions of visits every year, but was never built to be a library. We needed to take the bones of that building and reimagine the ultimate library."
Respecting the century-old building's architectural heritage, the Patina Green color, while new, already appears to have gracefully aged with time and weather. The signature Patina Green color was inspired by the neighborhood's Beaux Art style, copper-clad, mansard roofs. Providing exceptional color retention and consistency to uphold the project's desired aesthetic, Fluropon 70% PVDF resin-based coatings will protect the metal for many years to come.
Project Credits:
Owner: New York Public Library; New York
Private funding partner: Stavros Niarchos Foundation; Athens, Greece
Architects:

Beyer Blinder Belle; New York

General contractor: Tishman Realty & Construction; New York
Roofing contractor and metal installer: The Jobin Organization Inc.; Hauppauge, New York
Metal roof, steel framing – manufacturer: Duraframe LLC; Webster, New York
Metal roof, aluminum panels – manufacturer: Merchant & Evans Co., Inc. (M&E); Burlington, NJ now Innovative Metals Co. Inc. (IMETCO); Norcross, Georgia
Metal roof and snowguard – coating applicator: Brightsmith, LLC.; Morrisville, Pennsylvania
Metal roof and snowguard – coatings: Fluropon® "Patina Green" by Sherwin-Williams Coil Coatings
Photography: Max Touhey
Creating High-Performance, Visually Impressive, Valuable Space
Achieving the project's performance requirements, Fluropon 70% PVDF resin-based coatings meet the industry-leading AAMA 2605 specification. This specification outlines the highest performance level for exterior aluminum coatings, resulting in outstanding resistance to humidity, chalking and gloss loss.
Fluropon coatings meeting this high-performance standard also successfully pass 4,000 hours of accelerated salt spray testing. This is important in New York City as both a coastal environment and a climate that uses salt to mitigate roadway icing in winter. The finish also resists UV radiation and color fading from direct daylight on sunny days.
Taking advantage of seasonal opportunities, the renovation included adding a rooftop terrace. This expanded the previously unused space into an attractive destination. The L-shaped, wraparound outdoor venue welcomes all to enjoy its elevated patio, urban garden and impressive city views. Houben said, "We created a welcoming public space that will be beautiful and functional now and 100 years from now, with… a unique and beautiful Wizard's Hat on top with a free public terrace."
Delivering the intended visual effect, the Fluropon coating in Patina Green on the Stavros Niarchos Foundation Library's wizard hat roof was applied by Brightsmith using a factory-applied coil coating process to finish the numerous metal panels and attached snowguards.
Rising 184 feet above street level, the roof is clad ZIP-RIB aluminum panels from Merchant & Evans Co., Inc. (M&E), now Innovative Metals Co. Inc. (IMETCO).M&E provided 6,400 square feet of perforated screen wall panels plus 9,500 square feet of solid roof and wall panels. M&E also supplied the library roof's internal gutters, fall protection, snow guards and custom light brackets – all were finished to match the panels in Fluropon Patina Green.
"Several of the team's design choices solve the functional needs of the bustling central circulating library with iconic architectural gestures," said Beyer Blinder Belle's marketing manager Bisela Garrett. "Relocating some of the building's mechanical equipment to the penthouse level above the new seventh floor frees up the valuable rooftop space for public uses."
The painted and perforated screen wall metal panels to creatively conceal the HVAC equipment and enhance the Wizard's Hat's distinctive visual appeal.
Balancing Geometry, Color and Longevity
"For this particular project, the geometry and color of the 'Wizard's Hat' played a key role in matching the patinated copper-clad mansard roofs that are seen on many iconic buildings throughout Midtown Manhattan," added Josh Younger, marketing manager at IMETCO.
He explained, "The ZIP-RIB panel is a 2.5-inch-deep mechanically seamed cladding system for roofs and walls that can be factory-formed or field-formed depending on the demands of the project. ZIP-RIB panels accommodate complex roof configurations including convex and concave curves and tapers."
"The ZIP-RIB panel has been a staple solution in the roofing industry since 1964, with many original roofs installed as far back as 1970 still in operation today. This longevity has led to many lessons learned in the field that have produced useful solutions that we now rely on when faced with new challenges," elaborated Younger.
Each panel's position was determined by the architectural team to present a rhythmic pattern that integrates with the seventh floor's glass-enclosed spaces. BIM and 3-D modeling helped ensure all the roofing products were properly aligned before they arrived in the field.
Approximately 80% of the roof's construction was prefabricated and assembled offsite, then shipped in sequence to the jobsite for installation. The Jobin Organization Inc. installed all the metal roofing components working in collaboration with general contractor Tishman Realty Construction.
Beyer Blinder Belle estimated that the prefabricated roof system saved two months in the construction schedule. The $200 million renovation project was completed in 2020 and officially opened in June 2021.
Fostering a Better Understanding
Along with its two million items in circulation and more than 400,000 books, the library building also offers new educational and programming spaces. These include dedicated areas for children and teens, a career services learning center, a world-class business center, a multimedia studio, and classrooms for English language, literacy, media and technology training.
The Stavros Niarchos Foundation Library conveniently is located across the street from the Stephen A. Schwarzman Building, which hosts NYPL's reference collections and receives more than 1.7 million annual visitors. Together, they serve as NYPL's Midtown Campus. The campus and its buildings reflect NYPL's mission "to fight ignorance, and provide New Yorkers with the tools that they need to foster a better understanding of each other across racial and all other divides."
"Libraries are the most important public buildings of all," emphasized Mecanoo's Houben. "There is something to inspire every visitor in the most diverse City in the world, and I am proud of that." 
Among the library's many accolades, the project earned the Best Adaptive Reuse Award from the Municipal Art Society of New York's 2021 MASterworks Awards. It also received top honors as the Grand Award winner and New Metal Roofs category winner in the 2021 Metal Construction News Project Excellence Awards.
Commenting as an awards judge, Steve Dumez, FAIA, praised the roof's multi-functional design saying, "It's providing a public space, it's providing a mechanical space, and it's providing an architectural cap that's very dynamic. …all of it adds up to a pretty wonderful piece."
NYPL president Anthony W. Marx summarized, "It is the central circulating library New York City has long needed, wanted, and deserves. As we all look towards our next chapter of recovery and renewal, it is important that learning and opportunity be readily and freely accessible to all. There is no more important or better-timed civic infrastructure project to accomplish those ever present and pressing goals. … We have waited a long time to give this great gift to the people of New York City. We are so proud to share it now when the needs are so pressing."
"This library is exactly what New York needs right now: a truly open and public place accessible to all, where people of all ages and backgrounds can experience wonder, grow in their understanding of the world, and launch on new trajectories that enrich life for all of us," concluded Andreas Dracopoulos, co-president and director of the Stavros Niarchos Foundation. In total, the Foundation provided more than $60 million in support to NYPL.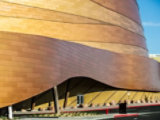 Fluropon is Sherwin-Williams flagship 70% PVDF coating system for architectural metal building products. Its superior durability and color retention keeps your building facade looking new for decades to come. Available in over 50,000 colors, Fluropon meets the industry's most rigorous standards including AAMA 2605.