Sherwin-Williams says "less is more," introduces Fluropon Continuum
Mica-based coating system for exterior metal delivers maximum performance and aesthetics in only two coats
Minneapolis (April 13, 2021) – The new Fluropon® Continuum 70% PVDF coating system from Sherwin-Williams offers a mica-based, two-coat system formulated for both coil and extrusion applications that meets and even exceeds both the longevity and color performance of a traditional three-coat approach. Sherwin-Williams is so confident in the performance of Fluropon Continuum – a data-driven, proprietary formulation decades in the making – that it has extended the warranties by five years on the coating system versus traditional two-coat mica systems. Available in 120 standard colors ranging from warms and cools to neutrals, brights and silvers, architects can custom match Fluropon Continuum to nearly any color imaginable.
"While Fluropon Continuum is just coming to market, it already has stood the test of time in performance and color fade through our rigorous testing process. We use strict guidelines and the right combination of raw materials to maximize weathering performance in this new coating," said Channing Beaudry, global technical director for Sherwin-Williams Coil Coatings. "With Fluropon Continuum, you don't need that third layer. The research here proves that less is more. Or, put another way, 2>3."
For more than 30 years, Sherwin-Williams has tested thousands of mica-based coating samples to achieve the optimal balance of appearance, performance, and durability. Beyond its laboratories, the Company has subjected 70% PVDF coatings to continuous, natural, outdoor exposure at its test fence research facility in Fort Myers, Florida. There, 150,000 color-coated samples covering more than 2.5 acres are continuously exposed to the harsh elements of South Florida. It is an ideal location because of the extreme weathering conditions including high UV exposure, humidity, and temperature.
Marlene Garrow, test fence research director for Sherwin-Williams Performance Coatings Group, agrees with Beaudry. Examining samples currently on the test fence that are more than 20 years old she verifies, "They show very little fade. The panels are weathering just beautifully."
Historically, 70% PVDF metallic systems create the sparkle effect primarily using aluminum flake, which traditionally requires a third, clear coat to prevent oxidation. Fluropon Continuum's innovative, mica-based formulation achieves the same color intensity and sparkle – with equal or better weathering performance ­– in two coats rather than three. Fluropon Continuum's palette of more than 120 color options further expands Sherwin-Williams Coil Coatings' aesthetic offerings and features some pigments never before used in mica-based coatings.
The coating system's advanced performance can help save time and cost, and is supported by a 35-year warranty for coil applications and 25-year warranty for extrusion applications against chalk and fade – both five years longer than existing warranties for two-coat 70% PVDF mica-based systems.
Fluropon Continuum's coatings are ideally suited for long-life external use on the architectural aluminum products used in monumental high-rise structures and commercial buildings. In addition, Fluropon Continuum meets or exceeds the Fenestration and Glazing Industry Alliance's most stringent performance standard for architectural coatings, AAMA 2605. Coatings that meet this standard demonstrate superior film integrity, color retention, chalk resistance, and gloss retention after enduring outdoor weathering exposure in South Florida for 10 years.
All Fluropon products are applied in-factory by approved pre-paint, coil coaters and post-paint, extrusion applicators on metal wall panels, roofing, soffits and fascia, sunshades, and aluminum framing for windows, doors, skylights, and curtainwall.
Learn more about Fluropon Continuum, its aesthetic options, and performance advantages by visiting [http://www.coil.sherwin.com/continuum] to watch a video or download a brochure and white paper.
For media inquiries, contact:
Isabel Bartig
Sherwin-Williams Coil Coatings
612.219.9735
isabel.bartig@sherwin.com
About Sherwin-Williams Coil Coatings
Sherwin-Williams Coil Coatings delivers a full range of high-performance coatings in polyvinylidene fluoride (PVDF), silicone-modified polyester (SMP) and polyester formulas, designed to meet the most demanding environmental requirements while providing protection against weathering and pollution. The Coil Coatings Division is part of the Sherwin-Williams Performance Coatings Group, which supplies a broad range of highly-engineered solutions for construction, industrial, packaging and transportation markets in more than 120 countries in the world. Founded in 1866, The Sherwin-Williams Company is a global leader in the manufacture, development, distribution and sale of paints, coatings and related products to professional, industrial, commercial and retail customers. For more information about Sherwin-Williams Coil Coatings, visit coil.sherwin.com.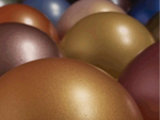 Browse hundreds of Fluropon colors or collaborate with us to create your own custom shade. Sherwin-Williams offers industry-leading turnaround times for coil and extrusion color samples and all samples are free of charge.