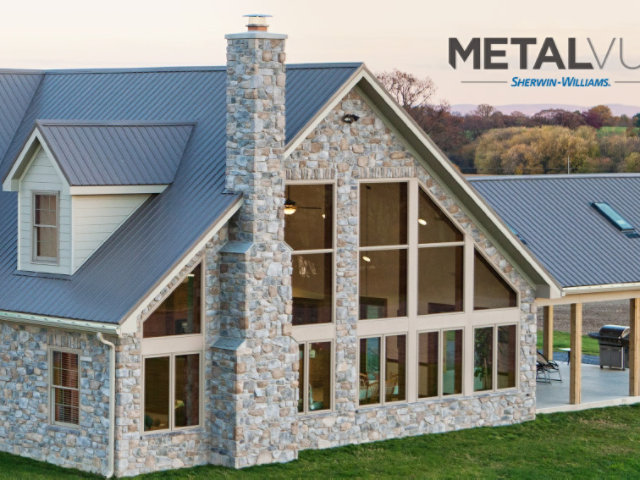 MetalVue Program
Ready to grow your business? Meet the Sherwin-Williams program that'll help you work smarter, not harder.
The MetalVue program was developed to help manufacturers and contractors sell more residential and commercial metal roofs. As the industry leader in metal roof coatings, we're dedicated to growing the metal roofing industry and the share of business for our partners faster than the current rate of growth. To achieve this, we've designed and developed a suite of services that can be marketed through the customer/value chain, including distributors, contractors and even installers.
Contact Us to Grow Your Metal Roof Business Today
EDUCATIONAL WEBINARS: Learn more about the future of metal roofing. 
Turn-Key Metal Roofing by Sherwin-Williams: The Great Unveiling. Hosted by Grosso University
RLW! Inside Metal Roofing By Industry Experts
Hosted by RoofersCoffeeShop 
METALCON LIVE! Presents... The New Technologies of Metal
METALVUE IS YOUR COMPLETE NETWORK OF METAL ROOFING EXPERTISE.
It connects you to training, software and an online community to help grow your business.
Grosso Sales Academy
The most comprehensive training program*, in partnership with Grosso Sales Academy, to enable new metal roofing contractors to confidently sell metal roofing.
Sherwin-Williams Roofing Passport. One interface for easy estimation.
Bid your jobs and order materials with confidence using the most effective tool on the market – fully integrated into one interface.
Learn More
MetalCoffeeShop brought to you by Sherwin-Williams
An online community of contractors specializing in metal construction. Browse thought leadership, educational webinars and more to cultivate your community.
Explore More
Metal Roofing Benefits
Already a $3.3 billion industry in North America, the metal roofing market is expected to grow 4.3% through 2026. From authentic traditional looks to remarkable contemporary styles, metal roofing is attracting high-end homeowners like never before. Metal roofing helps bring more business your way, making now the perfect time to expand your product offerings and elevate your profitability.
Make More with Metal:
Check out these tips on building a metal roofing business.
Roofing Passport
Go from quote to order with confidence. One interface. No matter the market.
What is the Roofing Passport?
The Sherwin-Williams Roofing Passport is built specifically for the metal residential & commercial roofing market. Our groundbreaking digital platform simplifies metal roof estimation and ordering for your projects. As a fully automated program, this platform enables project estimation in one click – transforming your roofing business.
Estimation made easy with one seamless interface.
The Sherwin-Williams Roofing Passport seamlessly integrates with multiple property measurements systems for accurate data. These include EagleView, Roofing WRX and XML, Keymark's SmartBuild building application software, and Sherwin-Williams Coil Coatings. The Sherwin-Williams Roofing Passport is the fastest and most efficient way to quote any job – one interface, no matter the market – without leaving your desk.
Maximize profitability with one powerful platform.
Bid any metal roofing jobs and order materials with confidence using the most effective tool on the market that's fully integrated into one interface. This tool will help you increase your accuracy of estimates and reduce your risk with ordering materials, all of which should drive up your confidence of bidding for each metal roof project.
Roofing support and estimate initiation.
This platform supports all metal roofing project types, including new builds and reroofing. Initiating a metal roof estimate is easy. To begin, you'll enter the address in EagleView geospatial software and aerial imagery provides the measurements. For plans and drawings, Roofing WRX enables the system to work with your current blueprint and plan estimating technology. Then for XML, you'll enter the property measurement data.
How metal can help your business
Ready to grow your business with MetalVue?
Contact us today to learn more.