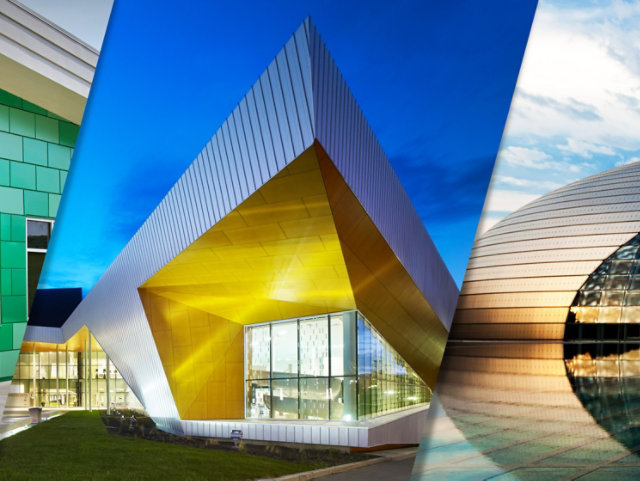 Color Obsessed
To us, color is more than a coating. Color can do anything. It's human, environmental, emotional and it's all we think about. We dive into the finest details while innovating and creating new colors. We pay attention to our manufacturing processes and push to work faster and have better partnerships with our clients—because we know how much color means to you, too.
Innovators
Our commitment to innovation has helped us become global leaders in design and coil coating technology.
Relentless Seekers
Our color library is 50,000 hues deep and counting. With advanced technology to achieve any color imaginable, we bring new meaning to finding the perfect match - bringing inspiration to life.
Collaborators
We can collaborate with you on any project down to the smallest detail. Additionally, we offer classes and onsite training to ensure the highest standards of performance are met.
Down to the Details
Each project application presents a unique set of circumstances. Identifying location, resources, application type and substrates is the key to developing a customized coating solution. Precise performance requirements and application conditions dictate how we approach each new challenge with our customers. Our products have been created using enhanced resin and pigment development, safer raw materials, formula progression and continual quality control. The result is a coating that is beautiful, durable and environmentally responsible. Every job gets the expertise needed to deliver the right solution — down to the molecular level.
Featured Video
Layers of Innovation
Discover how important innovation is to the Sherwin-Williams brand. Learn how failure can be transformed into a successful creation and how the product testing process has evolved over time.
FEATURED INNOVATION PRODUCT
Fluropon Continuum
Brilliant color. Two coats.
No compromise.
At Sherwin-Williams, we're obsessed with color, but it doesn't stop there — it fuels our drive for innovation. That's why we've spent years perfecting our proprietary two-coat, mica-based system.
By using applied science and decades of weathering data, we've taken metalescent coatings to a whole new level. The Fluropon Continuum system is formulated with the optimal combination of raw materials, eliminating the need for a clear coat and offering nearly limitless color options.
Learn More
Fluropon Continuum Color Card
Download a digital version of our 120 color collection.
 
Fluropon Continuum White Paper
Learn more about the the science behind Fluropon Continuum by downloading the technical paper.