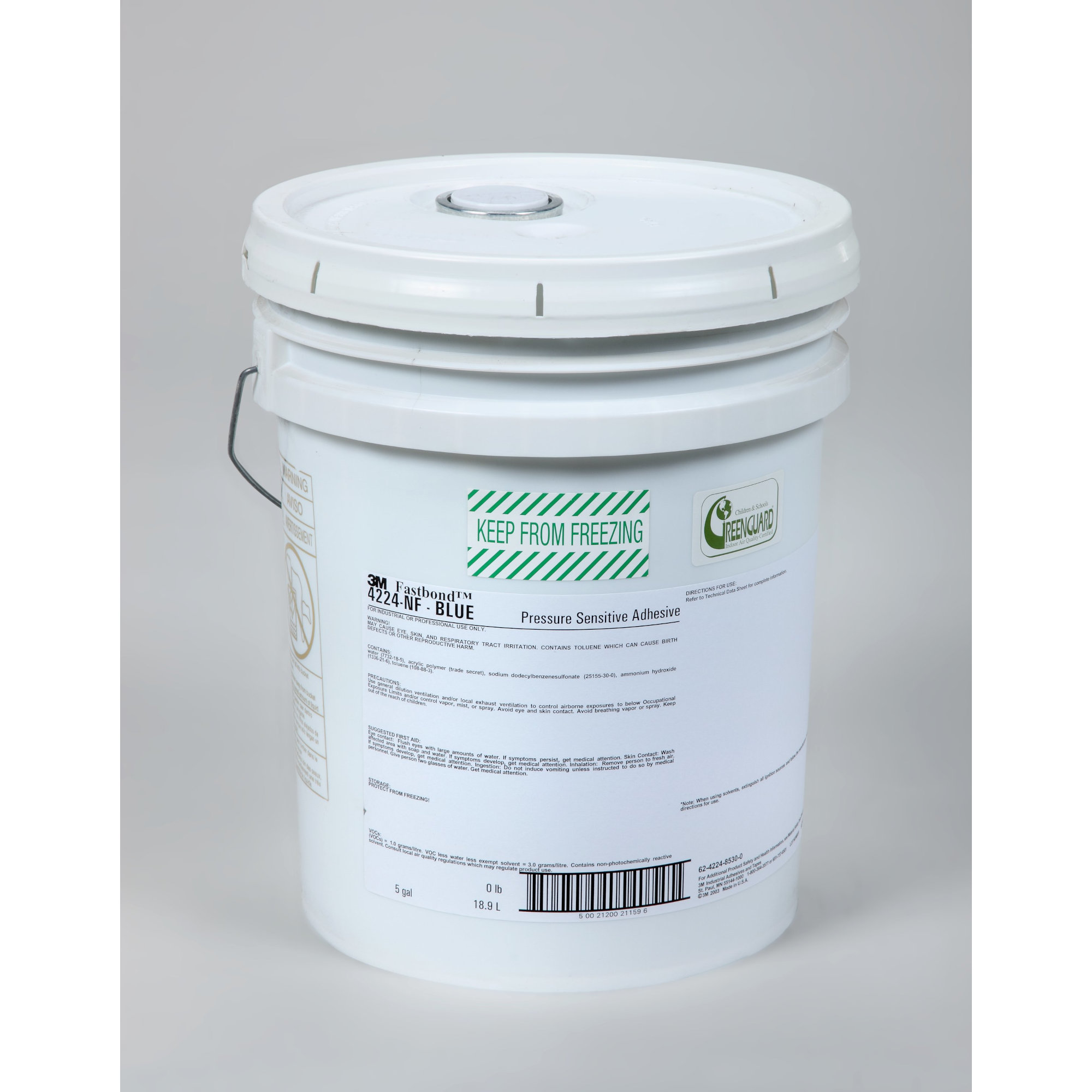 3M™ Fastbond™ Pressure Sensitive Adhesive 4224NF
3M Fastbond Pressure Sensitive Adhesive 422NF is a low-odor, water-based, adhesive designed to have a permanently sticky, reliable bond with high coverage and a long bonding range. This classic adhesive allows for quick installation of a wide range of commonplace flooring, including vinyl flooring and various flooring tiles.
3M™ Fastbond™ Pressure Sensitive Adhesive 422NF creates a reliable bond for your flooring application, large or small. As a heat resistant adhesive, it is non-flammable in the wet state. When placed alongside commonplace solvents, this adhesive has a comparatively low odor.

Recommended Applications: Bonding flooring materials and carpet tile installation.

It is ideal for sensitive environments, such as schools, hospitals and office buildings, carpet and vinyl floor tiles are an economical and convenient flooring option for areas with high foot traffic. When it comes to installing single or multiple tiles, 3M™ Fastbond™ Pressure Sensitive Adhesive 4224NF provides a solid bond with excellent water, UV and plasticizer resistance. Users can also choose their preferred method of application-roll, spray, trowel or brush-to meet their needs.

Whether it is being sprayed, brushed or rolled on, the application of your 3M™ adhesive is a straightforward process. Start by carefully applying your adhesive to your surface until you've formed a uniform coat. Using an overlapping pattern, the application of one coat should prove sufficient for most surfaces. Effective adhesive coverage is accomplished when 80% or more of the surface is covered. Some substrates, including porous materials, may require an additional coat. In order to apply additional adhesive, simply wait until the existing adhesive becomes dry to the touch, and then proceed with the application of the additional coat.
More Details
Benefits
Bonds most flooring materials, including vinyl, foam and carpet tiles
Creates a reliable, high temperature resistant bond
Non-flammable in its wet state
Possesses a low odor when compared to solvents
Adhesive can be applied by spray, brush or roller
Also known as "blue glue"
Product data is a representative set of attributes and characteristics for this system or product line. Data for individual products may vary and is subject to change. Please reference the individual product datasheet for exact specifications on the Datasheets tab above or through Search.