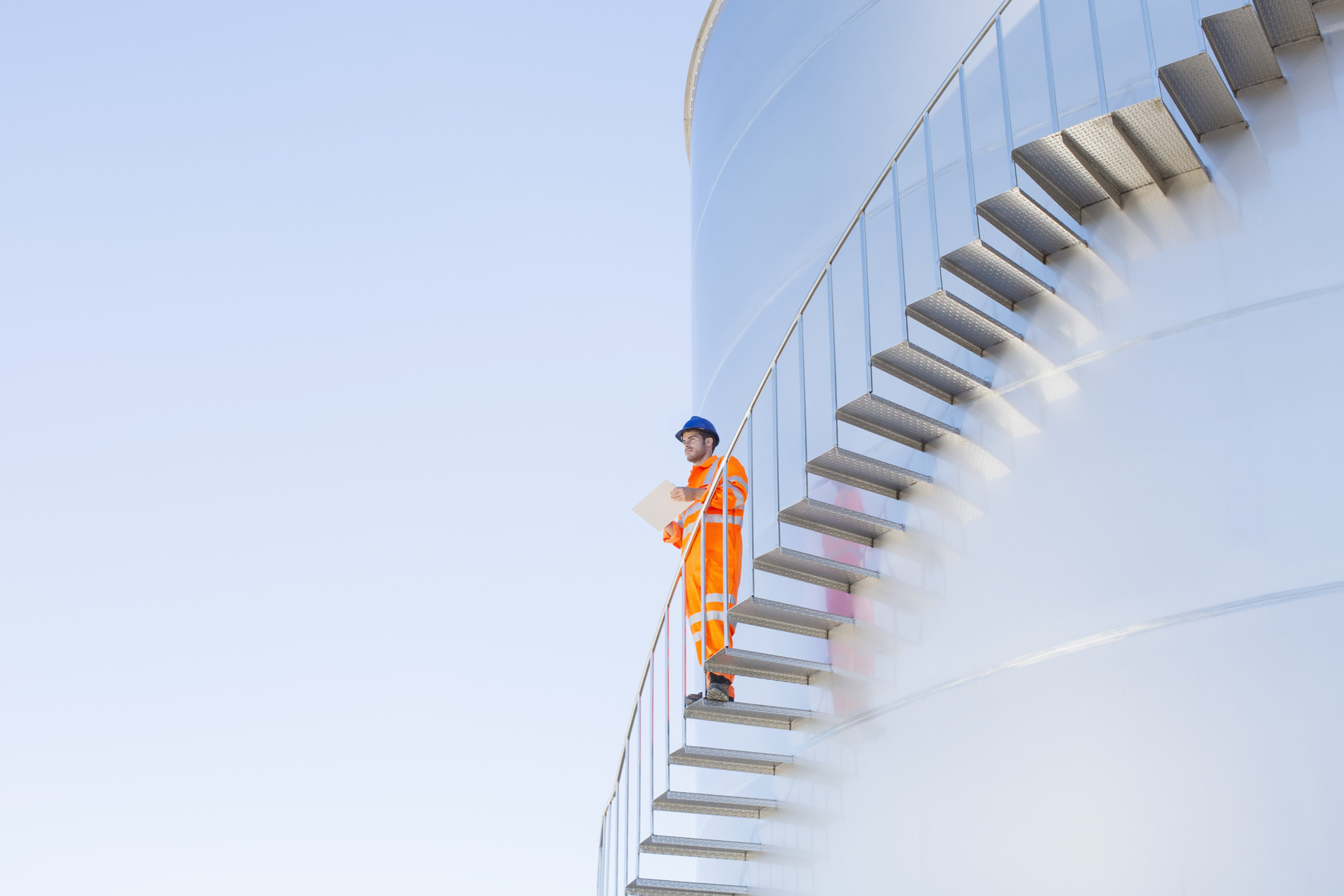 Next Generation Tank Lining Delivers Next-Level Service Lives
Nova-Plate® 360 is raising the standard on tank lining endurance for decades to come
By Justin Hair, Oil & Gas Midstream Market Manager – North America,
Sherwin-Williams Protective & Marine
Owners of refined products terminals, crude oil terminals, chemical plants and refineries can encounter several challenges when taking storage tanks out of service for inspection and repair per American Petroleum Institute (API) Recommended Practice 653 requirements. The out-of-service downtime can cost tens of thousands of dollars and sometimes upwards of $500,000 for a large-diameter crude oil tank. Yet the API 653 inspection process is a required industry standard practice that must be complied with.
Corrosion is always a challenge, and it can happen in different ways. For example, the very products or chemicals a tank holds can eat away the steel substrate, which is why the tank linings applied to protect that steel must be compatible with those contents. That's especially true for tanks called into swing service – storing one material for a certain period, then another – as well as for chemicals that must be stored at high temperatures and sometimes under extreme pressure. 
Another potential problem, this one from outside the tank, is soil-side corrosion – in which moisture mixed with tank foundation backfill material and/or other foreign matter work on infiltrating the asset from underneath floor plates. If left unchecked, soil-side corrosion can significantly damage a tank and cause a premature failure for the owner.

Fortunately, single-coat epoxy coatings that emerged in the late 1990s have been proven highly effective as tank linings. This newer technology at the time has now all but replaced the polyester and vinyl ester laminate coatings that then dominated the market. While those laminate systems consistently lasted 30 years or more in service, they took too long to apply to be cost effective compared to newer technologies and also required extensive safety measures for applicators. The single-coat epoxies are easy to apply, safe to use and long-lasting. In fact, while lab tests predicted these linings would endure over time, they have far exceeded expectations. Tanks coated with the epoxy linings, taken out of service for inspection after 20 years, were found in as good of a condition as when they were first installed. Those linings have been easily approved for additional 10-year inspection cycles, with expectations that their condition will be nearly the same at the 30-year mark – perhaps leading to yet another round of 10-year inspection cycle approvals.
Within this robust family of single-coat epoxy tank linings, Nova-Plate® 360 from Sherwin-Williams is the latest generation, launched into the market in July 2019. Based on the same underlying, time-tested formulation as its predecessor coatings, the lining is a novolac resin that is resistant to high temperatures, high pressure and a wide variety of commodities. For added durability, it is also flake-reinforced. Nova-Plate 360 is easy to apply and requires just one high-build coat in most cases. It cures quickly, making for fast returns to service, and also makes tanks easier to clean to reduce downtime. As for endurance, Nova-Plate 360 is expected to readily achieve the current 30-year inspection mark its predecessor formulations have attained, with the hopeful goal of reaching an unheard of 40 years of service (Figure 1).
Figure 1. This single-coat epoxy lining installed in 1998 easily passed its 20-year inspection with all the tank weld seams in like-new condition, including the entire tank floor-to-wall transition. Weld seams are a typical first line of lining failure. The lining was readily approved for another 10-year inspection interval.
Tank Lining Considerations
Asset owners have to consider several factors when choosing tank linings, especially if they want to reduce the need for recoating or rehabilitation following inspections. Chemical resistance is vital, even more so if a tank is assigned swing service, which can lead to the coating blistering and failing if it's compatible with some contents but not others. Crude oil and refined products like gasoline, diesel, jet fuel, kerosene and others usually don't cause problems, but various chemicals such as ethanol, methanol and newer biodiesel commodities can compromise an inappropriate lining and lead to the substrate being attacked.
To ensure compatibility between a lining and a tank's contents, it is helpful to review chemical resistance testing data from your coating manufacturer or a third-party lab. Such information will show how various chemicals affect different linings. The data should be based on a variety of lab tests that adhere to industry standards. For example, Sherwin-Williams has conducted its own, including: standard and chemical immersion tests, in which coatings are immersed in solutions or chemicals to accelerate corrosion; flexibility tests, which involve bending coated metal until the coating cracks or chips; atlas cell tests, where the coating is exposed to various chemical environments; and autoclave tests, in which coatings are heated to simulate field conditions.
One of the best tests, however, is a coating's track record in the field – how it has already performed, and under what conditions. Sherwin-Williams has been tracking the real-world performance of its single-coat epoxy tank linings since the 1990s, providing confidence and proof that linings are performing well over time under a variety of exposure conditions.
Another consideration related to tanking linings is ease of application. For many years, tank linings required application with plural-component sprayers, which automatically mix parts A and B at the time of application. If used properly, plural-component equipment eliminates errors that can occur with hand mixing. However, plural-component equipment is expensive, can be complicated to use, and not everyone has the money and expertise.
The good news is that newer two-component epoxy linings are able to be applied using simpler single-leg equipment. Single-leg pump equipment is much less complicated to operate than plural-component units, not as bulky, less likely to break down and also doesn't need a separate air source. Still, applicators must take great care in properly hand-mixing parts A and B when using single-leg equipment and also be cognizant of the pot life of these materials.
Other factors to weigh when choosing tank linings include:
Owners' specification requirements. A full review of MSDS sheets and commodities for potential storage is required to ensure compatibility. In addition, the chosen lining will depend on whether the steel is new or has already been in service and shows evidence of pitting or other degradation.
Cure times. The faster the lining cures, the faster a tank can return to service, helping to reduce downtime costs.
Cleanability. Additives included in newer tank linings make tanks easier to clean of hard-to-remove materials, including crude oil, paraffin wax and biodiesel materials.
Hole bridging. Per API 652, which provides guidance on how to achieve corrosion control in above-ground storage tanks, certain linings can potentially bridge holes in tank bottoms that have become pitted due to corrosion.
Compliance with industry standards. Tank linings should adhere to API 652, which reports the advantages and disadvantages of various tank-bottom linings; how long they're expected to last; how they are formulated; whether they are thick, thin, reinforced or nonreinforced; and how the lining should be applied.
Raising the Standard
Nova-Plate 360 checks all the boxes for asset owners seeking the best and longest protection possible for tank interiors. Immersion tests have shown that the lining is highly resistant to nearly the entire spectrum of refined products, as well as crude oil and most chemicals, including those stored in high temperatures and under high pressures as well. This chemical resistance makes the lining ideal for tanks facing potential swing service once commodities are reviewed and confirmed.
Nova-Plate 360 is a novolac resin-based coating that cures quickly – as fast as 24 hours when applied at 77°F at 50% relative humidity – which means a fast return to service. It can be applied with either plural-component or single-leg equipment. A bonus is that while most two-component coatings have two ingredients that are indistinguishable in appearance, Nova-Plate 360 includes a colored Part B. When used with plural-component sprayers, applicators can see whether parts A and B are mixing correctly. When combining the parts manually for single-leg spraying, the tinted Part B helps applicators get the mixing process right. As for the number of coats required, just one coat of Nova-Plate 360 is necessary on most assets, including new steel. Where two coats are required, such as on pitted tank bottoms, Nova-Plate 360 is self-priming, so it acts as both a primer and finish.
When it comes to cleanability, Nova-Plate 360 contains polytetrafluorethylene (PTFE), an additive that makes the lining nonstick and easy to clean. That's especially important when removing materials like crude oil, which must be shoveled from the tank. The PTFE ingredient even helps to protect the tank lining from the shovels' impacts.
Further durability is imparted into Nova-Plate 360 with flake reinforcements that both provide strength and decrease permeability so moisture doesn't infiltrate the coating and reach the substrate. Those flakes also enable the coating to better bridge holes in tank bottoms to mitigate the effects of soil-side corrosion.
To assist with both applications and inspections, Nova-Plate 360 is also offered with an optional additive that provides visual feedback. Opti-Check™ technology adds optically activated pigments (OAPs) to the coating that fluoresce under eye-safe ultraviolet (UV) lighting. During lining installations, applicators can shine a light on the single-coat lining embedded with Opti-Check technology while it's still wet to easily spot any non-fluorescing areas that indicate a pinhole, coating discontinuity or thin area. They can respray those areas immediately instead of waiting until the coating cures, thus saving time. During inspections, any dark areas will also stand out under UV lighting (Figure 2), helping to accelerate the inspection process while also ensuring damaged areas are identified for repair. If two coats are needed, the Opti-Check technology is embedded in the base coat, and any areas that appear pink under UV light indicate areas in need of repair (Figure 3).
Finally, Nova-Plate 360 is formulated to comply with API 652 standards for a coating that will last 20 years. However, given the 30-year inspection approval for previous formulations, the newer single-coat epoxy lining is expected to keep tanks well-protected for at least that long, and likely even longer. The evidence already exists that Nova-Plate 360 will raise the standards for tank linings for years to come. Could 40-year inspection approvals be in its future? Only time will tell.
Figure 2. Optically activated pigments (OAPs) embedded in this single-coat Nova-Plate® 360 lining system featuring Sherwin-Williams Opti-Check™ technology provide a distinct visual indication of a pinhole and some coating discontinuities in the weld seam. The dark areas indicate those deficiencies.
Figure 3. In this two-coat system, OAPs embedded in the base coat shine through the topcoat and appear pink under UV light (right), indicating a pinhole and some thin areas that will need to be repaired.
ABOUT THE AUTHOR
Justin Hair is Oil & Gas Midstream Market Manager – North America for Sherwin-Williams Protective & Marine. He can be reached at Justin.M.Hair@sherwin.com.
Explore our industry solutions and technology to help protect your assets.
LEARN MORE
Find out more about our innovative coatings for a variety of industries.
FIND A PRODUCT