Single-Leg Spraying, Rapid Curing Enhances Lining Project Efficiencies
Applicator AIRCO Inc., chose Sherwin-Williams Dura-Plate® 6000 Reinforced Epoxy Lining to line the manholes at the Douglasville-Douglas County Water and Sewer Authority's (WSA) Southside Lift Station, boosting asset lining productivity and accelerating return to service times.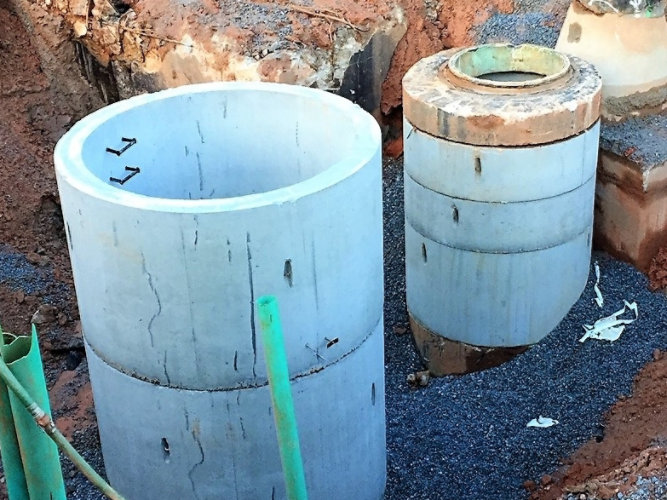 Situation
Based in Douglasville, Georgia, the Douglasville-Douglas County WSA was enhancing its Southside Lift Station by adding bar screen equipment before the station to remove rags and debris. The project included adding an 8-foot diameter by 18-foot deep manhole and two other manholes that were 4-feet and 18-feet deep. AIRCO lined the concrete structures using Dura-Plate 6000. The 100% solids, high-build reinforced epoxy lining allowed AIRCO to rapidly coat the assets using single-leg spraying, while also enabling the WSA to have those assets ready for service less than half a day following the lining applications. These efficiencies helped to accelerate the project schedule and reduce labor costs.
Execution
After the manholes were installed and mortared, AIRCO pressure-washed the concrete at 5,000 psi to ensure a good profile before spray-applying the Dura-Plate 6000 Reinforced Epoxy Lining system using single-leg equipment. Applicators sprayed the glass flake-filled coating at a 120-mil wet film thickness (WFT) in a single pass directly to the prepared concrete. The product hung very well at this high film build, which was specified to help mitigate the corrosive effects of the severe wastewater service the assets will encounter.
The single-leg spraying capabilities provided an easier, more cost-effective installation for AIRCO compared to when spraying other fiber or microfiber filled products with plural-component equipment. Most high-solids epoxy lining formulations require the use of plural-component spraying equipment, which is bulky and hard to maneuver around job sites. Higher skilled – and more expensive – applicators are also required to operate the equipment, which can raise project costs. However, despite being a 100% solids, high-build coating, Dura-Plate 6000 can be applied using single-leg spraying equipment, which improved efficiencies and profitability for AIRCO, while also lowering costs for the owner.
"Single-leg spraying is much more feasible than just running a pump down there to spray the coating," said Joe Wainscott, Vice President of AIRCO. "Now that we have this capability, we can get in and out a lot faster and complete more assets per day."
Based on the Dura-Plate 6000 lining's 10-hour return to service time, asset owners can also realize productivity gains. Single-leg products typically require a day or more to cure before allowing returns to service. Dura-Plate 6000's shorter curing time helps asset owners significantly reduce downtime and its associated costs by returning assets to service sooner.
"Anytime you don't have to deal with plural-component equipment, but you can get a fast return to service, that's a big deal," said Wainscott.
Asset longevity is also a big deal, and Dura-Plate 6000 delivers on this need. The product's glass-flake reinforced epoxy formulation provides low permeability to mitigate the effects of corrosive media attacking concrete and steel substrates below the lining material. This makes the lining system suitable for severe wastewater immersion and headspace environments, sewer collection systems, wastewater treatment plants and other challenging environments.
Outcome
AIRCO's switch to applying Dura-Plate 6000 reinforced epoxy linings via single-leg spraying has improved efficiencies and profitability for the applicator – far beyond what it first realized on the Douglasville-Douglas County WSA project. While AIRCO sprayed the WSA's assets by hand, the applicator has realized even further productivity strides by switching to applying the product using a single-leg spincaster.
"We doubled our productivity when we first transitioned to this product and were able to move from plural-component spraying to single-leg spraying. We have perhaps doubled our productivity again, if not more, after we moved to slinging the coating," said Wainscott.
For asset owners like the Douglasville-Douglas County WSA, the enhanced application productivity of Dura-Plate 6000 combined with accelerated return to service times is also enhancing efficiencies in their operations.
Skip carousel content
Project Photos
Dura-Plate 6000 Concrete Manhole Application - Douglasville, Georgia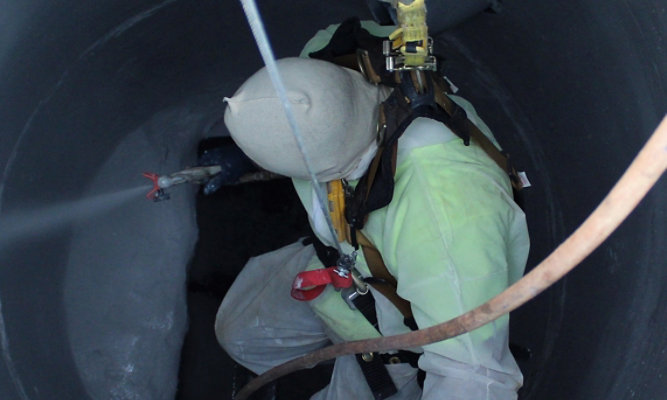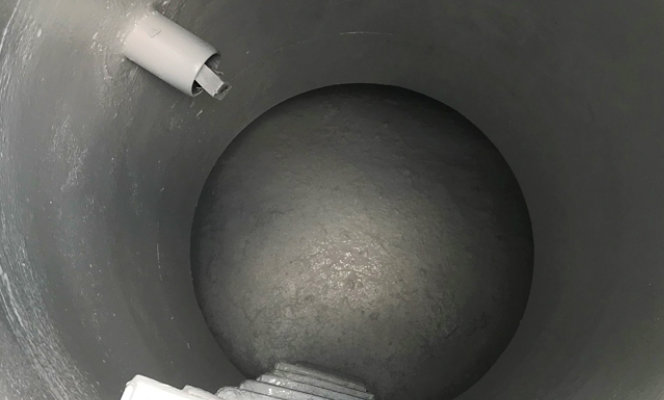 Explore our industry solutions and technology to help protect your assets.
LEARN MORE
Find out more about our innovative coatings for a variety of industries.
FIND A PRODUCT