Packing Facility Floor Installation Downtime Concerns Addressed
Sherwin-Williams FasTop® Multi Topcoat T100 Allows for 24-Hour Turnaround Time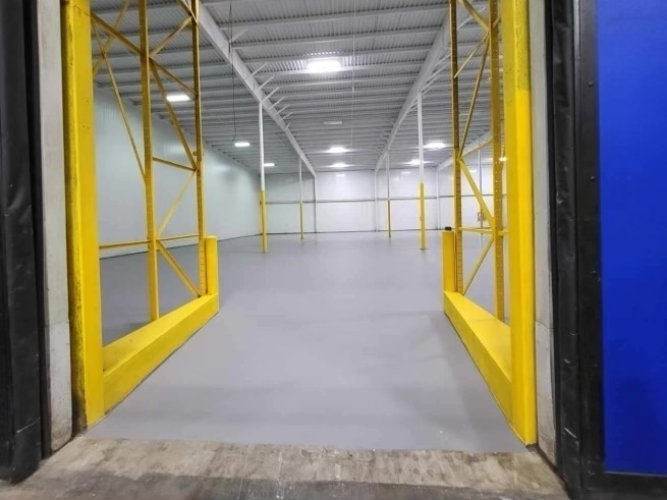 Manfredi Cold Storage is a multi-generational, family-owned business with temperature-controlled facilities headquartered outside of Philadelphia, Pennsylvania, specializing in cold storage, packing and logistics. They were expanding their headquarters and required a floor with unique properties for their 12,000 square foot food packing area. The Manfredi team was searching for a floor that could not only withstand heavy foot and equipment traffic and cool substrate temperatures of ~45⁰F, but also allowed to quick, easy installation and maintenance.
John Carrillo, operations manager at Manfredi Cold Storage, worked with the Sherwin-Williams team to select the Sherwin-Williams FasTop® Multi Topcoat T100 seamless flooring system. FasTop Multi Topcoat T100 is a highly durable, cleanable system with wear, slip and chemical resistance and excellent moisture tolerance. Additionally, each layer of the flooring system has quick curing times, allowing for a fast-paced installation process.
Time was of the essence - as it is for any food processing facility - and the installers were facing an even quicker turnaround than normal. Installers worked overnight and were able to complete installation of the high functioning flooring system within 24 hours.
Because Carrillo and his team were able to install the FasTop Multi system themselves with training and supervision from Sherwin-Williams sales and technical service representatives, Manfredi saved thousands of dollars. But for Carillo, the satisfaction of knowing his team members learned a new, transferrable skill was the better outcome.
"This flooring system was extremely easy to lay down, and at the end of the day, my guys walked away with the skills and know-how to install a urethane floor," says Carrillo. "That's something that they can carry with them forever."
Explore our industry solutions to ensure compliance and durability from ceilings to floors.
LEARN MORE
Find out more about our innovative coatings for a variety of industries.
FIND A PRODUCT