Governor Mario M. Cuomo Bridge: Coating Six Miles of Bridge Steel with Great Efficiencies
Coating system's ease of application and fast drying times keep project on schedule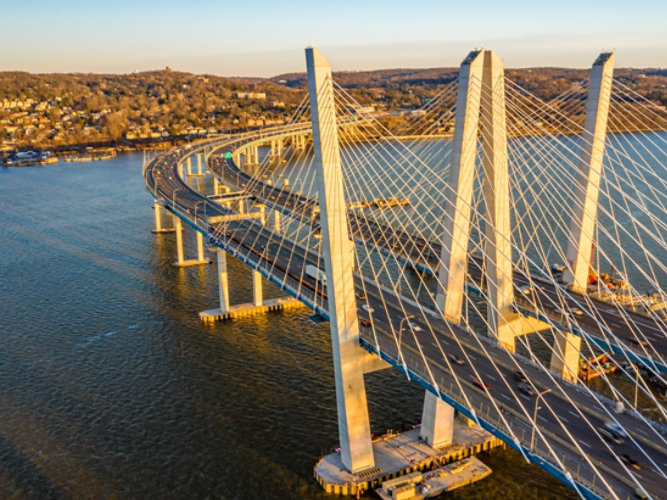 When you need to protect steel from corrosion for a cable-stayed bridge spanning over three miles, there is a lot of steel to coat. From girders to cross frames to connection plates, everything needs to be protected to deliver a long lifespan for the structure. And with the project technically entailing two three-mile bridges, coating application efficiencies were an absolute necessity to keep the project on track.
Such was the case for W&W/AFCO Steel LLC and Canam-Bridges when they coated numerous steel girders and support structures for the new twin-span Governor Mario M. Cuomo Bridge in Tarrytown, New York. Their efforts earned the project team responsible for specifying, supplying and applying coatings for the bridge the 2020 Eric S. Kline Award from SSPC. The award recognizes outstanding achievement in industrial coatings work performed in a fixed shop facility. Additional award-winning team members included project owner the N.Y. State Thruway Authority, design manager HDR Inc. and coatings manufacturer Sherwin-Williams Protective & Marine.
The Governor Mario M. Cuomo Bridge was completed in 2018, replacing the original Tappan Zee Bridge. The longest bridge in New York State, it spans one of the widest parts of the Hudson River between Rockland and Westchester counties, less than 20 miles north of New York City. The expansive bridge totals 16,368 feet – over three miles – in length for each of the eastbound and westbound spans, creating the need to coat more than six miles of steel.
Offsite Applications and Coatings Selection Enable Efficiencies
Due to the sheer amount of steel used on the bridge and the logistical challenges of on-site coating operations, the majority of steel coatings work was performed offsite in shop conditions to ensure efficient, accurate applications that kept the project on schedule. Applicators from W&W/AFCO Steel and Canam-Bridges coated the steel assets – including numerous steel girders ranging in typical sizes between 12 and 14 feet tall by 90 to 120 feet in length – using a three-coat, high-performance coating system from Sherwin-Williams Protective & Marine. The system includes an organic zinc-rich epoxy primer Zinc Clad® III HS, an intermediate coat of Macropoxy® 646 and a topcoat of Acrolon™ 218 HS. This organic zinc/epoxy/polyurethane system was chosen primarily based on New York State Department of Transportation specifications and the system's ability to deliver an expected life expectancy of 25 years or more. The applicator also preferred this system due to the efficiencies it enables related to the ease of application of the coatings, as well as their fast drying and recoating times.
Applicators first prepared the steel girders to the SSPC-SP10/NACE NO. 2 Near-White Metal Blast Cleaning standard. Next, a third-party inspection team immediately verified the surface preparation so coating work could commence as quickly as possible. Applicators then applied a stripe coat of the Zinc Clad III HS primer using brushes to work the coating into difficult areas before spray applying a full coat of the primer on the entire steel surface at 3 to 5 mils dry film thickness (DFT). The selection of an organic zinc primer instead of an inorganic zinc primer improved dry and recoat times, reduced stripe coat times and accelerated inspections. The organic zinc primer dried fast enough to recoat in 30 to 60 minutes, enabling applicators to immediately move to the intermediate coat following inspection.
For the intermediate coat, the choice of Macropoxy 646 enabled wet-on-wet applications following stripe coating to enhance efficiencies, as well as the ability to apply higher DFTs in a single coat. The higher DFT requirement was important, as certain areas required 6 to 10 mils DFT for added durability, including the exteriors of the fascia girders and in designated high-corrosion areas where beam ends and joints may experience higher exposures to rainwater, salt and other corrosive elements migrating down from the bridge deck. Other areas only received a 3- to 5-mil DFT coat. Dry times were about four hours for the lower DFTs and approximately eight hours for the thicker applications, enabling intermediate coat inspections and topcoating to progress rapidly.
The finish coat of Acrolon 218 HS was applied at 3-5 mils DFT. Formulated for in-shop applications, the fast-drying acrylic polyurethane dries to touch in about one hour and can be handled in about nine hours, helping applicators promptly finish each steel girder. All told, each girder moved through the shop in about one and a half to two days, keeping coated steel deliveries to the job site timely throughout the construction project. In addition, the topcoat provides excellent color and gloss retention for exterior exposures in an array of climates. These aesthetic properties, combined with the underlying corrosion protection capabilities of the other coatings, will help the bridge continue looking great for 25 years or more.
All coatings applications were inspected based on industry standards after each step, with inspectors checking for proper DFT measurements and any holidays or aesthetic issues. Applicators then made any touchups as needed – which were minimal – before proceeding to the next coat or moving the steel member out of the shop for transport to the job site following topcoating.
On-Site Bridge Assembly and Coating Plan Enhances Safety
Coating most of the steel in the shop, rather than after it was erected, enabled more uniform applications and thorough inspections. It also enhanced safety by minimizing the amount of coatings work required in the more dangerous field conditions when the bridge was being erected.
Design-builder Tappan Zee Constructors further enhanced safety by using modular construction to assemble large sections of the bridge's structure on land before moving them into place using an enormous crane capable of lifting up to 1,900 tons. On-site coatings applications were required during this stage, with painting contractor Jag'd Construction Inc. touching up connection points and any potential coatings damage incurred during construction. Connection plate areas were purposely coated in the shop with just the Zinc Clad III HS primer to protect the steel from corrosion. At the assembly site, Jag'd Construction first inspected the plates for any primer coat damage and made repairs as needed. After the steel members were bolted together, crewmembers applied the intermediate and finish coats to the plates, bolts and nuts, using a combination of brush and spray applications. The edge retentive nature of the Macropoxy 646 and Acrolon 218 HS coatings were critical here to ensure sufficient DFT builds on the connection points. Later, when bridge sections were fully erected, applicators touched up any additional connection points and coatings damage.
Helping to keep the project on track, the coatings can all be applied down to 35°F. This capability extended the on-site coating application calendar, allowing more work to be performed into the late fall months.
Teamwork and Coatings Selection Enable Efficient Outcomes
On a project of the scale of the Governor Mario M. Cuomo Bridge, cooperation and efficiencies are critical. Coordinated involvement and communication between the steel fabricator, design team, owner's representatives, construction team and coatings suppler made it much easier for the group to move forward and stay on schedule. Everyone knew that the sooner the steel girders could be coated and out the shop door, the sooner bridge sections could be constructed and added to the structure. The ease of application and fast drying times for the chosen coating system in both the shop and the field enabled applicators to stay on schedule with timely deliveries of coated steel to the job site, as well as accelerated on-site applications.
Skip carousel content
Photo Gallery
Governor Mario M. Cuomo Bridge Restoration Project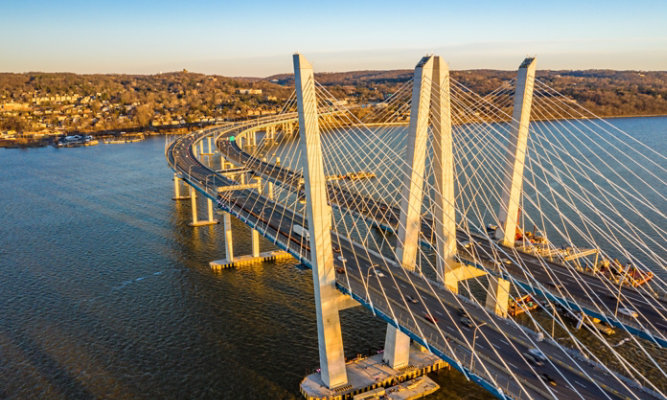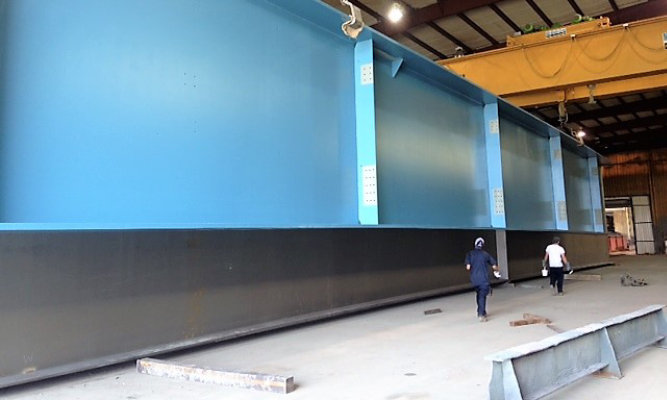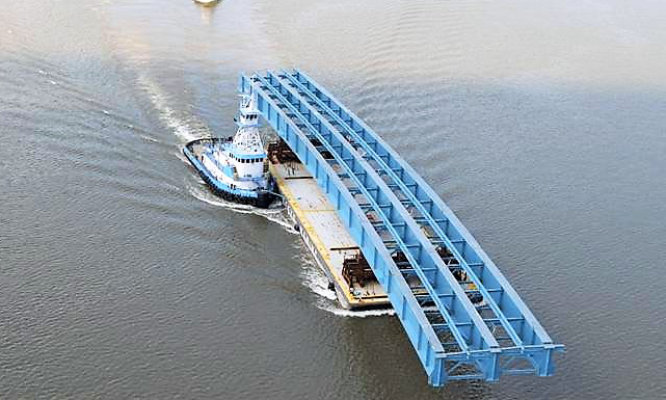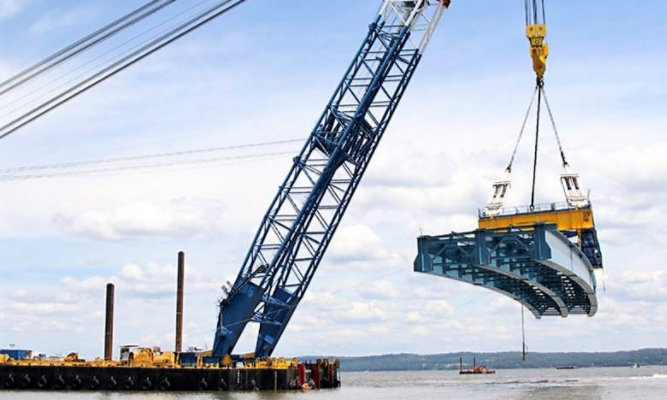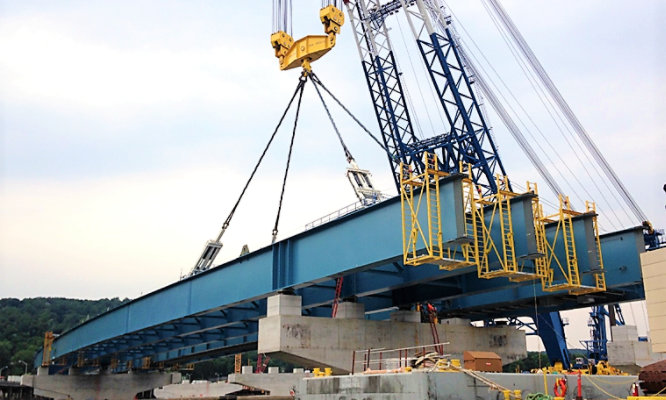 Explore our industry solutions and technology to help protect your assets.
LEARN MORE
Find out more about our innovative coatings for a variety of industries.
FIND A PRODUCT