A Devil of a Time: Nothing Simple About This Southern California Penstock Lining Project
Relining a 1.3-mile-long penstock for the Devil Canyon Powerplant meant navigating grades of nearly 75% in spots, battling occasional winds up to 70 mph and maintaining interior warmth while it snowed outside.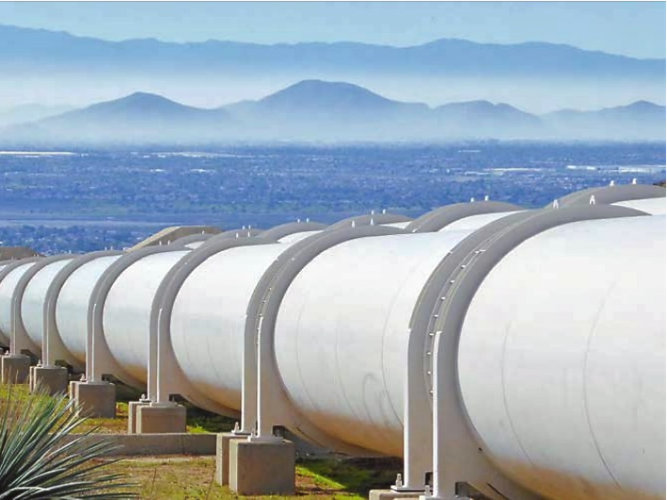 Situation
Just walking alongside this 1.3-mile-long penstock outside San Bernardino, California, would be a challenge: The pipe, which ranges in diameter from 8 feet to 9.5 feet, plunges 1,200 vertical feet through harsh terrain as it exits the mountains to meet the California Department of Water Resources (DWR) Devil Canyon Powerplant. Relining the penstock's interior meant not just navigating grades of nearly 75% in spots and battling occasional winds up to 70 mph, but also dealing with access points located 1,000 feet apart, using entry ports just 30 inches wide and maintaining interior warmth while elevation-related temperatures delivered snow outside. And since the pipeline is critical to Southern California's water supply and power generation, relining the penstock to guard against corrosion and abrasion was a crucial upgrade that needed to be done with a minimum of downtime. Although the overall project unfolded over several years, surface preparations and lining applications were completed in a pair of approximately eight-week periods from January through March of both 2020 and 2021, with crews working around the clock.
The project required a coating that would deliver long life while still complying with state regulations on volatile organic compound (VOC) emissions – and that could be applied using equipment that would fit inside the penstock. The solution was to apply two coats of Sher-Glass® FF Low VOC from Sherwin-Williams Protective & Marine, applied at 15-20 mils dry film thickness (DFT) per coat. A two-component, glass flake-reinforced amine epoxy coating, Sher-Glass FF Low VOC is formulated for immersion service, providing corrosion, impact and abrasion resistance. It offers direct-to-metal application, contractor-friendly pot life and a reinforced film that enhances performance and edge protection. This project included a gray primer coat and a white finish coat, which featured Sherwin-Williams Opti-Check™ optically activated pigments (OAPs) embedded in the lining to enable future quality control inspections using an eye-safe ultraviolet light. Application involved using K71FH2 Graco machines to move 10,000-plus gallons of coating material via spray lines up to 800 feet in length. This equipment needed to be broken down and reassembled to get it in and out of the penstock at each narrow entry port.
Execution
Bakersfield, California-based Unified Field Services Corporation, specializing in pipeline projects for water utilities and other industrial sectors, was contracted for the project. To carry out the surface cleaning, preparation and coating within the short windows of time for work in the penstock, Sherwin-Williams rallied support services through staging, storage, demonstration and troubleshooting sites in nearby Riverside. Teams also addressed many operational details ahead of time, such as testing pumps to ensure they could deliver the pressure necessary to achieve proper material atomization through the larger applicator tip opening that the reinforced coating required. Due to the access limitations, the applicators needed to be able to spray with two guns supported by a single piece of equipment.
In January through March 2020, the first stage of the project tackled prepping and coating roughly one-third of the penstock. The relining was completed from January through March the following year, with the difference in productivity between the phases due to experience with the equipment and environment, as well as the use of automated blasting equipment in the second project phase to prepare the pipe's interior to a clean, uniform profile. During the 2021 phase, the teams used a wheeled BlastOne robot to clean the penstock. Additionally, with the extensive dehumidification equipment and a ventilation and air flow system in place inside the pipe, the coating team was able to begin working at the upper end while the blasting team continued to prep lower segments. Controlling the atmosphere inside the pipe was not only vital to safe operation, but also to ensure the temperature remained above 55°F so the coating would perform properly. That was no mean feat in late winter where, even in Southern California, the hills saw occasional snow outside the penstocks.
Other unique solutions included using rigging systems in steep sections that allowed the workers to apply coatings without walking on the pipe's surface and adapting the blast robot to assist in moving the applicator pump when spraying coatings.
Outcome
Following completion and inspection of the pipeline in spring 2021, the Devil Canyon Penstock resumed full operation, supplying water to the Devil Canyon Powerplant, which generates electricity from water traveling through the plant. Some of that water continues to Lake Perris through the Santa Ana Pipeline, while the rest is moved to afterbays before being treated and distributed to water users in the San Bernardino region.
Skip carousel content
Photo Gallery
Southern California Penstock Lining Project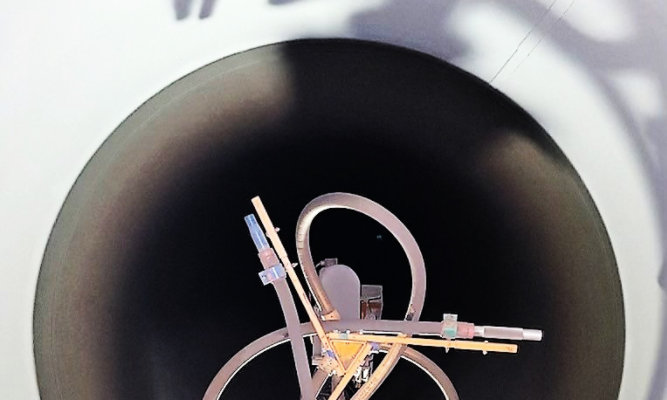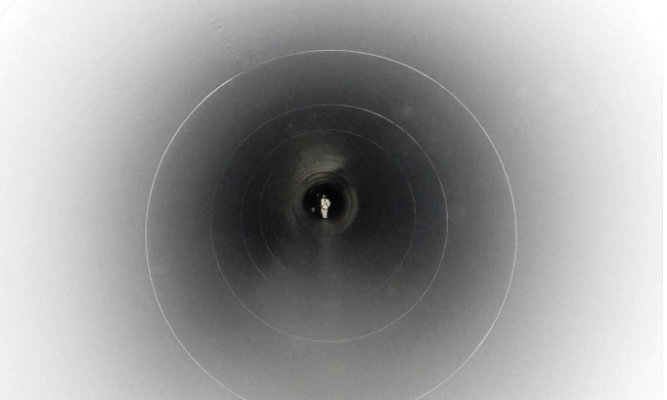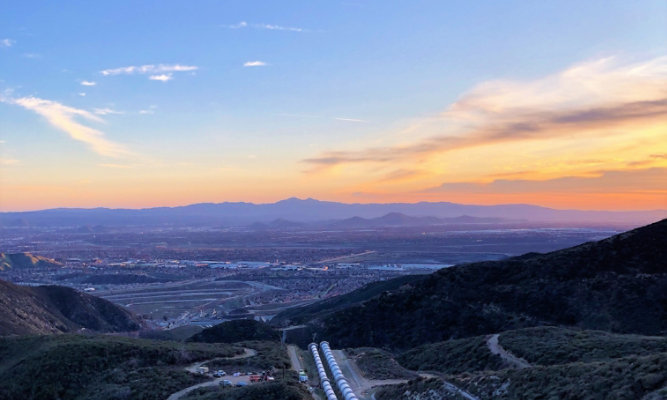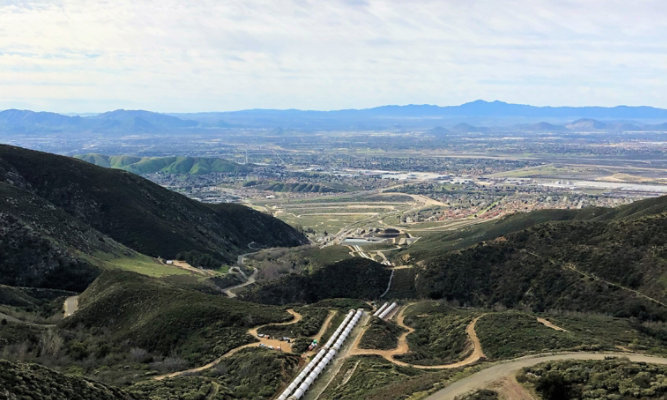 Explore our industry solutions and technology to help protect your assets.
LEARN MORE
Find out more about our innovative coatings for a variety of industries.
FIND A PRODUCT