Celebrating a Favorite Son: Restoring and Protecting Mt. Airy's Towering Tribute to Andy Griffith
Rehabilitation of the elevated water tower in Mount Airy, North Carolina, brought vibrant new life to the tower's iconic logo, which celebrates Andy Griffith's fictional TV hometown – The Andy Griffith Show's Mayberry.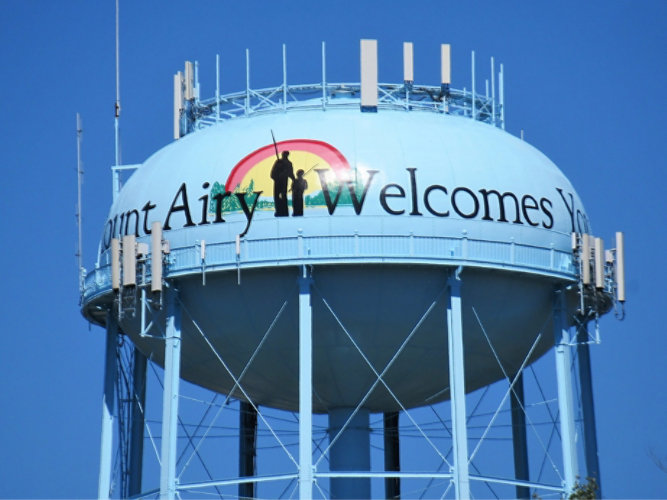 Situation
If you're in Mount Airy, North Carolina, and wondering how to find Andy Griffith's childhood home, look around and up: When you spot the water tower that bears a pair of familiar silhouettes fishing, head that way – perhaps whistling a familiar TV show theme song along your trek.
Standing about 140 feet in the air across the street from the house where Griffith spent his youth, the 500,000-gallon elevated tower has celebrated the actor's fictional TV hometown – The Andy Griffith Show's Mayberry – since 2003. The tower's highly recognizable logo was designed to help boost Mount Airy's tourism business by striking chords of nostalgia and reminding visitors of the city's reputation as the inspiration for Mayberry. Since the logo's last restoration in 2014, the artwork had become discolored and suffered some weather damage, setting the stage for a late 2020 rehabilitation of the water tank's exterior and its renewed reminder of Mount Airy's charms.
Aside from some color fading, the originally applied coating system was still in great shape in terms of corrosion protection and adherence to the tower's steel substrate. Therefore, the City of Mount Airy was able to save the high cost of performing a complete rehabilitation (i.e., blasting the tower down to bare metal and applying a full three-coat system) in favor of applying an overcoat system to the tower before recreating the iconic logo.
Execution
With the tank located right in a residential neighborhood, applicators from Roanoke Rapids, North Carolina-based Southern Corrosion, Inc., needed to be careful to prevent any debris and coatings overspray from escaping and landing on houses and vehicles. That meant opting for surface preparation methods and coatings that minimized this potential. Southern Corrosion contractors first performed SSPC SP-1 solvent cleaning on the tower's exterior and pressure washed the metal to remove any visible contaminants. Next, they addressed various areas of loose mill scale and rust using hand and power tools via the SSPC SP-2 and SSPC SP-3 cleaning methods, respectively.
Following this surface preparation, the crew applied Macropoxy® 920 PrePrime to the affected areas at 1 to 1.5 mils dry film thickness (DFT) to lock down the existing remaining coating and provide a sound substrate for the new coating system. This two-component, 100% solids penetrating epoxy primer delivers the benefits of a penetrating sealer for tight rusted surfaces, along with low viscosity and low volatile organic compounds (VOCs). Next, applicators used Macropoxy 646, a two-component, high-solids, fast-drying polyamide epoxy to protect the rehabilitated areas with durable, long-term corrosion protection. Crewmembers applied both coatings using brushes and rollers, rather than sprayers, to avoid any potential issues related to overspray landing on nearby houses and cars.
Applicators then used Sher-Cryl™ HPA as the topcoat for the entire tank, as well as for recreating the iconic Mayberry-inspired logo. Featuring excellent performance properties, the coating also has dryfall and other application characteristics that made it an ideal choice. Applicators applied the topcoat at 2 to 3 mils DFT, spraying it on without worry that any overspray would stick to houses and cars because the fast-drying droplets would be solid by the time they landed. For recreating the iconic logo, which was originally applied by award-winning artist Jeremy Sams from Archdale, North Carolina, an applicator from Southern Corrosion handled the free-hand application using the same acrylic Sher-Cryl HPA coating. Using this single-component, ambient-cured coating enabled the applicator to simply pop open a can, stir it, apply the coating and then reseal the can when done – a necessity when performing detailed hand work 140 feet in the air.
Southern Corrosion has nearly four decades of experience helping municipalities and public water suppliers prolong the life of water tanks, including handling tank infrastructure maintenance for the city of Mount Airy. For the project, Sherwin-Williams offered support services from a nearby store. Being able to deliver materials to the project site and store excess materials close by instead of on-site helped reduce inconveniences in the mostly residential area surrounding the tower and helped Southern Corrosion complete a timely restoration.
Outcome
In all, roughly 200 gallons of Sherwin-Williams Protective & Marine coatings were used in the three-week project, which was completed in October 2020. And above the intersection of Haymore and Rockford streets, Mount Airy's highest tribute to Andy Griffith proudly greets residents and visitors once again.
Skip carousel content
Photo Gallery
Mt. Airy's Water Tower Restoration Project - Tribute to Andy Griffith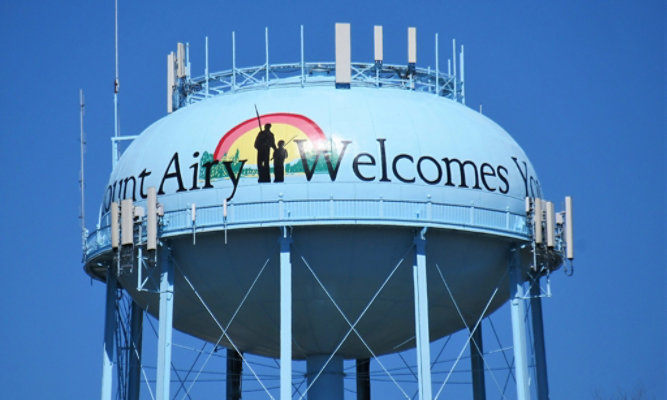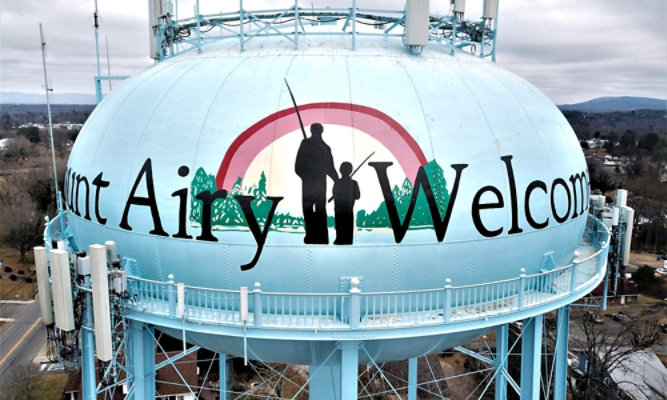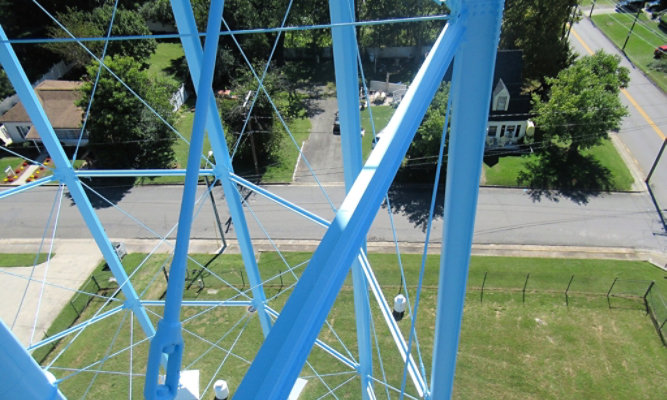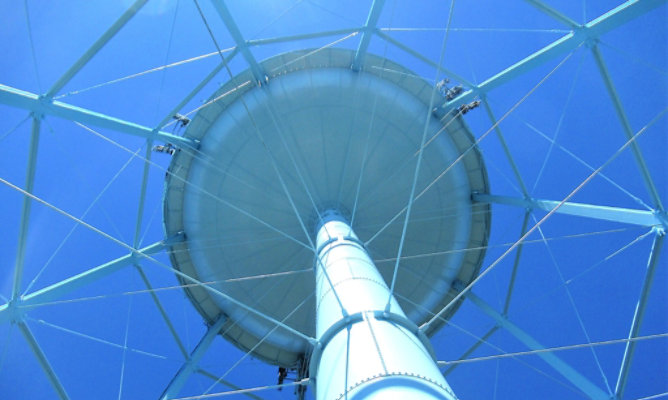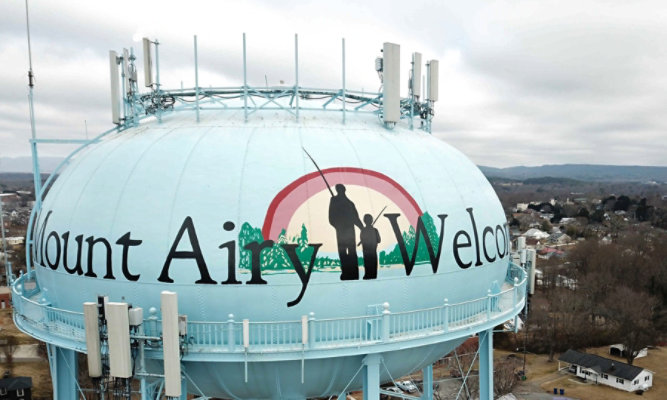 Explore our industry solutions and technology to help protect your assets.
LEARN MORE
Find out more about our innovative coatings for a variety of industries.
FIND A PRODUCT