Color-Matched Terrazzo Floor Melds the Old with the New for Delano High School
Seven-Gradient Terrazzo Floor Earns A-Plus Grade
After considering other options, the design team for the new addition to Delano High School specified a thin-set epoxy terrazzo from Sherwin-Williams Protective & Marine Coatings for nearly the entire floor, based on its high durability, ease of cleaning, color-matching capabilities, overall aesthetics and low lifetime costs.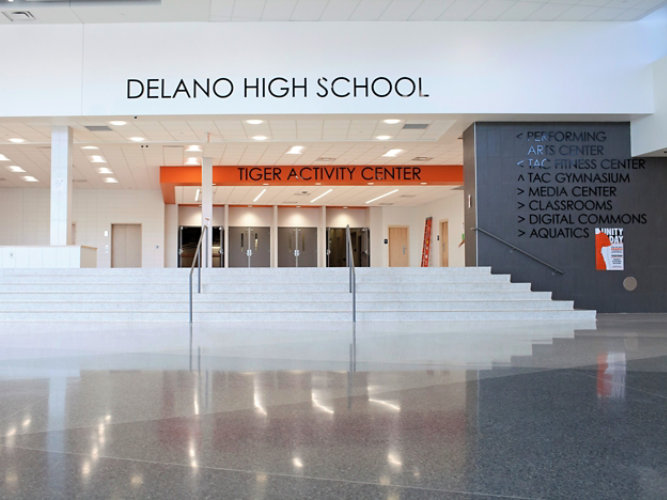 Situation
The flooring in Delano High School's new 50,000-square-foot addition needed to endure a near daily stampede of 1,200 young adults, as well as traffic from the general public, which would have access to the school's community health center and also attend school events. The flooring system also needed to complement the school's existing décor and maintain aesthetics for the life of the building with minimal maintenance.
The design team – which included representatives from the high school, Wold Architects and Engineers, Advance Terrazzo & Tile and Sherwin-Williams – specified a thin-set epoxy terrazzo for the school's newly constructed front entrance, main commons, cafeteria and access point for the community health club. Wold AE then prepared a design that artistically melded the old and new parts of the high school with complementary flooring design motifs and a gradient color transition featuring seven shades of gray. Advance Terrazzo & Tile brought the design to life with color-matching and logistical support from Sherwin-Williams.
Execution
To ensure the epoxy terrazzo system would aesthetically connect the two buildings, Delano officials and the Wold AE and Advance Terrazzo teams worked directly with Sherwin-Williams to select a transitional color gradient. They arrived at the seven-gradient design to create a smooth visual transition from the new addition to the original building.
The crew took photos and pieces of the school's existing floor to a local Sherwin-Williams store to match the colors. Sherwin-Williams then created a sample gallon of resin for each potential terrazzo color, and Advance Terrazzo turned those into fully poured and polished plates before submitting them to Wold AE for approval.
"It was surprisingly easy," said Aaron Metzger, Project Manager for Advance Terrazzo. "Within one or two samples, Sherwin-Williams was there with the match."
A three- to four-man crew from Advance Terrazzo then installed the floor by mechanically grinding the substrate, treating cracks, applying a membrane system, laying brass divider strips of varying widths and designs, installing terrazzo, grinding and polishing the terrazzo, and finally adding a protective urethane topcoat.
For the membrane, the team used Sherwin-Williams GP3555 Epo-Flex® HD Epoxy Coating, a flexible elastomeric epoxy designed to bridge hairline cracks in the concrete substrate. Applied at a 40-mil thickness, the high-solids, self-leveling epoxy provided a durable, chemical-resistant barrier between the topcoat and concrete.
For the epoxy resin, the installers applied GP3520 Epoxy Terrazzo Matrix, a binder resin that allowed for the use of decorative brass strips and accents without concerns about discoloration. Applied at roughly three-eighths of an inch thick, the binder resin holds the Thin-Set Epoxy Terrazzo #1100 System and the aggregate in place. The terrazzo system features high physical strength, as well as excellent wear, chemical and stain resistance.
Timely product availability of color-matched resins from the local Sherwin-Williams store was critical to Advance Terrazzo's successful installation, as the team wanted to minimize waste.
"We went with Sherwin-Williams because of the number of colors used, the intricacy of the design and the multiple project phases," said Aaron Metzger, Project Manager for Advance Terrazzo. "We tended to order short because there were many colors we would not use again. It is important to be able to order minimal quantities and advantageous to get them same day or next day."
Outcome
Delano's new thin-set epoxy terrazzo floor is holding up impeccably and has created a notable visual impact for the building addition. For Matt LaBeau, the high school's Buildings & Grounds Coordinator, this project stands above others he has witnessed due to the transitional design of the seven-gray gradient.
"I have had terrazzo in other school districts before, and this is by far the most elaborate design – it looks great," LaBeau said.
The National Terrazzo Manufacturers Association (NTMA) agrees, recognizing the project as one of the nation's best terrazzo flooring projects of the year with a 2019 Honor Award.
Due to the thin-set epoxy terrazzo's high physical strength and resistance to wear, chemicals and stains, the award-winning look should serve students and the community for decades to come. Thinking about the floor's longevity, LaBeau said, "It should outlast me."
Skip carousel content
Photo Gallery
Terrazzo Floor at Delano High School - Delano, Minnesota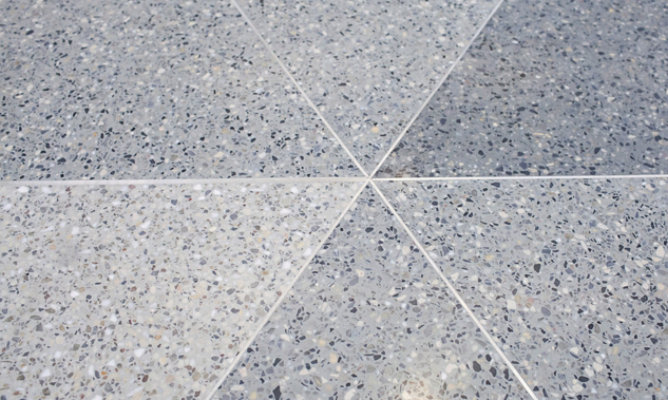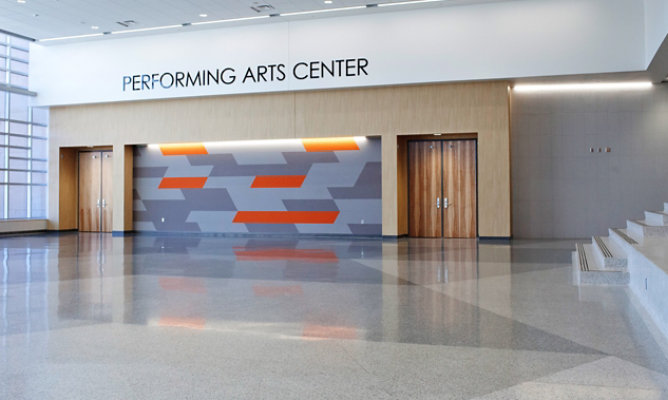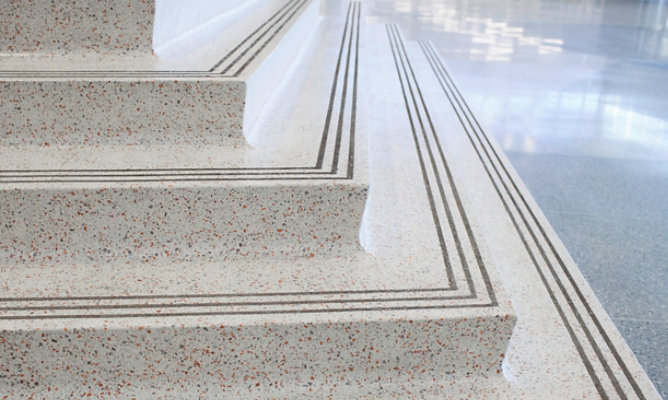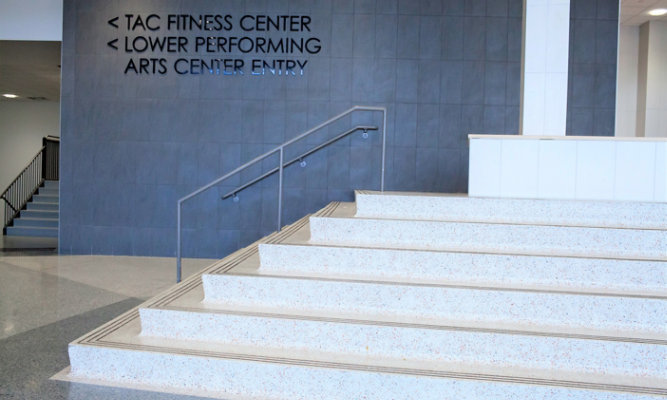 Skip carousel content
Discover More
Industry Expertise and Innovation
See how we help customers find customized solutions for their project and application challenges.
Explore our flooring solutions designed for form, function and performance.
LEARN MORE
Find out more about our innovative coatings for a variety of industries.
FIND A PRODUCT