Rapid Return-To-Service Water Transmission Pipe Coatings Achieve Quick Turnaround for Comox Valley
Water transmission pipe interior and exterior coatings from Sherwin-Williams enable fast throughput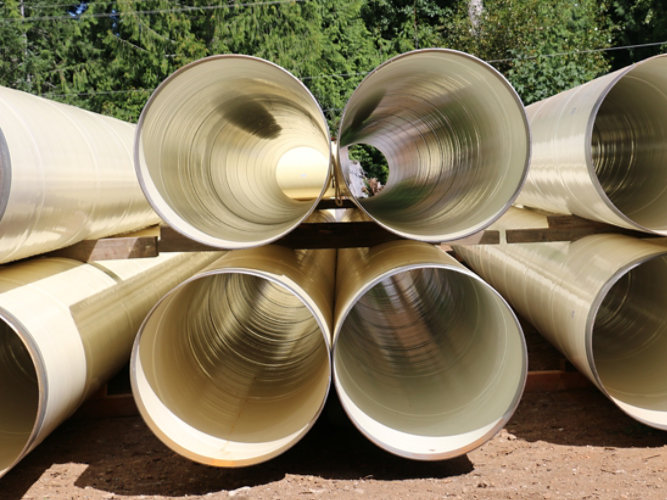 Construction for the Comox Valley Regional District (CVRD) Water Treatment Project in British Columbia, Canada had three main goals:  eradicate the need for boil water notices, remove the risk of viruses and bacteria in drinking water and secure high-quality potable water for years to come. To achieve the 17-week turnaround time for the transmission pipe portion of the project, Corrcoat Services Inc. applied rapid return-to-service coatings from Sherwin-Williams Protective & Marine.
The CVRD wanted to ensure that quality would hold from the new treatment plant to customers' taps. That meant specifying a robust lining system to protect the pipeline interior from corrosion and minimize the growth of microbial bacteria. It also meant the exterior coating system would need to deliver long-term corrosion protection to prevent future repairs.
Lining System Cuts Interior Coating Schedule Nearly in Half
In less than 120 days, Corrcoat agreed to coat 270 transmission pipes for the three-mile-long system. Seeking efficiencies, the company worked with water and wastewater specialists from Sherwin-Williams to specify an interior lining and exterior coating system that enabled a three-to-five-day finishing cycle. Although Corrcoat hadn't used either material before, the completion schedule was up to two days faster when compared to the coating system it traditionally used. This accelerated schedule would help Corrcoat ensure timely completion of coated pipes so steel distributor Varsteel Ltd. could deliver them to the installation site and keep the pipeline assembly line on track. 
Given the tight schedule, Corrcoat needed to ensure the coatings would enable fast throughput. Sherwin-Williams specialists suggested Sherplate™ PW ultra high-solids epoxy amine coating for the interior lining. This lining offered two primary benefits compared to the lining material Corrcoat typically used: resistance to amine blushing and a longer recoat window. Both traits enabled streamlined touch-ups and faster throughput.
On a pipe's first day through Corrcoat's coating assembly line, applicators prepared its interior surface to the SSPC SP-10 standard. Using an automated line, applicators then sprayed the two-component Sherplate PW lining directly to the pipes' interiors at a high build of 16-50 mils dry film thickness (DFT) in a single coat. The lining hung well and provided a smooth coated surface for the pipe interiors.
The next day, inspectors checked DFT readings conducted holiday spark testing to ensure it was free of pinholes and voids. Many of the pipes passed inspection and were able to move directly to staging for the exterior coating application – accelerating their run through the shop.
"Sherplate PW saved us time for applications and any repair work, helping the schedule move faster and saving time on the overall project," said Clint Batke, Chief Shop Estimator for Corrcoat.
Sherplate PW saved us time for applications and any repair work, helping the schedule move faster and saving time on the overall project.
For the pipe exteriors, the Sherwin-Williams team recommended a fast-set coating system that would allow Corrcoat to move sprayed and inspected pipes off its coating line and onto trucks in as little as 30 to 40 minutes after application. The coating, Poly-Cote™ 110, is a two-component, aromatic polyurethane that provides optimal film build properties in a single coat, while also curing rapidly.
"If we had used a slower setting material, we would have had to move the pipe out of the spray booth and let it sit overnight before starting the quality control process," noted Batke. "With the quick-set material, we could move multiple pipes through the shop in 24 hours."
Following an abrasive blast to the SSPC SP-10 standard, applicators sprayed Poly-Cote 110 direct to metal at a minimum DFT of 25 mils. Due to the quick-setting nature of the coating, inspectors were able to begin holiday testing and DFT checks minutes later. If they discovered any repair needs, they could quickly respray those areas right on the line due to the coating's two-hour recoat window.
Cartridges Streamline Final On-Site Touch-ups
Coatings application continued at the pipeline installation site. After installers joined the intentionally uncoated ends of the pipes, applicators went inside the pipes to apply Sherplate PW using dual cartridge technology and brushes. Using the compact cartridges provided a major efficiency by eliminating the need for and cost of using plural spraying equipment.
When installers moved and buried the joined pipes, they realized additional advantages of the exterior coating system – its resistance to abrasion and impact, enhancing its corrosion protection capabilities. Applicators had hardly any areas to repair following transportation of the coated pipes, and were able to lay and bury the pipes without worrying about damaging the coating.
For its role in the project, Corrcoat was able to dial in the process to move each pipe through both interior and exterior applications, and out the door for delivery within five days or less. Choosing the Sherwin-Williams coating systems made all the difference in accelerating that timeline, which was one to two days faster per pipe than if Corrcoat had used other products.
Skip carousel content
Photo Gallery
Comox Valley Regional District Water Treatment Project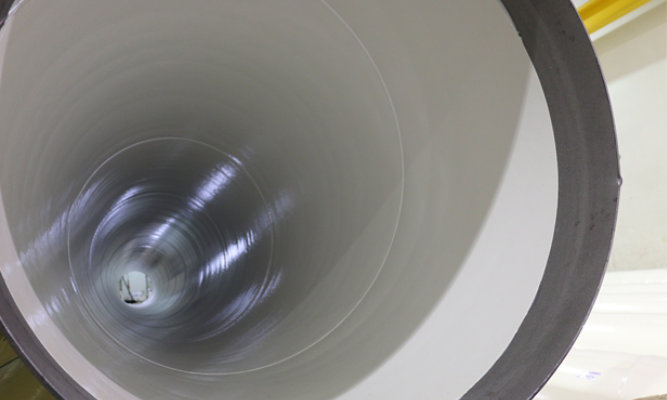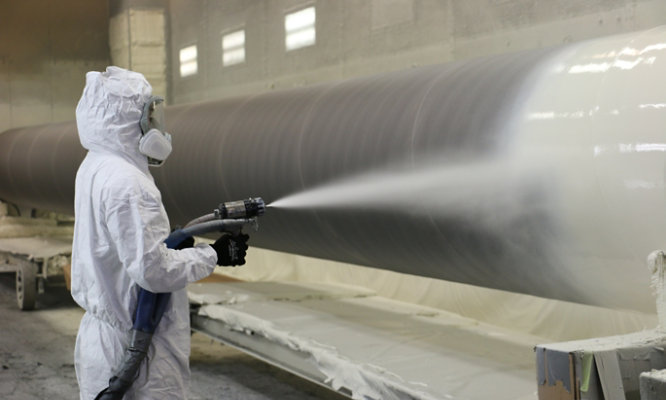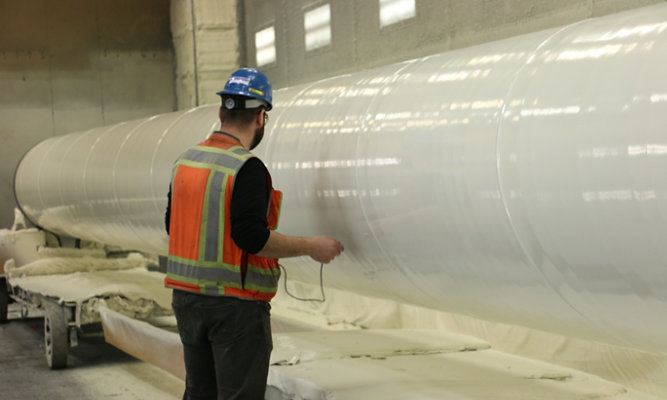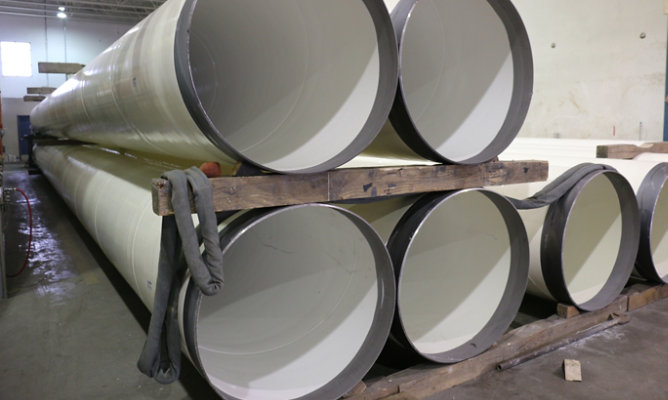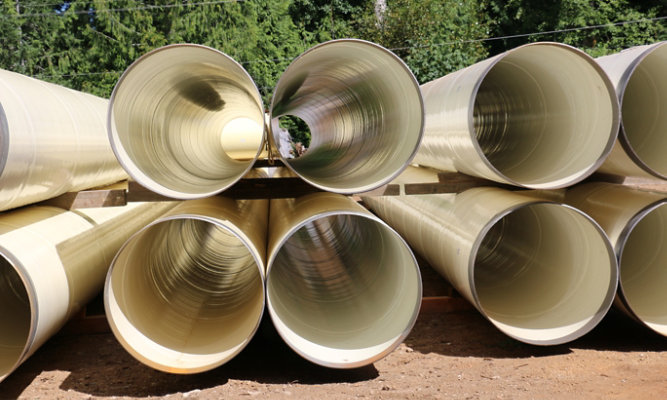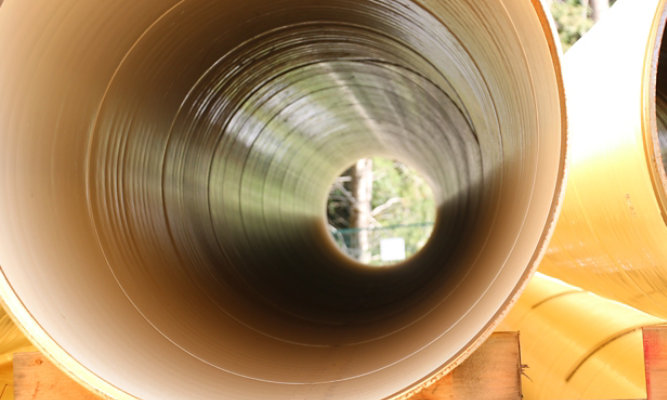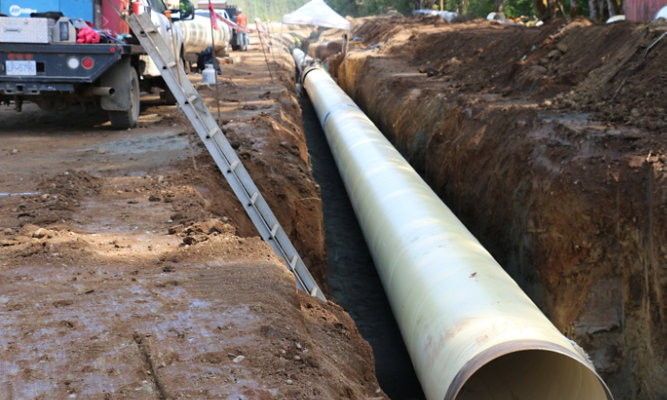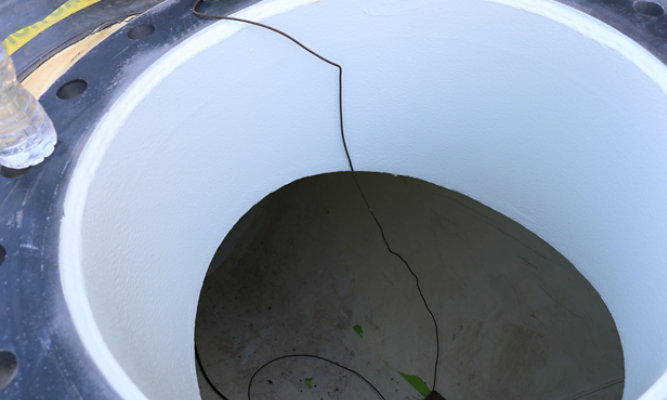 Explore our industry solutions and technology to help protect your assets.
LEARN MORE
Find out more about our innovative coatings for a variety of industries.
FIND A PRODUCT