Sherwin-Williams Launches Robust Ultra-High-Solids Epoxy CUI-Mitigation Coating, Strengthens Current Lineup for the Best Resistance to Corrosion Under Insulation
Innovative solutions include an ultra-high-solids epoxy novolac developed with a functional chemical enhancement for mitigating CUI, plus three different epoxies enhanced with micaceous iron oxide (MIO)
Contact Us for More Information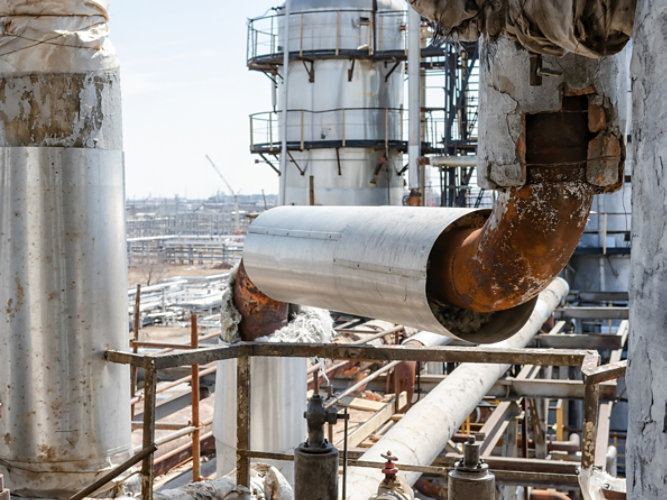 CLEVELAND (June 1, 2023) – Sherwin-Williams Protective & Marine has introduced the best ways to date to mitigate the dangerous condition of corrosion under insulation (CUI) with its new line of Heat-Flex® CUI-mitigation coatings. The line includes Heat-Flex® ACE (Advanced CUI Epoxy), which is an ultra-high-solids epoxy novolac developed with a functional chemical enhancement for CUI mitigation. The coating performs the best at mitigating CUI out of any other formulation available. In addition, three coatings featuring a high concentration of micaceous iron oxide (MIO) pigment round out the lineup, including Heat-Flex 750, Heat-Flex 1200 Plus and Heat-Flex 650. The MIO-enhanced coatings offer significantly improved CUI-mitigation performance compared to similar formulations currently on the market.
"The battle against CUI is never-ending, as coated steel encapsulated in insulation will inevitably corrode over time. Our goal is to mitigate that corrosion process for as long as possible, and we've developed some high-performance coatings that enable just that," said Mark Rubio, Energy Business Manager, Sherwin-Williams Protective & Marine. "For example, Heat-Flex ACE is the best product we've tested for long-term CUI mitigation. We anticipate it becoming a preferred specification solution as the industry gains experience with this enhanced CUI-mitigation system. We have also boosted the market's CUI-mitigation capabilities for existing specifications with the three MIO-enhanced Heat-Flex coatings."
The battle against CUI is never-ending, as coated steel encapsulated in insulation will inevitably corrode over time. Our goal is to mitigate that corrosion process for as long as possible, and we've developed some high-performance coatings that enable just that.
All four Heat-Flex CUI-mitigation coatings have passed extensive lab testing, showing good to excellent performance in a variety of tests. These tests included various heat cycling, simulated CUI, BS EN 927-6:2016 erosion and dry film thickness (DFT) tolerance testing for thermal resistivity performed on all coatings, as well as cryogenic testing performed on the MIO-enhanced coatings. Heat-Flex 750, Heat-Flex 1200 Plus and Heat-Flex ACE also showed excellent results following ISO 12944-9 CX cyclic anticorrosion testing. In addition, Heat-Flex ACE showed exceptional results in a series of CUI simulation tests performed in accordance with ISO TM21442 in excess of 204°C (400°F).
New Solvent-Free Coating Technology for CUI Mitigation. Representing a new class of CUI-mitigation coatings, Heat-Flex ACE is a complete advancement over other similar coatings on the market. The two-component, organic, ultra-high-solids epoxy novolac coating is solvent free, unlike most other CUI-mitigation epoxies, which typically have between 60-80% volume solids. Being an ultra-high volume solids coating, Heat-Flex ACE reduces the release of volatile organic compounds (VOCs) for better environmental stewardship and reduced permitting costs for applicators. In addition, the coating has been developed with a functional chemical enhancement and is free from the flake-filled pigmentation that's common in alternative CUI-mitigation coatings.
In testing, Heat-Flex ACE far surpassed the capabilities of solvent-based epoxy phenolic and novolac coatings designed for CUI mitigation. For example, it displayed best-in-class temperature, corrosion, chemical and mechanical resistance, while providing the most versatile DFT range among CUI-mitigation coatings.
"When we tested Heat-Flex ACE in the lab, we decided to test it vigorously to try to break it and found it was quite unique," said Rubio. "Following those promising results, we have confirmed the coating's robust performance as a more dependable and longer lasting organic coating solution. This has led to the product being added to customer specifications."
MIO-Enhanced Coatings. To better meet the needs of current CUI-mitigation specifications, Sherwin-Williams also enhanced three existing formulations by adding MIO reinforcements. Each coating features a minimum concentration of 25% MIO pigment by weight in the dried coating film, which helps extend the life of the coatings and reduces risk by addressing typical CUI failure mechanisms experienced while in service and during shipping and construction.
"The coatings' heavy load of MIO reinforcements provides greater durability against impacts, chemicals and corrosion when coated assets are insulated and placed into service," said Rubio. "In addition, the MIO provides enhanced UV erosion resistance, which protects the epoxy-based coatings from degrading before insulation is installed on assets."
The new Heat-Flex lineup of MIO-enhanced CUI-mitigation coatings includes:
Heat-Flex 750: Enhanced with MIO, Sherwin-Williams Heat-Flex 750 is a two-component, high solids alkylated amide epoxy (AAE) coating that offers excellent protection from CUI for long-term asset durability. The coating consistently outperforms comparable alternatives in terms of heat, corrosion, erosion and thermal shock properties. A variety of accelerated testing methods have shown that Heat-Flex 750 outperforms traditional epoxy phenolics and other AAE technologies in a CX environment with excellent rust creep resistance, no adhesion loss or blistering, as well as excellent heat and crack resistance at high DFTs, and minimal chalking and DFT erosion. In addition, Heat-Flex 750 features epoxy-type mechanical resistance, minimizing damage potential during the transport and erection of shop-coated steel. The 78% volume solids coating features much less solvent than other AAE CUI-mitigation coatings – which typically have a maximum volume solids of 65% – helping applicators reduce VOC permitting costs. The product is suitable for temperatures ranging from -196°C to 205°C (-320°F to 401°F).


Heat-Flex 1200 Plus: Sherwin-Williams Heat-Flex 1200 Plus offers robust CUI-mitigation protection for broad-temperature applications ranging from cryogenic to 649°C (1,200°F). That includes on insulated pipes, valves and process vessels that face very high-temperature service and aggressive cyclic service at high temperatures. As a two-component version of the company's original Heat-Flex 1200 coating, Heat-Flex 1200 Plus provides added mechanical resistance and corrosion protection even in extreme CX atmospheric environments. The MIO-enhanced inert multipolymeric matrix (IMM) coating is harder than any other silicone-based coating used in the petrochemical industry, providing superior protection from impacts and abrasions during transit and installation, as well as from chemical attacks and moisture penetration. At the same time, the material is flexible enough to withstand the thermal shock of assets expanding and contracting during extreme temperature fluctuations. Heat-Flex 1200 Plus also offers improved corrosion protection and mechanical resistance in extreme atmospheric environments, providing confidence of corrosion protection from the application shop to the field. The coating passes atmospheric testing without a heat cure, saving application shops the time and expense of heat curing.


Heat-Flex 650: Finally, for applications requiring high-temperature epoxy novolac phenolic coatings, Sherwin-Williams offers MIO-enhanced Heat-Flex 650. With its higher MIO concentration, the coating represents the next generation of the well-known Sherwin-Williams Epo-Phen™ FF CUI-mitigation coating. Testing proved that the combination of MIO with the epoxy phenolic resin in Heat-Flex 650 provides improved crack and UV erosion resistance compared to traditional epoxy phenolics, with the coating showing positive results for use on pipes, valves and vessels operating from cryogenic temperatures to 205°C (401°F). The coating has a higher volume of solids than other traditionally used high-temperature epoxy phenolics, making it a good choice for reducing VOC permitting costs.
Sherwin-Williams Protective & Marine Coatings delivers smart asset protection and unmatched commercial, technical and specification service to customers in a wide array of markets, including Oil & Gas, Water & Wastewater, Bridge & Highway, Steel Fabrication, Flooring, Food & Beverage, Mining, Rail, Marine, Power Generation and Fire Protection. From alkyds to zincs, Sherwin-Williams offers a complete line of time-tested, high-performance coatings and systems to combat corrosion, supported by the largest group of NACE-certified professionals in the industry. Our world-class product portfolio is backed by premier technology and innovation platforms, and includes a growing line of Global Core products available at the same quality and performance standard anywhere in the world, and delivered from over 5,000 company-owned North America locations and across our rapidly growing international distribution footprint. The Protective & Marine Division is part of the Sherwin-Williams Performance Coatings Group, which supplies a broad range of highly-engineered solutions for construction, industrial, packaging and transportation markets in more than 120 countries in the world. Founded in 1866, The Sherwin-Williams Company is a global leader in the manufacture, development, distribution and sale of paints, coatings and related products to professional, industrial, commercial and retail customers.