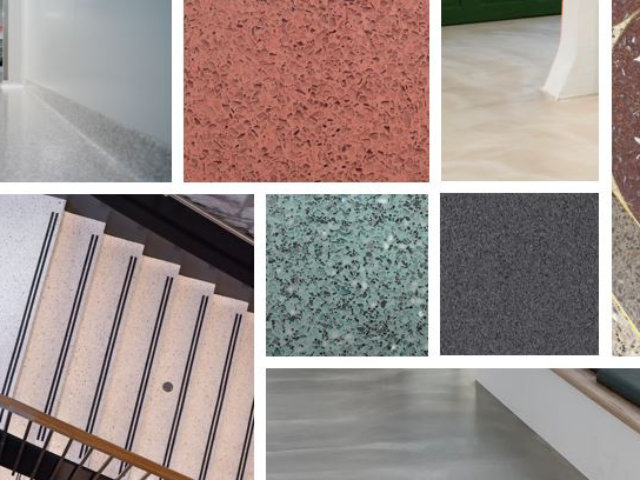 High Performance Flooring Colormix Forecast 2024
ANTHOLOGY | Volume One
Luxury and durability coexist in Anthology, our decorative flooring collection that seamlessly complements Sherwin-Williams 2024 Colormix. Embrace 16 trends expanding across four different palettes, ranging from deep and bold to saturated and minimal, plus 3 custom floor designs to complement Sherwin-Williams Color of the Year, Upward. Welcome the possibilities of color and design with Anthology: Volume One. Download the brochure here.
Connect With a Local Flooring Expert
2024 COLOR OF THE YEAR 
This year, our color forecast team has been swept up in the clarity and calm of Upward SW 6239 (224-C1), a tranquil blue-gray that encourages boundless creativity. When we see this color, we think of comfort, ambition and peace. The soothing mood is reflected in three custom floor designs inspired by Sherwin-Williams 2024 Color of the Year.
Resuflor™ Terrazzo TG
SWCOTY1-2024
Resuflor Terrazzo TG
SWCOTY2-2024
NO 1 | THE CONVERGENCE OF BLUES AND GREENS
These colors put a key focus on bringing harmony in a balanced and calming environment. When blended together, blues and greens can harness psychological benefits like evening heart rate and lowering blood pressure. Exposure to these colors in the right setting nurtures these physiological effects.
Resuflor Deco Flake SB 1/4"
Crashing Wave
Resuflor Deco Quartz DB23
Maple Pepper
Resuflor Topcoat Metallic
Ocean View
Resuflor Terrazzo TG
SW40-1012TZ
NO 2 | THE POETRY OF REDS AND PURPLES
A life-giving energy follows the alluring hues of red and purple, infusing our spaces with warmth. This palette inspires us to get creative with a group of candid, saturated hues paired with warm neutrals. 
Resuflor Deco Flake SB 1/8"
Milky Way
Resuflor Deco Quartz DB23
Coconut Sugar
Resuflor Topcoat Metallic
Fall Sangria
Resuflor Terrazzo TG
SW90-1009TZ
NO 3 | A GATHERING OF DEEPS AND DARKS
In an era where fostering well-being grows more important, these dark hues invoke a feeling of sanctuary, refuge and coziness. Saturated deep tones create an environment of rest combined with luxury as we continue toward minimalist trends.
Resuflor Deco Flake SB 1/8"
Evening
Resuflor Deco Quartz DB23
Stormy Evening
Resuflor Topcoat Metallic
City Fog
Resuflor Terrazzo TG
SW10-1036TZ
NO 4 | A STUDY IN DELICATE TINTS


Promote healing and harmony in your spaces with elegant shades of white, gray and beige to create a soothing combination of light and color. These sophisticated tints can help reduce cognitive load and inspire calmness in environments that can be overwhelming.
Resuflor Deco Flake SB 1/8"
Ground Hazelnut
Resuflor Deco Quartz DB23
Birch Bark
Resuflor Topcoat Metallic
Icing
Resuflor Terrazzo TG
SW20-1059TZ
Explore system documentation, webinars, and answers to application challenges.
LEARN MORE
Find out more about our innovative floor systems for a variety of industries.
FIND A SYSTEM