Creating a Vibrant Urban Oasis with Palladiana Terrazzo
Sherwin-Williams Resuflor™ Terrazzo TG System Brings Cozy, Unique Atmostphere to New York City's "The Hugh" Atrium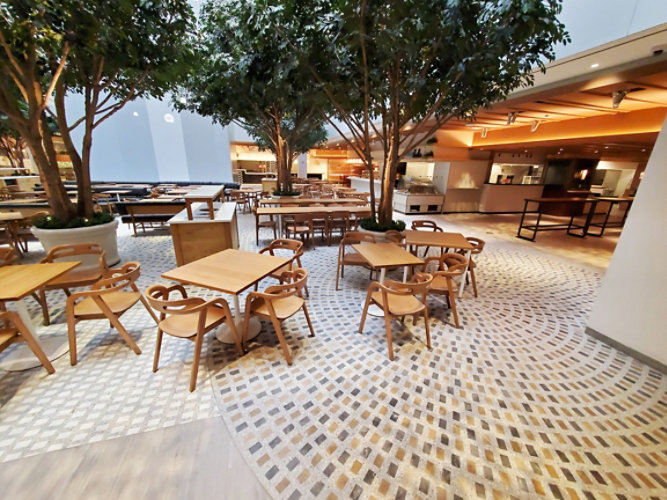 New York City's "The Hugh" atrium and food court located at 601 Lexington Avenue now offers a warm, European café atmosphere – and a respite from the soaring Citicorp Tower above, six floors of office space next door and bustling subway below. The space features handcraft cobblestone-style Palladiana epoxy terrazzo flooring to complement its large potted trees, inviting tables and old-world color scheme. The Sherwin-Williams High Performance Flooring team worked with flooring contractors Wilkstone, LLC and TPG Architecture LLP to create aesthetically pleasing flooring that withstands the foot traffic of The Hugh's thousands of daily visitors on their way to work, shopping or dining.
THE HUGH ATRIUM AND FOOD COURT FLOORING SOLUTION
Achieving a sense of warmth was all part of the plan for the building owners and architect, who wanted to transform, enliven and expand the atrium space with retail and dining options. Palladiana terrazzo design was specified – instead of a standard terrazzo pour – to add depth and texture throughout the space, while also lending the robust durability, long-term sustainability and easy-care maintenance that is characteristic of terrazzo, and that this multi-use space demands. With sustainability and building occupancy in mind, Wilkstone selected the Sherwin-Williams Resuflor Terrazzo TG decorative troweled mortar flooring system for the job, as the 100% solids, low odor, low VOC material has been tested and approved for LEED V4.2.
Installing the floor was a complex, multi-step process requiring specialized installers who brought the floors to life through their craft. First, crewmembers removed the existing tile, shotblasted the concrete substrate to a Concrete Surface Profile of 4-6 and then leveled the surface where needed using Sherwin-Williams Resuflor 3561 Epoxy Resin Glaze mixed with sand to ensure a perfectly flat surface. Next, installers primed the concrete substrate with Sherwin-Williams Resuprime 3579 Standard Primer/Binder. Contractors then used Resuflor 3556, a high-solids, flexible epoxy membrane from Sherwin-Williams that bridges cracks and joints under epoxy terrazzo, reinforced with a full scrim.
The two-month-long installation process for the 25,000-square-foot space was a complex job requiring preparation and installation of multiple patterns of Palladiana terrazzo around perfectly hand-placed tiles, followed by grinding, polishing and sealing the surface to a rich patina. In the main eating area of the site, installers hand-placed precast rust- and mocha-colored terrazzo rectangles onto a mesh backing, forming a design with large concentric circular patterns and the cobblestone effect. Similarly, in the areas surrounding the dining seating, installers hand-placed precast white terrazzo tiles onto a mesh backing in a repeating pattern.
A high point of the project was the ability of Sherwin-Williams to provide an exact and expedited color-matching process for the contractor. The Sherwin-Williams team worked with Wilkstone to color-match the epoxy terrazzo to meet the architect's specified color scheme – while keeping the project on track with the timeline and aesthetic goals. This partnership in product and color selection kept the supplier, contractor and client on the same page to deliver a cohesive finished project.
"Our goal is to help architects realize their vision for spaces, from the warmth of colors to the depth of textures and everything in between," said Dave Esposito, Senior Sales Representative at Sherwin-Williams Protective & Marine. "We're not satisfied until the designer is."
Skip carousel content
Photo Gallery
Resuflor Terrazzo TG Floor at 601 Lexington Avenue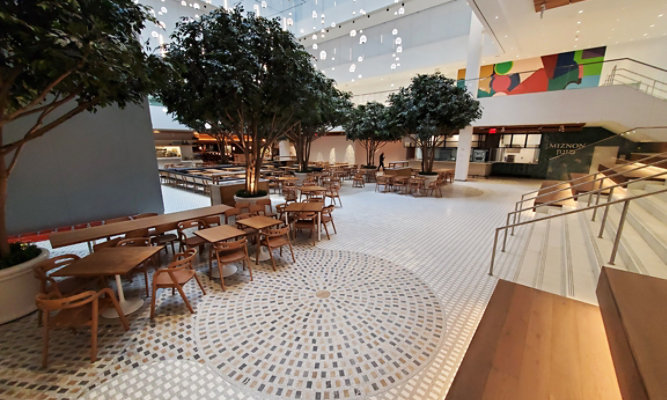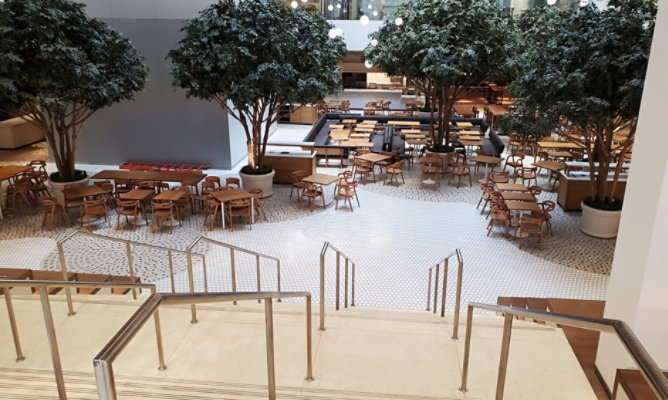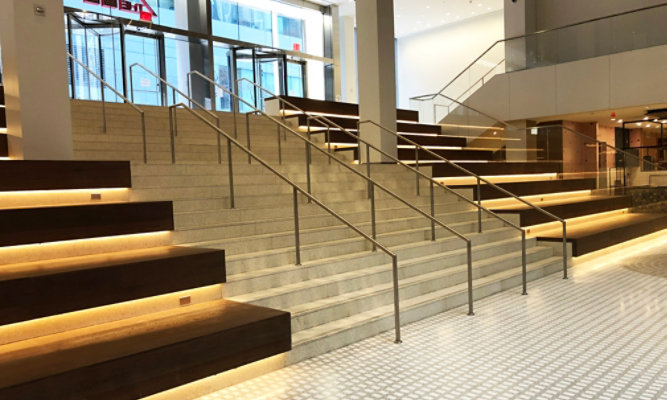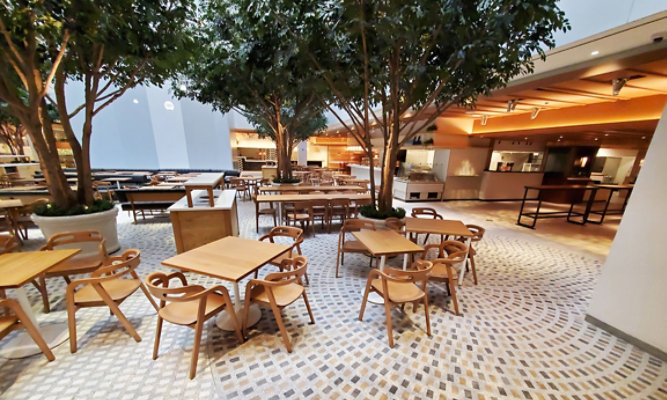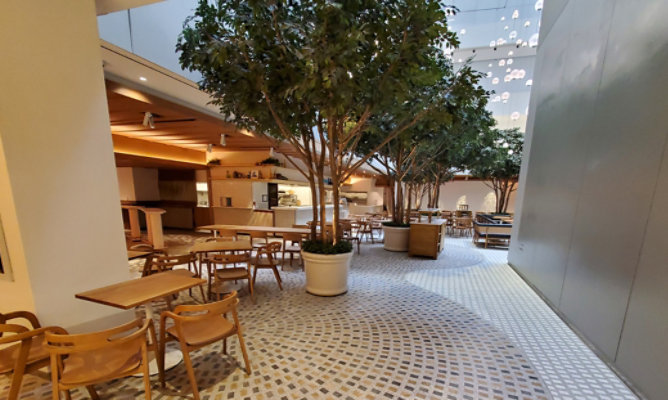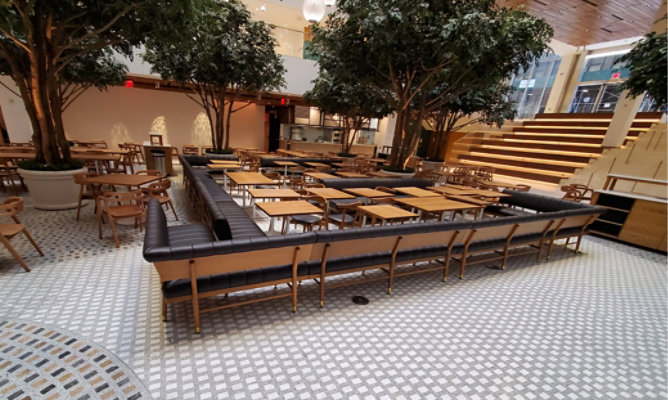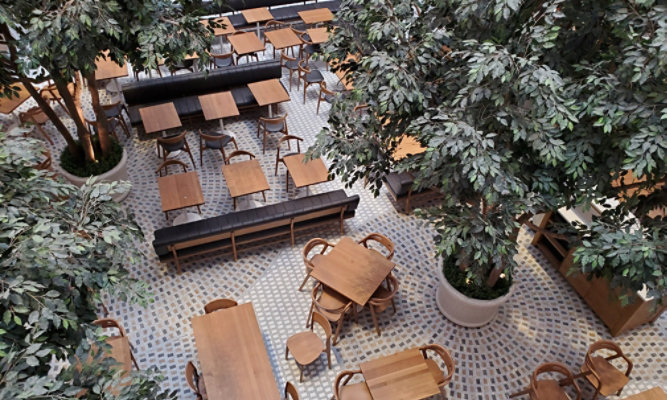 Find out more about our innovative floor systems for a variety of industries.
FIND A SYSTEM