Atlantic Aviation Heightens Hangar Quality and Aesthetics with Optimal Flooring Solutions
Resuflor™ Performance HPS flooring system with moisture vapor barrier helps create beautiful, safe, and functional aircraft hangars
Selected for its ease of application and performance properties, Resuflor Performance HPS provides an extremely durable, low maintenance, chemical-resistant, and aesthetically pleasing flooring solution that supports daily operations.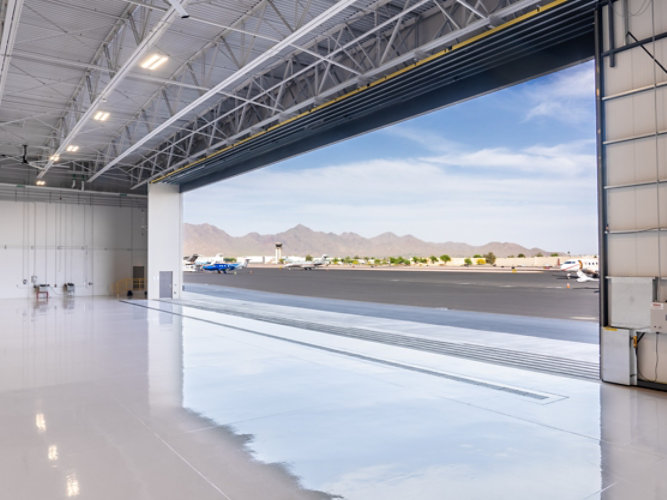 Challenge: The Need for Durable and Aesthetically Pleasing Floors 
When Atlantic Aviation was planning the construction of two new hangars for its Scottsdale, Arizona, location, the company knew its choice of hangar flooring was important. Having the right hangar floor coating system plays an essential role in creating a beautiful, safe and functional space where clients can feel confident housing and servicing their prized aircraft. 
As one of the industry's largest aeronautical ground support companies, or "fixed-base operators" (FBOs), Atlantic Aviation operates at more than 100 airports around the United States. Fueling, tie-down and parking, and aircraft storage and maintenance, as well as myriad pilot, crew and passenger amenities are among the services offered.
Long-term performance and enduring aesthetics are crucial considerations when selecting a hangar flooring system. The coatings must protect the concrete slab from exposure to harsh aircraft fluids such as jet fuel, Skydrol® and maintenance chemicals, as well as ongoing foot and wheel traffic. Concrete moisture and moisture vapor transmission are among the many other factors at play. New moisture barrier primer technology can alleviate concerns of coating system damage caused by slab moisture.
Solution: Installing Resuflor Performance HPS Flooring with ResuPrime™ Moisture Vapor Barrier Primer
Sherwin-Williams Resuflor Performance HPS with ResuPrime Moisture Vapor Barrier Primer meets these requirements and more. As explained by Arizona Epoxy Systems owner, Steve Durgarian, the concrete coating system has long been Atlantic Aviation's hangar flooring of choice due to its durability, ease of maintenance and slip-resistant technology. The decades-long track record of success in untold numbers of air hangars throughout North America, combined with the Sherwin-Williams team of aviation industry experts, technical service professionals and a network of highly experienced hangar floor installation contractors contribute to the exceptional value that Resuflor Performance HPS delivers to aviation facility owners.
In addition, the Light Gray color and glossy finish selected by Atlantic increase the floor's ability to reflect overhead lighting, thus helping enhance room illumination, visibility and safety.
Outcome: Achieving Beautiful, Safe and Functional Total Coatings Solutions 
Thanks to the skilled installation by Arizona Epoxy Systems using Sherwin-Williams industry-leading coatings, Atlantic Aviation is extremely satisfied with its beautiful new hangar floors, which are in keeping with the FBO's reputation for quality and attention to detail.
Along with Sherwin-Williams High Performance Flooring, the manufacturer's Pro Industrial™ coatings were also utilized during the hangars' construction.
Rick Wielebski, Atlantic Aviation General Manager, stated, "Sherwin-Williams offers a premium product portfolio for all surfaces within an aviation hangar, making them the total coatings solutions for this industry."
Sherwin-Williams offers a premium product portfolio for all surfaces within an aviation hangar, making them the total coatings solutions for this industry.
Skip carousel content
Photo Gallery
Resuflor Performance HPS was the ideal system for these new hangar floors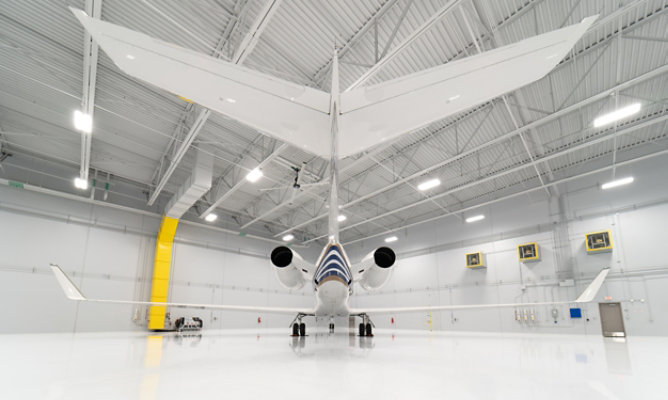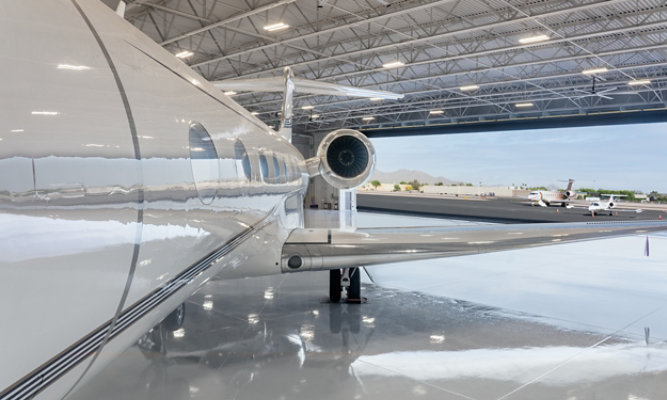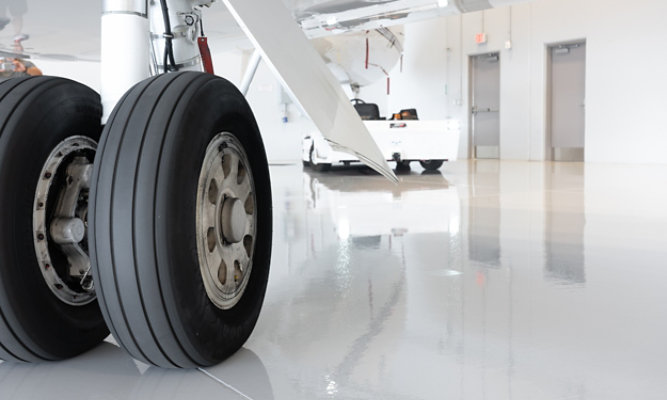 Find out more about our innovative floor systems for a variety of industries.
FIND A SYSTEM