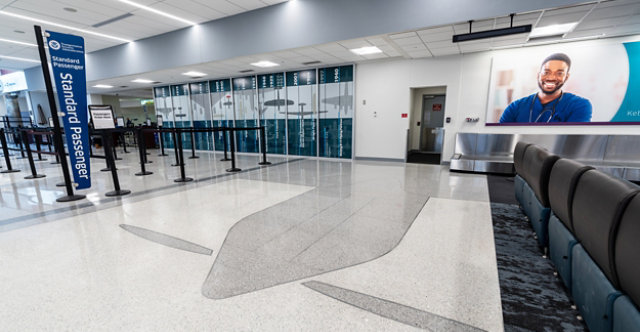 LEED Sustainable Flooring
Sherwin-Williams is a company committed to sustainability, and we're proud that our commercial flooring can contribute toward obtaining LEED certification on your project. By choosing our epoxy floor coatings and other resinous systems for your concrete floors, you can earn points toward your U.S. Green Building Council LEED certification that make all the difference.
Learn More or Get a Free Flooring Evaluation
Commercial Flooring Sustainability
Unlike many other materials available, Sherwin-Williams epoxy floor coatings and other resins for concrete floors demonstrate distinctly long life cycles. Our coatings can outlast typical floor coverings by years, preventing you from requiring removal, replacement and disposal as frequently as you would otherwise. When one of our systems finally does reach the end of its long life, it can typically remain in situ, to be used as a substrate for the next floor—or, if you prefer, if can be removed as non-hazardous waste.  That's all better for the environment and LEED points are the reward.
Our sustainable flooring line can contribute to the following LEED credits:
Materials and Resources
MR Credit 1.1 and/or 1.2, Building Reuse
MR Credit 2.1, Construction Waste Management
MR Credit 4.1, Recycled Content
MR Credit 5.1 and/or 5.2, Regional Materials
Indoor Environmental Quality
EQ Credit 4.2, Low Emitting Material
We offer a variety of exciting options if you're looking for recycled content epoxy floor coatings that can help you achieve your LEED sustainability rating. A few of our systems utilize aggregate blends with 25% – 30% percent recycled glass content, and we also offer a selection of decorative colored quartz and solid-colored sustainable epoxy floor coatings. These all furnish the outstanding high performance and customizable skid resistance you expect from Sherwin-Williams.

Environmentally-Friendly Manufacturing Practices
Our raw materials are purchased in recyclable, collapsible, decomposable or otherwise eco-friendly containers whenever available, and thanks to careful design and planning, we've been able to minimize packing and shipping materials for our products. In addition, Sherwin-Williams has a policy of using recyclable containers for our product fills and packaging, whenever possible.
Our manufacturing site is regularly monitored in accordance with environmental authorities. Such assessments, along with our strict compliance with regulations pertaining to hazardous chemicals, waste management, water, sanitation, and ventilation ensure that the production of our flooring supports the safety of the surrounding environment—and everyone in it.
Skip carousel content
Discover More
Industry Expertise and Innovation
See how we help customers find customized solutions for their project and application challenges.
Find out more about our innovative floor systems for a variety of industries.
FIND A SYSTEM