Highlight on Hygeine
Aircraft Cabin Management
Innovative, hard-wearing antimicrobial cabin coatings are essential for passenger well-being. Four industry suppliers, including Sherwin-Williams Aerospace discuss their unique solutions with Paul Eden of Aircraft Cabin Management.
Cabin cleaning and disinfection are more important than ever and, while specialist cleaning contractors are stepping up to the challenge, there is more to truly effective cabin hygiene than thorough cleaning after a flight.
Article Summary of "Highlight on Hygiene" appearing in  Aircraft Cabin Management, July/August 2020.  Retrieved from www.aircraftcabinmanagement.com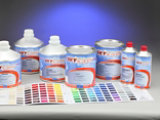 Product Lookup
Explore our product solutions for a variety of applications and aircraft types.
Ask Sherwin-Williams
Ask how Sherwin-Williams can bring the right products and expertise for your aircraft.