Robust Lining System Restores Membrane Bioreactor Basins to Like-New Condition
The South Valley Sewer District (SVSD) in Bluffdale, Utah, restored the membrane bioreactor basins in their Jordan Basin Water Reclamation Facility (JBWRF) using durable, long-term coating and lining solutions, earning top spot in the 2020 Sherwin-Williams Water & Wastewater Impact Awards.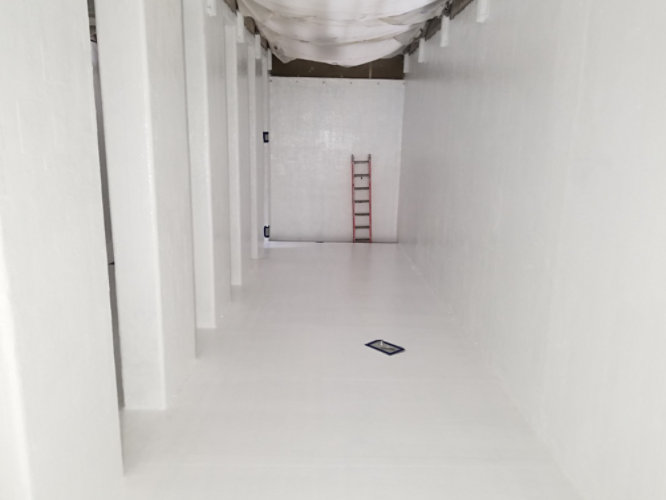 Situation
As the South Valley Sewer District (SVSD) in Bluffdale, Utah, planned and designed its new Jordan Basin Water Reclamation Facility (JBWRF), project managers pondered a common question: to line or not to line the eight concrete basins that make up the facility's membrane bioreactor (MBR) system. Ultimately, budgetary restrictions drove the decision to wait on the linings and address them after the concrete degraded from use. That deterioration came a bit faster than anticipated as the corrosive membrane filter cleaning process caused the loss of one-quarter to three-quarter inches of concrete throughout the basins within about six years of service. There was no question now – it was time to line the basins.
Execution
The project would require investigating the corrosion problem, extensively evaluating potential coating systems and developing a contract addressing materials, procedures and quality control for the restoration work. SVSD retained Bowen Collins & Associates (BC&A) as the design engineer for the project. BC&A engaged Corrosion Control Technologies, a corrosion engineering firm based in Sandy, Utah, as a subconsultant to assist with the work. Following the firms' completion of the design investigation and rehabilitation specifications, SVSD put the contract out for bid and selected Salt Lake City, Utah-based CDC Restoration & Construction to complete the work. The contractor then restored the concrete and applied a durable, non-permeable lining system from Sherwin-Williams Protective & Marine, returning the basins to like-new condition with a durable barrier that will protect the concrete from wear for far longer than when it was unlined.
Concrete in the JBWRF's MBR basins had severely degraded due to chemical attack caused by cleaning agents used to clean the MBR filters. The citric acid and sodium hypochlorite used to remove unwanted elements from the filter membranes had progressively eaten away at the unlined basin walls. CDC Restoration & Construction performed a variety of rehabilitation steps, including preparing the concrete for repairs, restoring its surface to its original plane, applying a moisture remediation primer, adding a fiberglass mat-reinforced epoxy laminate system and applying a protective epoxy lining.
After applicators from CDC Restoration & Construction vapor abrasive blasted the concrete to create a clean surface for coating applications, project engineers knew moisture would be an issue for the lining application, as adjacent basins remained full of water. Moisture would therefore be able to migrate through the concrete on at least one wall in each basin undergoing repairs, creating potential adhesion issues. The team remedied this issue by spray applying the basin walls with Resuprime™ MVT, a two-component, fast-curing epoxy resin from Sherwin-Williams. The surface membrane is tolerant of residual moisture in concrete and served to block moisture migration to the concrete's surface, enabling its restoration.
Applicators were able to begin repairing the deteriorated concrete about 12 hours after applying the Resuprime MVT moisture-control coat. Using Steel-Seam™ FT910, a 100% solids epoxy patching and surfacing compound from Sherwin-Williams, they repaired cracks, filled voids, bugholes and honeycombs, and rebuilt the deteriorated concrete surfaces to their original dimensions.
With the concrete built back to an even plane, applicators turned to the reinforced lining system application. That included applying a base layer of Sherwin-Williams Dura-Plate® UHS Clear Laminate topped with a 1.5-ounce fiberglass mat that was then sealed with more of the clear laminate material before being topcoated with Dura-Plate UHS Epoxy White. The two ultra high-solids epoxy amine coatings are engineered specifically for use as laminating systems in immersion service and provide superior protection via their high-build, edge-retentive properties.
As a quality control efficiency, the engineering team devised a clever solution that would help inspectors – both during the lining application process and later when examining the lining for damage during periodic service inspections. They used a green-tinted hardener with the clear laminate, which made it easier for applicators and inspectors to ensure the fiberglass matting was fully wetted during applications. When applying the white topcoat, applicators were also able to ensure a uniform, pinhole-free final film by fully covering the contrasting green layer. In addition, the color contrast is helping inspectors examine basins following service, as any visible green spots indicate damage to the topcoat.
Outcome
Following inspection by staff from BC&A, each basin was approved for use before applicators moved onto the next one. The protocol of applying the moisture-mitigation coat, surfacing compound, tinted base epoxy layer and white top coat enabled the time-consuming project to proceed quickly. The team was able to restore all eight MBR basins in about 57 weeks – well within the 60-week completion time frame. Best of all, the 15-MGD (million gallons per day) facility was able to remain in operation throughout the project, enabling it to continue serving the surrounding area with water filtered for use in secondary irrigation systems.
Skip carousel content
Photo Gallery
Jordan Basin Water Reclamation Facility Restoration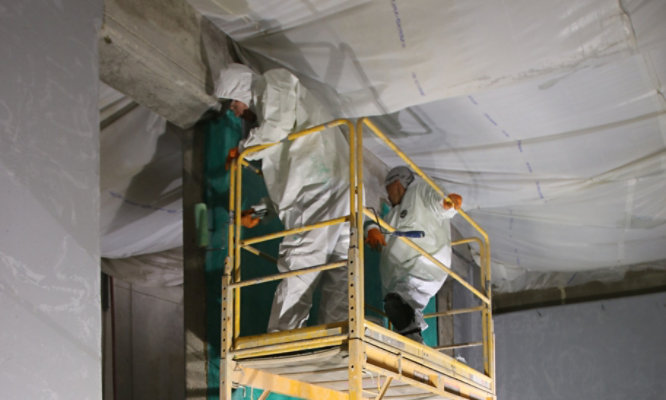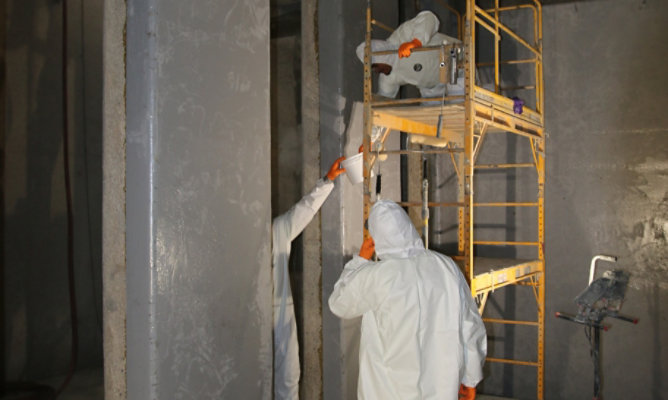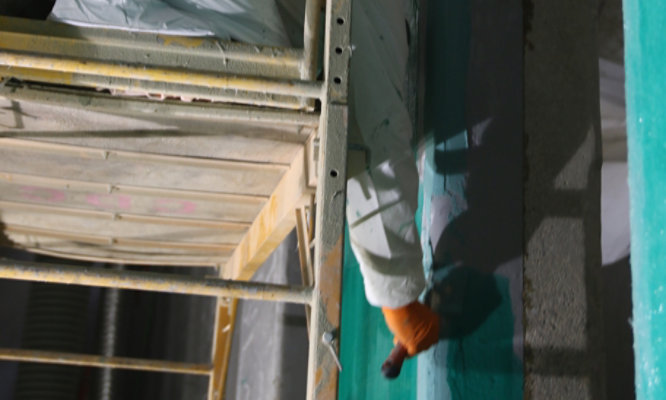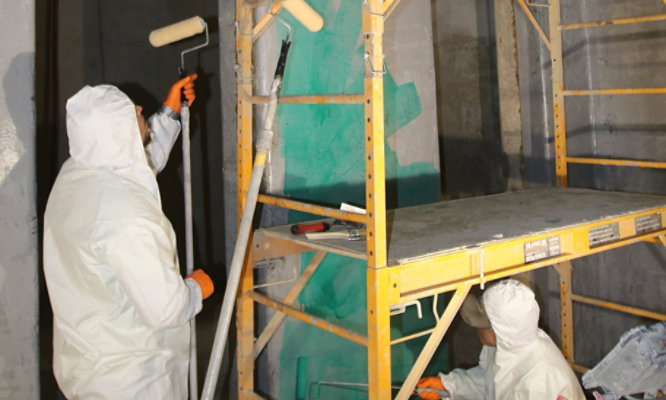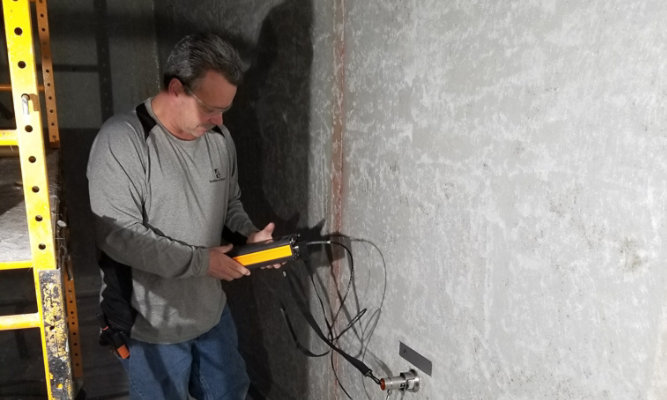 Skip carousel content
Discover More
Industry Expertise and Innovation
See how we help customers find customized solutions for their project and application challenges.
Explore our industry solutions and technology to help protect your assets.
LEARN MORE
Find out more about our innovative coatings for a variety of industries.
FIND A PRODUCT