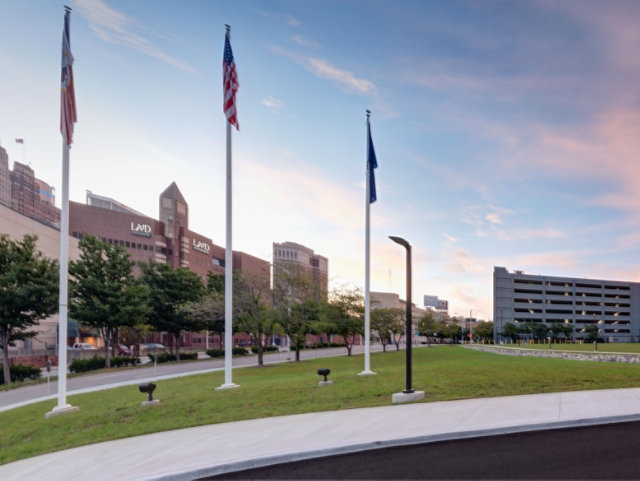 Building Products
Where others fade. We stand our ground.
Sherwin-Williams Coil Coatings for metal building products are formulated to resist the elements.  They provide corrosion resistance, stand up to chalking and fading, and are highly flexible and formable.  Available in a wide range of colours and effects, our portfolio of Coil Coatings meets nearly any project need.
Protect What is Important
Metal building products painted with Sherwin-Williams coatings provide performance, durability and amazing colour. With a full metal paint product line to meet every need, Sherwin-Williams Coil Coatings (formerly Valspar) offers the perfect combination of art and science, beauty and function.
Our coatings protect some of the world's most innovative and distinctive metal building products in the world. We offer an extensive coil and extrusion portfolio of coating solutions for building products ranging from metal roofs, wall panels, gutters, rainware, windows, curtain walls and so much more, we meet all required standards, including EN13523, EN10169, ASTM specifications and all products also adhere to the REACH regulations.
Coil coatings are applied to coil-formed metal sheets by a continuous, automated process that can happen at up to 700 feet per minute. Coil is unwound, cleaned, treated, primed, painted and baked before being recoiled for shipment.
View our full line of Coil Coatings
Specify Sherwin-Williams Metal Coatings Today
 
Our metal paint products are available through all major coaters, applicators and service centres. Shewin-Williams coil coating systems and resins, include polyvinylidene fluoride (PVDF), solar reflective (SR), fluoroethylene vinyl ether (FEVE), silicone-modified polyester (SMP), vinyl-coated polyester (PVC), and more. And for coating production, we consistently provide the shortest lead times in the industry, with customer service representatives and coating specialists who handle every aspect of your order and ensure your complete satisfaction.
Featured Videos
Inside Sherwin-Williams: Confidence
We focus on the teamwork required — from the chemistry lab all the way to the customer — to create stunning metal paints for everything from monumental buildings to refrigerators.
How our metal coatings teams work closely with customers.

Watch Video

Learn how Sherwin-Williams creates the best exterior metal coatings.

Watch Video
Quick overvivew on all that goes into coatings, application process and so much more.
Learn More
Sherwin-Williams offers the colour, confidence and collaboration to bring every project successfully to life.
Learn More