Water & Wastewater
Committed to Protecting Our Most Precious Resource
Water is humanity's most essential resource, and at Sherwin-Williams we work hard to protect this precious asset so that you and future generations have access to clean, safe drinking water.
We help operators manage, treat and distribute water safely, reliably and efficiently, by delivering the optimum solutions to combat corrosion and extend the service lives of critical assets.
Our easy-to-use formulations enable high-film builds in a single pass, reducing the number of coats required to protect assets, and epoxy and polyurethane technologies extend the lives of concrete manholes, wet wells, clarifiers and more.
Let's talk about how our world-class technical expertise, unparalleled service and unmatched distribution network can help make your project a success. From our exterior steel coatings to tank linings, you'll find a high-performance solution to maintain long service lives and aesthetics.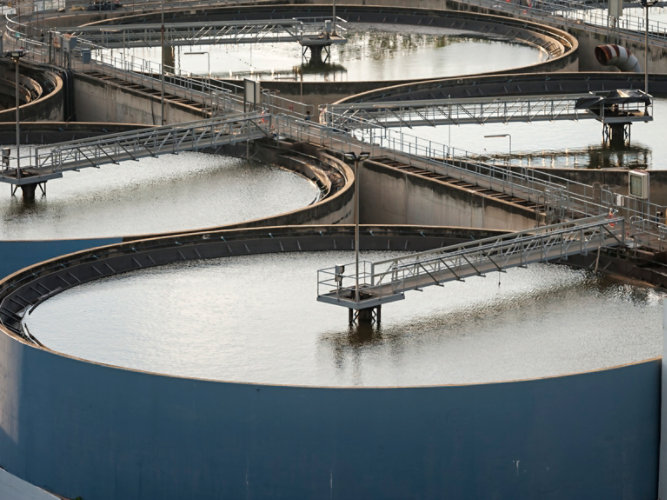 Solutions for Your Industry
Sewer Collection

Our coatings and linings can handle the stresses of soil movement, and due to the high physical strength of our epoxy linings and flexibility of our polyurethanes, help reduce damage and contamination with abrasive rocks and soil that can otherwise enter systems and accelerate deterioration of assets downstream.

Water Storage

Whether for steel or concrete water storage tanks, our durable, ultra-high solids linings offer high-film builds and superior edge retention – often in one coat.

Wastewater Treatment

Maintaining service is critical for wastewater treatment facilities to handle the increasing flow from our growing population. Whether your project involves rehabilitating concrete structures, recoating carbon steel, applying tank linings or restoring secondary containment systems, Sherwin-Williams Protective & Marine have the coating and lining systems you need to prevent service interruptions and extend service lives. And we'll help you maintain treatment facility uptime, while also lowering operational costs. Contact us to enhance your wastewater treatment facility's uptime.
Join our experts to discuss current water and wastewater industry trends.
SIGN UP
Find out more about our innovative coatings for a variety of industries.
FIND A PRODUCT