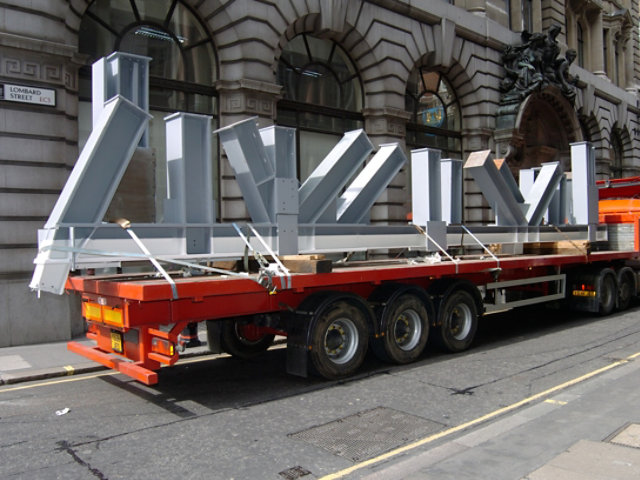 Protecting the building blocks
With its low cost, timesaving and sustainability-based attributes, modular construction has seen tremendous growth in the last few years. Rick Perkins, global technical manager passive fire protection at Sherwin-Williams, examines the advantages of this approach and how intumescent coatings play a key role in ensuring high levels of fire safety in modular buildings.
Modular construction is the process of creating buildings using off-site prefabricated building components. These components are manufactured in a controlled environment and then transported to the construction site for final assembly. Although this method of construction has been around for decades, in recent years it has gained popularity due to its many advantages.
Advantages of Modular Construction
One of the most significant advantages of modular construction is its speed. Building a traditional structure on-site can take months, if not years, to finish. Modular construction, on the other hand, can be completed in a fraction of that time – as modules are manufactured in a factory the construction process can be carried out much more quickly and efficiently. 
Central to its popularity is the realisation that modular construction does not necessarily result in buildings of a temporary nature. The materials used and methods of constructing them mean that they are built to extremely high standards. The majority of today's modular buildings have steel frames and a design life of 50 years. However, it is highly likely that they will last longer than that – longer, in fact, than some so-called permanent buildings constructed in traditional ways.
Another advantage of modular construction is its cost effectiveness. Since modules are manufactured in a controlled environment, there is less waste and fewer materials are needed. These cost savings can be between 10-35 per cent less than traditional methods, according to the Royal Institute of Chartered Surveyors (RICS). 
Fire safety in modular buildings
Being produced in a factory also means there are fewer hazards than on a traditional construction site – modular buildings are built to strict safety standards to ensure that they are structurally sound and safe for occupants. This is especially evident in their ability to protect against the potentially devastating effects of fire. 
A large part of this is due to the intumescent coatings that are applied to the structural steel frames that are used in their construction. These are designed to expand when exposed to high temperatures, forming a thick, insulating layer that helps to protect the underlying steel from the heat of a fire. This delays, or prevents, structural failure and collapse, giving occupants longer to evacuate and firefighters more time to respond.
Skip carousel content
The modular construction process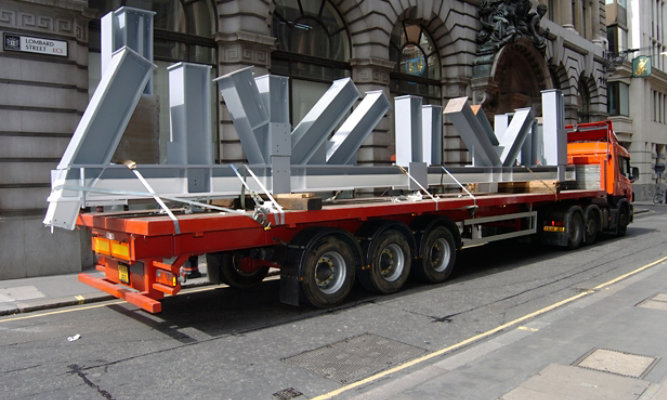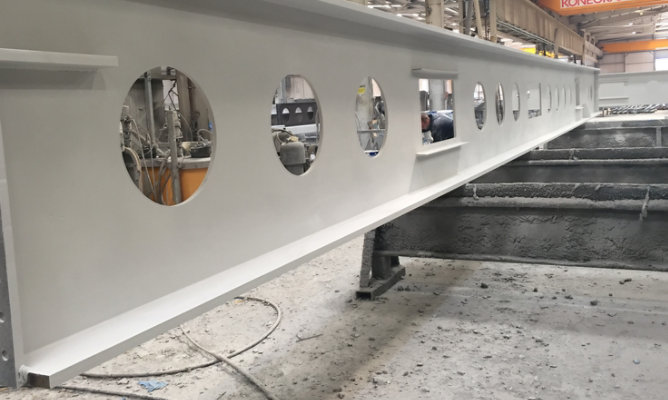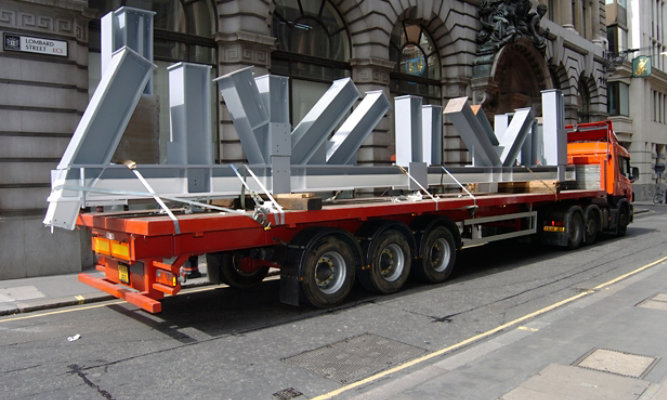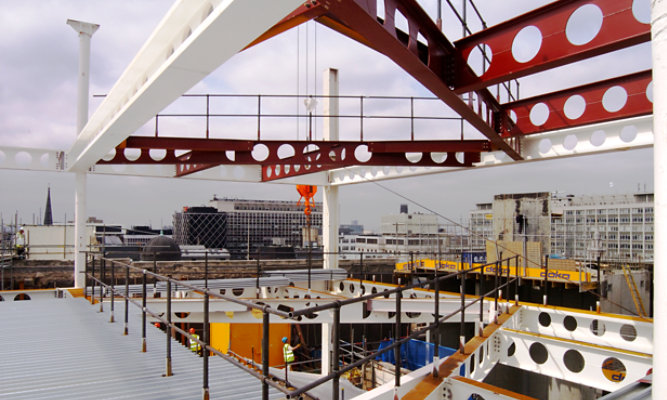 Choosing the right intumescent coating
Since assembled modules are transported and erected as a unit, intumescent coatings make a great choice for fire protection as they are the lightest and most compact form of fire protection available. There are several types of intumescent coatings available, each with their own unique properties and application methods. 
It is important to engage with a coatings manufacturer as early in the design stage as possible in order to ensure that the most appropriate solution is applied. Depending on the building's design and structure, intumescent paint has the ability to protect steelwork for 30, 60, 90 or 120 minutes in a fire, as required by the designer and building regulations. It is applied by airless spray to a thickness according to the level of protection required, and if the steelwork is visible in the final design it will not detract from the appearance. 
The intumescent coating application process
When applying an intumescent coating, it is important to follow the manufacturer's instructions and coating specification carefully to ensure that it is used correctly and provides the desired level of fire protection. This may involve applying multiple layers of the coating, preparing and priming the surface before application and allowing the coating to dry and cure properly.
Using an appropriate intumescent product will mean that it is durable both once in service in the finished building, as well as during construction/erection phase, when it may be exposed to weathering. Some of the latest generations of intumescent coatings are not only very fast drying, they also have excellent mechanical resilience, making them a fantastic option when steelwork may need to be further worked on quickly after coating application.
The future of modular construction
The future of modular construction looks bright, with increased adoption likely to transform the way we build and design buildings long-term. However, like any other type of building, fire protection should be a primary concern, so intumescent coatings from leading manufacturers should be used to provide an effective, versatile and reliable solution. By providing a layer of insulation that protects the steel framework from heat, intumescent coatings can help to prevent structural damage and save lives in the event of a fire.
Skip carousel content
Discover More
Industry Expertise and Innovation
Explore customised solutions we deliver for customers to address their project and application challenges.
​ ​
Explore our industry solutions and technology to help protect your assets.
LEARN MORE
Find out more about our innovative coatings for a variety of industries.
FIND A PRODUCT