Resuflor HB Creates The Flooring Finish for World-Class Visitor Experience At Silverstone
Resuflor HB incorporating aggregate used to create a hard wearing finish which is cleanable and provides a safe surface for regular footfall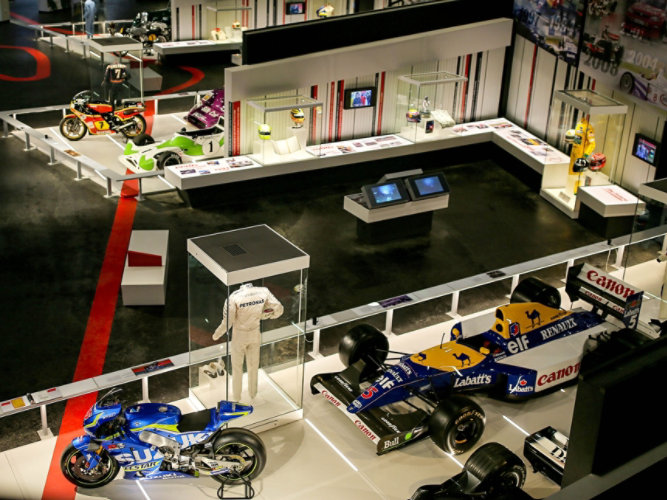 Background
The Silverstone Experience is a new technology driven and interactive visitor attraction opened in the summer of 2019 celebrating the exciting past, present and future of Silverstone and British motor sport.
Fuelled by the most comprehensive and accessible collection of British motor sport records, the visitor can delve deep into the history of both Silverstone and British motor racing through an immersive state-of-the-art visitor journey.
Supported by Royal Patron, HRH Prince Harry of Wales, the attraction aims to inspire future engineers and bring them closer to motor sport through interactive installations based on science, technology, engineering and maths.
"The performance required for the floor finish in the prestigious and high-profile area was the same as for many of our industrial projects where hard-wearing properties are needed with strong aesthetics. We worked closely with the site team to achieve the right surface texture to deliver this performance"
Jeremy Waterhouse, Sherwin-Williams
Challenge
With visitors allowed to get up close to iconic racing cars and bikes from all eras and relive classic Silverstone moments, a functional seamless floor finish was required with a tarmac like appearance with good aesthetics to help display the museum items in all their glory.
Solution
The system specified was Resuflor Topcoat which uses the Resuflor HB high build epoxy resin product incorporating an aggregate scatter used to create a hard wearing anti-slip finish which could be cleaned and also provide a safe surface for busy footfall. Resuflor Topcoat is regularly specified in automotive type workshops.
This solution provides a coloured gloss finish which is extremely hard wearing and abrasion resistant with good general chemical resistance. Applied by roller and brush, the product is low odour, producing a sealed, seamless and hygienic floor surface when cured with anti-slip finish ideal for heavily used areas.
Being low odour, with chemical and oil resistant properties, makes the product ideal for this kind of application where a tough cleanable finish is required.
Outcome
A functional seamless flooring was created with a high aesthetic finish to help complement the items on display in the museum and not detract from the world-class visitor experience.
With heavy footfall, the combination of durability with an easily-cleaned surface means the flooring will be looking good as new for many years to come.
Find out more about our innovative coatings for a variety of industries.
FIND A SYSTEM