2020 Aerospace Coatings Market
Leaders from major global coatings manufactures discuss the current situation and forecasts related to aerospace coatings and the impacts from the COVID-19 crisis.  New aerospace coatings products and initiatives are discussed.  
Article Summary of "The Aerospace Coatings Market" appearing in Coatings World, May 2020.  Retrieved from www.coatingsworld.com.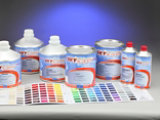 Product Lookup
Explore our product solutions for a variety of applications and aircraft types.
Ask Sherwin-Williams
Ask how Sherwin-Williams can bring the right products and expertise for your aircraft.