Painting The Future
Julie Voisin, Market Segment Manager, discusses the collaboration Pilatus and Sherwin-Williams
All Pilatus aircraft delivered in North and South America are painted in their Broomfield Colorado state-of-the-art facility, which is part of their North American Completions Center. Sherwin-WIlliams worked closely with Pilatus on paint selection and their processes when they opened the paint facility in July of 2022.  The new paint facility was in response to the growing demand for PC-24 and PC-12 NGX aircraft in the region. 
Article of "Painting The Future" appearing in Business Aviation Magazine, Issue 25, Pages 80-86, - Spring 2023 by bizavmedia.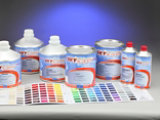 Product Lookup
Explore our product solutions for a variety of applications and aircraft types.
Ask Sherwin-Williams
Ask how Sherwin-Williams can bring the right products and expertise for your aircraft.