How and When Do I Paint My Aircraft?
Sherwin-Williams provides guidelines for owners considering updating their airplane's paint.
Painting (or repainting) an aircraft is often up to personal preference. Besides the appearance, colors, and scheme design, different factors come into play. All these are ways to evaluate how often an airplane should be painted:
How many hours has it flown? 
Has the airplane been hangered?
How has the aircraft been cared for?
Has it been washed regularly and correctly?
What kind of conditions has it been flying in?
How much UV exposure has it seen?
Article Summary of "How and When Do I Paint My Aircraft" appearing in Cessna Flyer in February 2023.   Retrieved from https://www.cessnaflyer.org/magazine/online-magazines/2023-online-magazines/item/1644-february-2023-cessna-flyer.html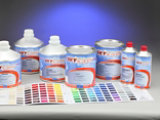 Product Lookup
Explore our product solutions for a variety of applications and aircraft types.
Ask Sherwin-Williams
Ask how Sherwin-Williams can bring the right products and expertise for your aircraft.